Allen's historic night helps Sea Bears survive Shooting Stars
Teddy Allen was an offensive powerhouse against his former squad as his 42 points helped the Winnipeg Sea Bears (2-1) win 98-93 despite a furious 29-point comeback from the Scarborough Shooting Stars (1-2) on Friday night.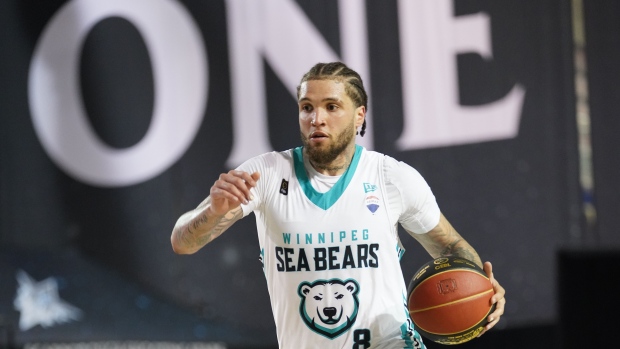 Teddy Allen was an offensive powerhouse against his former squad as his 42 points helped the Winnipeg Sea Bears (2-1) win 98-93 despite a furious 29-point comeback from the Scarborough Shooting Stars (1-2) on Friday night.
The guard's first season in the CEBL a year ago was spent with the Shooting Stars where he played in seven games. It was clear that Allen was looking to show Scarborough what they were missing, and he did just that.
Allen's 42 points tied Brandon Sampson (June 5, 2022) for the most points ever scored in a CEBL game. He was extremely vocal on his record-tying night, clapping and yelling at the crowd after what felt like every basket, ending things off with a wave goodbye as he drilled a game-winning floater.
"This is competition," said Allen post-game. "I get riled up but that's because I'm a competitor…I respect those guys."
"I was a role player on this team [Scarborough] last year. On this team [Winnipeg] coach wanted to give me the keys and see what it looked like."
What it looked like was a double-double where Allen put up an impressive 42 points, 11 rebounds, and five assists, on 14-20 shooting from the field and 11-13 from the line.
E.J. Anosike did his part in the win as he notched 22 points and seven rebounds. His scoring burst was sparked by his strong start as the forward went a perfect 5-5 shooting from the field. He didn't miss a shot till the 3:56 minute mark in the second quarter.
The pairing of Allen and Anosike practically single-handedly led Winnipeg to the win as no other players on the team scored in double figures.
On the other end, it was once again the duo of Jalen Harris and Cat Barber that did most of the scoring for Scarborough. Harris finished the night with 25 points and five rebounds, while Barber had 24 points, six rebounds, and eight assists.
"I don't think, I know we're the best back court in the league," said Harris when asked what the duo was capable of. "Between me, him [Barber] and now getting Kassius [Robertson] back, it's pretty obvious."
"Once we build our chemistry to where we need it to be…I think it's limitless for us."
Harris immediately made his presence felt in his return to the team. After missing their last game as he was invited to work out for the NBA's Utah Jazz, the guard looked to get going early in this one. He scored the first points of the game by cutting backdoor and rising up to jam down an alley-oop pass from Cat Barber. Harris scored nine of the team's first 11 points in the quarter.
Not to be outdone, Allen scored nine points of his own in the frame on route to his historic night. The guard looked efficient early on as he went 4-5 shooting while grabbing four boards. His play helped keep things tight as the teams ended the first tied up 19-19.
Scarborough came out cold in the second as they were held scoreless until the 6:09 mark of the quarter, resulting in a 17-point lead for Winnipeg. The Shooting Stars eventually found their rhythm cutting the lead down to eight, but the Sea Bears offense proved difficult to slow down.
Specifically, Allen proved difficult to slow down. The guard caught fire in the second quarter as he scored 16 of Winnipeg's 34 points and did so without a single miss in the frame. He finished the half with a game-high 25 points and seven rebounds on 90 per cent shooting from the field.
The Sea Bears held a commanding 53-35 as they went into the break.
The third and fourth quarter were more of the same as Winnipeg extended their lead to as high as 29 at one point. Scarborough did show some fight as they cut down the lead to 15 points via a 14-7 run mid-way through the fourth but weren't able to get any closer than that.
Winnipeg took an 89-74 lead into Target Score Time where things got interesting quickly.
A next to improbable 19-4 run by Scarborough, punctuated by a Kalif Young slam, had things tied up at 93 and the crowd erupted as Winnipeg was forced to call a time-out. The comeback seemed all but certain for the Shooting Stars, but the Sea Bears kept their poise and locked in.
An A.J. Hess three gave Winnipeg the lead back and Scarborough, despite fighting all the way back, ran out of gas.
A Young turnover at half-court landed in the hands of Allen and he drove through the lane and tossed up an off-balance floater that ended things, 98-93 the final.
"We feel really fortunate tonight," said Sea Bears head coach Michael Taylor. "Teddy was the difference-maker out there and it was a good team win."
"The identity and structure are there. Teddy being the go-to guy, E.J. being important for us, and everyone doing their part. This is a game I know the guys are going to take a lot of confidence from."
The Shooting Stars will be back in action at home on Sunday to take on the Saskatchewan Rattlers. The Winnipeg Sea Bears stay on the road and head west where they'll take on the Vancouver Bandits on Tuesday.