Ten NCAA hockey talents to watch
The NCAA's road to The Frozen Four begins this weekend, with 16 teams vying for the chance to be crowned as a national champion. TSN Director of Scouting Craig Button lists 10 players to keep an eye on - as NHL scouts will surely do.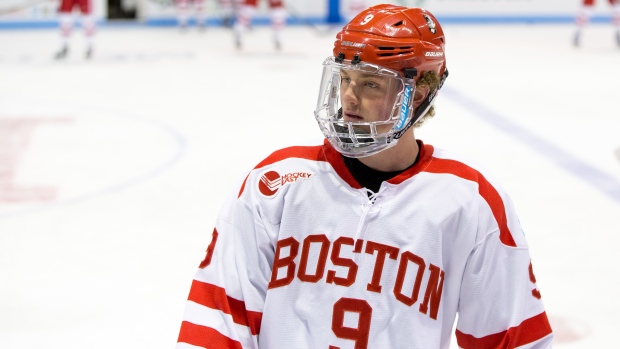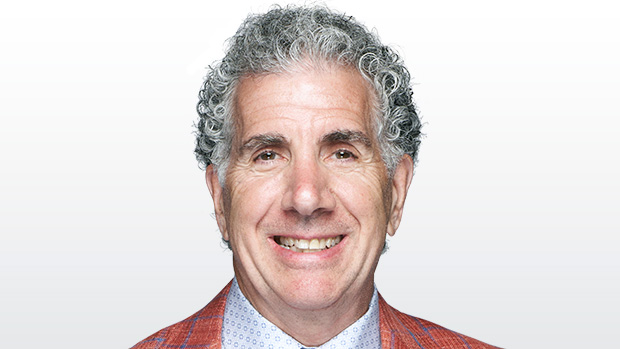 The NCAA's road to The Frozen Four begins this weekend, with 16 teams vying for the chance to be crowned as a national champion.
And NHL teams will be well represented as their scouts watch players for the upcoming draft, players they've already drafted and players they're interested in signing as free agents. Tune to the games on TSN and keep an eye on these players:
C Jack Eichel, Boston University – 2015 NHL Draft (6-2, 196)
Eichel is the third player in Hockey East history to be named Rookie of the Year and Player of the Year in the same season, joining Brian Leetch and Paul Kariya. He leads the nation in scoring and as the fourth youngest player in NCAA hockey this season, it's an unprecedented feat. His blend of power, skill, smarts and determination allows him to make a material impact on the game. And that impact was felt by the Terriers with his arrival on campus as they became one of the nation's very best teams. The 2015 draft has been highly-anticipated because of Eichel and Connor McDavid - two generational players. And there's no doubt - he's the best player in NCAA hockey right now.
G Matt O'Connor, Boston University – Free Agent (6-5, 200)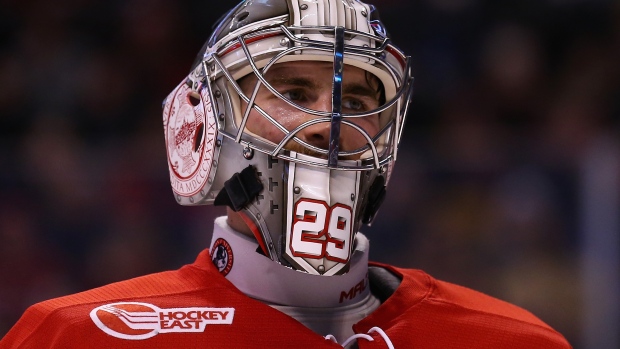 The Toronto native has steadily progressed in his game and has become one of the very best goalies in college hockey. His path has had a few stops to this point, but he has been a pillar of strength for the Terriers this season in leading them to a Hockey East Championship.
He has the size, skill and ability that NHL teams seek in goaltenders and is one of the most highly sought-after college free agents.
RW Jim Vesey, Harvard University – Nashville 2012 66th overall (5-11, 185)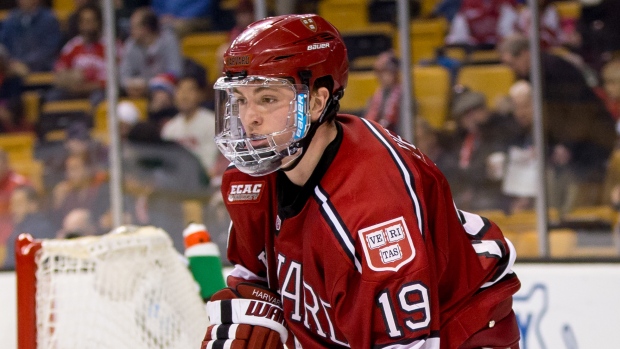 Jim is a strong, forceful player who can excel in any situation. A member of Team USA's gold medal-winning team at the 2013 world juniors, he's developed into a dominant player for Harvard. Vesey's an excellent skater with excellent sense and feel for the game. And that makes him very difficult to keep in check.
He's a clutch performer and Predators GM David Poile feels he could step into Nashville immediately and help them. He would be the best player in the NCAA if it wasn't for Jack Eichel. But in the two games between Harvard and Boston University this season, he had three points while Eichel had none.
D Mike Reilly, University of Minnesota – Columbus 2011 98th overall (6-0, 182)
Reilly is Minnesota's leading scorer and the nation's leading scorer among blueliners. The puck is on his stick a lot during the game and his vision and passing skills are exceptional. He's a dangerous player and with tremendous poise, he has the ability to control the game. Quick and agile, he's very elusive and nearly vaporizes when opponents try to check him. He was a member of the RBC Cup Champion Penticton Vees in 2012. He finds himself in the same situation as Edmonton's Justin Schultz once did in that he can become an unrestricted free agent. And if he does, he'll be the most highly sought-after player this offseason.
D Joey LaLeggia, Denver University – Edmonton 2012 123rd overall (5-10, 182)
LaLeggia has become a top defenceman for the Pioneers and is one of the best college defencemen in NCAA hockey. He's very steady, smart, is able to play lots of minutes in important situations and can contribute in multiple areas. He reads the play extremely well, jumps into the attack and generates a lot of opportunities. As a senior, he could become a free agent in the same fashion as Kevin Hayes did last year, but the Edmonton Oilers are hopeful to sign him and not let him get away. If Denver's eliminated in the regionals, that could entice him to suit up for Edmonton this season and cement his signing.
D Noah Hanifin, Boston College – 2015 NHL Draft (6-3, 203)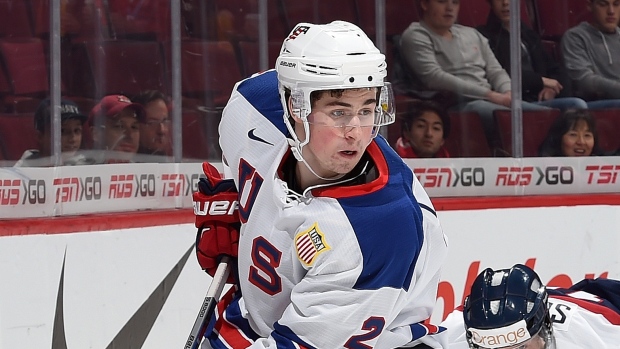 Fast tracking his high school studies to enter Boston College, Hanifin has been up to the challenges of NCAA hockey. He's an exceptional skater who can close in on opponents defensively and jump into the offensive attack. And he doesn't take a back seat in the game.
A strong competitor who can deliver bone-jarring body checks, Hanifin will hear his name called very early in draft this June. He's a top two defenceman who will be a pillar on his NHL team's blue line for years to come. The second-youngest player in the NCAA, he's shown a maturity on the ice far beyond his years.
G Jamie Phillips, Michigan Tech – Winnipeg 2012 190th overall (6-3, 185)
He's the winningest goalie in the NCAA this season with 28 victories and is third in save percentage and goals-against average. The Huskies have been one of the top teams this season and Phillips' play in the net has been a big reason. A big man in the net, Phillips is very good at anticipating the play. He closes down the net quickly, leaving the shooter with little time or room to beat him. Phillips, a member of the Pembroke Lumber Kings 2011 RBC Championship team run by current Sault Ste. Marie coach Sheldon Keefe, is another key player for the Jets in what is arguably the best class of prospects in the NHL.
C Tony Cameranesi, Minnesota-Duluth – Toronto 2011 130th overall (5-10, 175)
Cameranesi is the Bulldogs' leading scorer and is an offensive catalyst with fellow Toronto Maple Leaf draft pick Dominic Toninato. A somewhat diminutive player, Cameranesi gets involved in the hard areas of the game and generates a lot of offensive opportunites. His goal scoring total is down, but he plays in the offensive zone a lot and is a hungry player who wants to make a difference.
C Tanner Kero, Michigan Tech – Free Agent (5-11, 180)
Kero's a local kid and a dynamo for his Michigan Tech team. There's nothing he won't do to help his team win and that means contributing on offence, defence and checking with determination. Whatever is needed, Kero is there to provide the spark and ignite the fire. He has an unwavering desire to be in the middle of the action. Kero is is versatile and is more than willing to try and provide whatever may be needed for the team. The senior should be signed to an NHL contract upon season's end.
C Matt Garbowsky, RIT – Free Agent (5-10, 180)
Garbowsky played in Brantford and Powell River before landing in Rochester to play for Wayne Wilson, an NCAA Champion with Bowling Green in 1984. A top offensive player, he led the Tigers to the Atlantic Hockey Conference Championship and an automatic bid into the NCAA tournament. He led all players in the NCAA in faceoff wins this past season and the 24-year-old will garner plenty of attention from NHL clubs.