The Vesey Watch is on
For all the attention lavished on the U.S. college free agents who have signed recently or will sign soon in the NHL, there's one prospect TSN Hockey Insider Bob McKenzie says could turn some heads as early as the stretch drive and Stanley Cup playoffs - Harvard's Jimmy Vesey.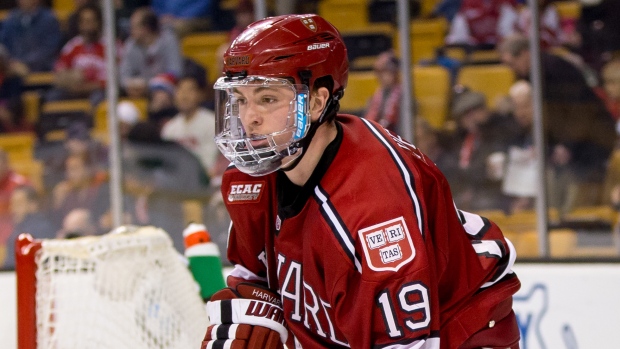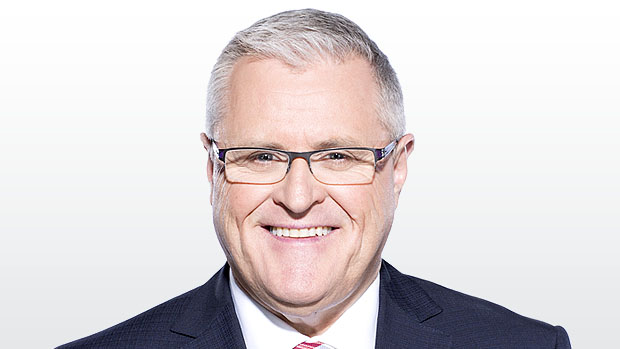 It was a week ago Sunday night, the eve of the NHL general managers' meeting in Boca Raton, Fla., and a smattering of club executives were posted up at the resort lobby bar, watching NHL games.
The TV at one end of the bar was showing Washington and Boston. That's where you would find Bruins' GM Peter Chiarelli. The TV at the other end had Anaheim and Nashville, which was where Predators' GM David Poile was sitting.
The GMs from a few other teams were sitting between, or around, them, with Minnesota Wild GM Chuck Fletcher checking his phone now and again for other hockey scores, keeping his peers updated not only on the third NHL game, Philadelphia vs. Ottawa – The Hamburglar was a big deal, even amongst the GMs – but a handful of U.S. college playoff games being played that night, too.
"What's the Harvard-Yale score?" Poile would ask Fletcher on a number of occasions.
Everyone there, of course, knew, Poile had a vested interest in the outcome. If Yale beat Harvard in the third-and-deciding-game of their ECAC playoff series, it could mean an end to the Crimson's season and, therefore, allow for the possibility of Harvard goal-scoring machine Jimmy Vesey, the Predators' third-round pick, 66th overall, in the 2012 NHL draft, turning pro and joining the Preds for the stretch drive and playoffs.
Chiarelli, himself a Harvard grad, good-naturedly poked fun at Poile from the far end of the bar, suggesting no Harvard player would leave such an esteemed institution without first graduating. Vesey is in his junior year.
As it turned out, that night anyway, it was a moot point.
Vesey scored the game-winning goal for Harvard in double overtime and he hasn't stopped scoring since, firing more two goals on Saturday night against Colgate to lead coach Ted Donato's Crimson to the ECAC championship in Lake Placid, N.Y., and a berth in the NCAA (16-team) tourney. Harvard will play University of Nebraska-Omaha on Saturday night in South Bend, Ind., which is when Poile will resume The Vesey Watch.
"The way (Vesey) has been scoring, (Harvard) may just win it all," Poile said. "He's a very good player and he's had a great year."
If anything, that's an understatement. The 21-year-old, soon to be 22, son of journeyman seven-year pro Jim Vesey (who played 15 NHL games with St. Louis and Boston between 1988 and 1992) leads the NCAA in goal-scoring, with 31 in 36 games. He was named ECAC player of the year, ECAC tournament most outstanding player and he's a candidate to win the Hobey Baker Award as U.S. college hockey's top player.
Vesey is, according to many of the GMs who were watching games with Poile that Sunday night in Boca, "NHL ready," "a very good player, "a top prospect." He's a 6-foot-1, 195-pound left-shot winger who has good speed, an obvious flair for finishing but with the hockey sense to also make plays.
For all the attention lavished on the U.S. college UFAs who have signed recently or will sign soon – Penn State's Casey Bailey to Toronto; Western Michigan's Kenney Morrison to Calgary; Colgate's Kyle Baun, to be determined this week; Boston University goalie Matt O'Connor, once the Terriers' season is over, amongst others – the one collegiate player (drafted or otherwise) whose turning pro now could potentially impact the NHL stretch drive and 2015 playoffs like no other would unquestionably be Vesey.
Poile knows exactly what he's dealing with, both in terms of the player and the dynamics involved in him turning pro.
"Jimmy is a player we believe we could put in our (NHL) lineup right now," Poile said. "And the way we're playing right now, yes, we could really use him. But it's Harvard, right? We know that. We've been in close contact (with Vesey's parents and family advisor Peter Fish). Even (if Harvard's season were to end this Saturday night with a loss in South Bend) we know that (Vesey turning pro) may not be until next season or next year. He's a very good player but he also a very smart kid, a good student, so we'll just take it one day at a time and see what happens."
Vesey's father Jim, who was drafted in the eighth-round by St. Louis in 1984 but went on to play four years of college hockey at Merrimack after that before turning pro, obviously knows the value of a college degree and also a little something about the vagaries of life in professional hockey.
What if Vesey leaves Harvard immediately after the Crimson hockey season ends to finish the NHL season in Nashville – possibly sacrificing some of his junior year courses and, of course, his entire senior year – only to find himself starting next season with Milwaukee in the AHL?
These are some of the things Vesey and his family must think about. Those who know the kid believe that he believes, from a hockey perspective, he's ready to leave college hockey to play in the NHL. He wasn't a year ago; he is now.
But, as Poile noted, "it's Harvard." There's that educational component involved. So the Preds' GM, for as much as he would love to put Vesey into coach Peter Laviolette's lineup now, will have to wait and wonder, because, for Vesey and the Crimson, there are still more goals to be scored; more games to be won.