Karlsson: Melnyk's remarks 'none of our business'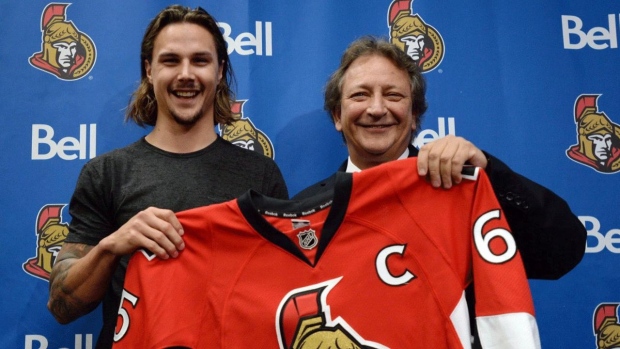 Ottawa Senators captain Erik Karlsson is not going to let team owner Eugene Melnyk's comments about the franchise over the weekend affect the team's play or how things develop as the star blueliner heads towards free agency.
"That's none of our business," he told reporters after practice on Monday. "That's what he (Melnyk) worries about. We worry about playing hockey and that's all we can control.
"We show up here every day and do the best that we can and what we do...There's nothing I can do about that. Whatever he chooses to say is on him and we just worry about showing up wherever we're told to every day."
Melnyk brought up the possibility of relocation and said a new downtown arena at LeBreton Flats may never happen while speaking during the team's alumni game at Parliament Hill on Friday. While he denied rumours the team was for sale, he did insinuate relocation could be considered.
Karlsson, who will become an unrestricted free agent in 2019, has been the already subject of trade speculation after saying earlier this month that he intends to pursue market value on his next contract. If any talk of the team moving could have an effect on where he plays in the future, the two-time Norris Trophy winner was not showing his hand.
"That's again, something that I haven't really thought about and again - I'm happy right now," he said. "I'm happy where I am and I'm worried about us getting out of the slump we're in here and making sure we're in the postseason here again."
Melnyk added on Friday that he's running most areas of the organization on a tight budget and the next area to be cut could be players' salaries.
"We know how things work in the business that we're in and we try to worry about the everyday life that we have," Karlsson said when asked about the owner's money crunch. "As of right now, we're all here and we're going to show up and do the best that we can and if things change, they change.
"It's not something we can plan for or control. We can't let that affect the tight group we have here."
Melnyk also said the redevelopment of LeBreton Flats in downtown Ottawa is not a given, saying he's not convinced a downtown arena is a necessity for this franchise. Karlsson said that while he's only known playing at Canadian Tire Centre in Kanata, a downtown arena could be helpful.
"I do think it would be better for a rink downtown, just for commuting and you know there's more people down there," he explained. "It would be a cool experience to have a rink in downtown Ottawa since we have a beautiful city.
"I think this is a great market, it's alwayed treated me real well, whether things are going well or if things haven't been going well."