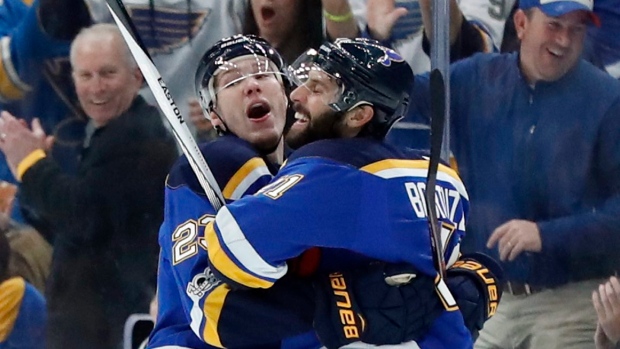 After four consecutive weeks perched in the No. 2 spot, the high-scoring St. Louis Blues are finally on top.
The Blues, who scored six goals against the Minnesota Wild and eight against Connor McDavid's Edmonton Oilers last week, are the best team in this week's TSN 7-Eleven Power Rankings, according to consensus rankings formulated by the TSN Power Ranking panel of Ray Ferraro, Jeff O'Neill, Jamie McLennan, Craig Button and Darren Dreger.
St. Louis continues to be led by the Brayden Schenn-Vladimir Tarasenko-Jaden Schwartz scoring machine, with all three players on the first line sitting in the top 10 in league scoring (Schwartz with 32 points; Schenn, 30; Tarasenko, 28). The deep Blues were ranked 20th in TSN's first 7-Eleven power rankings of 2017-18 but now have an NHL-best 35 points in the standings.
The No. 2 Tampa Bay Lightning, who have lost two in a row, drop a spot after three straight weeks ranked first. Jumping five places to No. 3 from No. 8 last week are the remarkable Vegas Golden Knights, winners of five consecutive games. They have earned their 15 victories faster than any expansion team in NHL history. After going .500 last week, the Winnipeg Jets slip to No. 4 from third overall a week ago, while the Columbus Blue Jackets, winners of a league-best six in a row, round out the top five, moving up a place from No. 6 last week in the rankings.
Winners of five of their last seven, the Jets are still Canada's top-ranked team, followed by the Toronto Maple Leafs – losing three of their last four to fall out of the top five – at No. 9 after sitting at No. 4 last week. Led by Johnny Gaudreau, who's third overall in NHL scoring, the Calgary Flames edge up to No. 11 from No. 12 last week, while the offensively challenged Ottawa Senators plummet all the way to No. 24 from No. 13 last week – the biggest drop in this week's rankings. The Vancouver Canucks, with rookie Brock Boeser leading the team in scoring (11 goals and 11 assists), move up four spots to No. 20, while the Oilers (No. 27, fourth-fewest points in the overall standings) and Montreal Canadiens (No. 26) both edge up a spot but remain Canada's worst teams.
Despite beating Edmonton with a solid two-way game last Friday, the Buffalo Sabres remain last in the rankings for a second consecutive week. The Arizona Coyotes (No. 30) continue to improve – winning four of their last six – but are still ranked second-last with a league-high 17 losses, while the Florida Panthers are stuck at No. 29. The Philadelphia Flyers, who were ranked 12th overall just five weeks ago, drop three spots to No. 28 while the Oilers, who have yet to win consecutive games in regulation this season and have lost four of their last six games, are the final bottom-five team.


2017-18

17-6-1

LAST 10

7-3-0

LAST WEEK

2
The Blues, who have won four of five, suffered a rare power outage this week in a 2-0 loss to Nashville. No big deal, they scored eight goals in the game prior to that, and six goals in the game following that.

2017-18

16-5-2

LAST 10

6-3-1

LAST WEEK

1
Losing two in a row is hardly a disaster, considering the opponents were Washington and Pittsburgh and they were playing on the road, but still it's their first two-game losing streak of the season.

2017-18

15-6-1

LAST 10

7-2-1

LAST WEEK

10
Ranked last to start the season, they've won five in a row, scoring at least four goals in every game. They also have an eight-game home winning streak, tied with the Rangers for longest so far in 2017-18.

2017-18

14-6-3

LAST 10

7-3-0

LAST WEEK

3
A rare loss for the Jets (4-0 shutout to San Jose) isn't a real setback because they recover quickly. Since losing their opening two games of the season, they're 5-0-1 in games following a loss.

2017-18

15-7-1

LAST 10

6-3-1

LAST WEEK

6
They've won a league-best six in a row, but in four of them they scored just one or two goals; they haven't allowed a power-play goal in eight straight games; and they've scored just one in their last 10.

2017-18

14-6-3

LAST 10

8-1-1

LAST WEEK

7
Pekka Rinne (13-3-2) finally got a break after a nice run of eight straight starts in which he went 7-1 with a .923 save percentage. On his day off with Juuse Saros in net, the Predators lost in a shootout.

2017-18

14-5-4

LAST 10

5-2-3

LAST WEEK

5
Brian Gibbons last played in the NHL in 2014-15 (Columbus) when he scored zero goals in 25 games. This year, he leads the Devils with 11 in 23 games, and leads the NHL with a 34.4 shooting percentage.

2017-18

14-7-2

LAST 10

7-2-1

LAST WEEK

11
They started off the year with a 6.1 per cent power-play rate (2-for-33) in their first 10 games. Since then, they have a 32.7 per cent rate (16-for-49). Mathew Barzal leads all NHL rookies with 23 points.

2017-18

15-9-1

LAST 10

7-2-1

LAST WEEK

4
They allowed at least 40 shots in three of their last six games, the only three times they've allowed that many shots. They went 2-0-1 in those games, then cut shots against to 21 versus the Caps, and lost.

2017-18

14-10-1

LAST 10

6-4-0

LAST WEEK

14
Watch out, Alex Ovechkin is on one of his goal-scoring tears and now has 18 to lead the league. The Capitals have won three in a row, and big No. 8 has at least one goal in all three for a total of five.

2017-18

13-9-1

LAST 10

6-3-1

LAST WEEK

12
Undrafted Czech David Rittich stepped in to give Mike Smith a break, earning the club a 3-2 win in his first NHL start. Johnny Gaudreau is tied for the NHL lead with 19 points (8-11, 11 games) in November.

2017-18

13-8-3

LAST 10

3-6-1

LAST WEEK

9
The slumping Kings are in a goal-scoring drought. Over their last nine games, they've gone 2-6-1 and have scored more than two goals just once, including a 2-1 shootout win over the Ducks on Saturday.

2017-18

11-8-3

LAST 10

6-3-1

LAST WEEK

15
Star forward Patrick Kane is leading the Blackhawks, who were ranked 21st two weeks ago, through a current 4-1-1 stretch. He has points in all six of those games, for a total of four goals and four assists.

2017-18

13-9-2

LAST 10

8-2-0

LAST WEEK

16
They were 29th in the rankings four weeks ago and won just two of their first eight home games (2-4-2). Since then, they've won eight in a row – tied with Vegas for the longest home winning streak of the year.

2017-18

12-10-3

LAST 10

4-5-1

LAST WEEK

10
Penalty killing has been hurting the Pens in their current 3-5-0 stretch, allowing 11 goals in 34 chances. On the plus side, Sidney Crosby and Phil Kessel each scored twice in a 5-2 win over Tampa Bay.

2017-18

11-9-3

LAST 10

6-3-1

LAST WEEK

18
The Minnesota power play has gone wild. Over their last six games, they've more than doubled their power-play goal output on the season. They've gone 10-for-21 for a 47.6 percentage success rate.

2017-18

12-8-2

LAST 10

5-3-2

LAST WEEK

22
The Sharks hope that Brent Burns scoring his first of the season (he had 29 last year) in his 21st game is a sign of good things to come. He has 10 points in 22 games compared to 76 in 82 last year.

2017-18

12-10-1

LAST 10

5-4-1

LAST WEEK

21
They have won four in a row at home, where they average 3.73 goals for per game, sixth best in the league. They've lost five in a row on the road (0-4-1) where they score 2.17 goals per game, 30th overall.

2017-18

10-8-4

LAST 10

5-4-1

LAST WEEK

26
Anton Khudobin (7-0-2) gave the Bruins a big lift, starting four in a row and winning all four games, while sporting a 1.71 GAA and a .945 save percentage. When Tuukka Rask returned, they lost 4-2.

2017-18

11-9-4

LAST 10

4-4-2

LAST WEEK

24
Nine of Vancouver's last 10 games have been on the road, but they haven't fallen apart, going 4-4-2. Brock Boeser, second in rookie scoring, leads the way in November, scoring nine goals in 13 games.

2017-18

11-9-2

LAST 10

4-4-2

LAST WEEK

23
Jonathan Bernier has filled in admirably for injured Semyon Varlamov, going 2-1-1, with a 1.96 GAA and a .925 save percentage. Nathan MacKinnon has led the way with a goal and five assists in four games.

2017-18

10-9-5

LAST 10

4-2-4

LAST WEEK

17
The Red Wings aren't having much success after regulation time is finished so far this season. They're on a current four-game winless streak, but three of those games have been overtime losses.

2017-18

10-8-4

LAST 10

6-3-1

LAST WEEK

20
A 47-shot effort wasn't enough in a 5-4 loss to Toronto. The Hurricanes, who beat the No.6 Preds in a shootout Sunday, lead the league with both 35.9 shots per game and a 55.4 shot-attempt percentage.

2017-18

8-8-6

LAST 10

3-6-1

LAST WEEK

13
The Senators can't score and Matt Duchene hasn't helped, but he finally earned his first goal (and point) in his eighth game with Ottawa. They've averaged 1.3 goals per game over their six-game skid.

2017-18

10-9-4

LAST 10

4-3-3

LAST WEEK

19
Nobody is allowing more than the 36.6 shots per game the hurting Ducks are allowing, and nobody is being outshot by more than the 6.8 shots per game that the Ducks are being outshot by.

2017-18

9-12-3

LAST 10

4-4-2

LAST WEEK

27
Carey Price returned to the lineup in time to end the team's five-game winless streak by shutting out Buffalo 3-0, the 40th shutout of his career and fourth-most all-time by a Canadiens goalie.

2017-18

9-13-2

LAST 10

4-5-1

LAST WEEK

28
The Oilers can't put together two good games in a row. They've yet to win consecutive regulation games all season. The 45 goals they've allowed in 14 November games are the most in the league.

2017-18

8-9-6

LAST 10

2-3-5

LAST WEEK

25
It's not just that the Flyers have lost a league-worst seven in a row, it's also that they can't catch a break in extra time. Three of those losses came in overtime and one other came in a shootout.

2017-18

8-12-2

LAST 10

4-5-1

LAST WEEK

29
The Panthers are allowing an average of 35.9 shots per game, second worst in the league, but 38-year-old Roberto Luongo is doing his part. His .928 save percentage is seventh best in the league.

2017-18 RECORD

6-17-3

LAST 10

4-5-1

LAST WEEK

30
Some serious signs of life for the Coyotes, with four of their six wins on the year coming in their last six games. The problem is that they just can't seem to keep starting goalie Antti Raanta (4-5-2) healthy.

2017-18

6-14-4

LAST 10

2-6-2

LAST WEEK

31
The Sabres have just one win (3-1 over the Oilers) to show for in their last nine games (1-6-2). In five of the nine they scored one or zero goals, and in their last six they've failed to score a power-play goal.