The Evolution of Curtis Blaydes
The UFC heavyweight title contender sees rematch this Saturday with Francis Ngannou as a chance to show how far he's come in a short amount of time, Aaron Bronsteter writes.
Aaron Bronsteter, TSN.ca Staff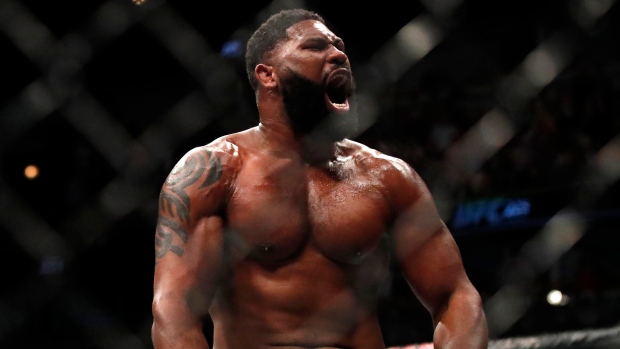 It would be an understatement to say that Curtis Blaydes was green when he made his UFC debut against Francis Ngannou in April of 2016.
Then with a 5-0 record after fighting for several regional promotions, Blaydes accepted the heavyweight matchup on a few weeks' notice. It wasn't long after a makeshift training camp that Blaydes found himself crammed into the middle seat in economy on a long flight to Croatia to face Ngannou, who had just scored a scary knockout in his own debut months earlier.
"I mean, to be honest, I wasn't really training. I went to practice maybe four hours a week. I won a lot of those early amateur and early pro fights just by being a better wrestler," Blaydes told TSN.ca. "I didn't really focus on my whole mixed martial arts game. I didn't have a striking coach or a Jiu-Jitsu professor or anything like that. Going into fights, my main focus was making weight – I was walking around at like 295, so really my main focus was just getting on weight and then going in there and using my wrestling to win."
Despite the short notice, Blaydes had a National Junior College Athletic Association wrestling championship on his resume that made him the favourite heading into the fight. What the oddsmakers didn't know was just how little he was training.
"Where he lived, on the south side of Chicago, there really aren't any gyms. He didn't have a car and it was very difficult for him to get an hour away to some of the good gyms in the suburbs. We wound up setting up a quick makeshift camp for him at a UFC Gym in the suburbs that I had friends that worked at and ran," said Rick Guerrero of Mata Leon Management, who manages Blaydes. "People don't get how little he was able to train. I mean, he may have trained 150 or 200 times before making the UFC. It's just unheard of. That doesn't happen."
At the time, Blaydes didn't have consistent training partners and was sparring with lighter fighters at the UFC Gym, which is more of a recreational gym than a training facility.
For his debut in Croatia, Blaydes' corner consisted of his manager, Guerrero, Guerrero's friend Dave Jurenka, who had no martial arts experience and offered to pay his way to be part of the festivities, and heavyweight Oscar Kush, who Guerrero flew out to be a big body to train with Blaydes during fight week.
"It's a bit of a blur, but as you can imagine, the advice I got in that corner wasn't like the advice that I get from my cornermen now who are actual ex-professional fighters that have fought in the UFC and have fought in Bellator and other high-level organizations," said Blaydes. "It probably wasn't the best tactical advice, but they were doing the best that they could do."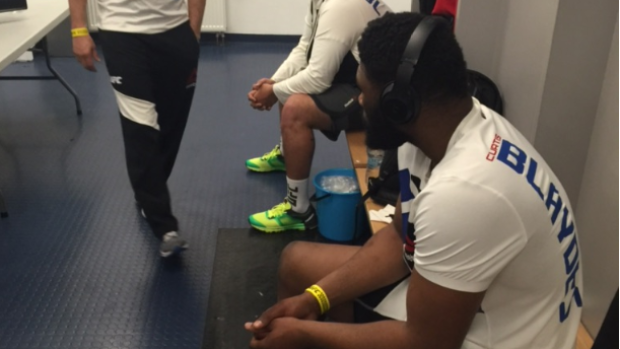 The bout with Ngannou lasted two rounds. Blaydes was able to take Ngannou down briefly in a tightly contested first, but Ngannou landed effective strikes and badly bloodied Blaydes in the second. The doctor checked Blaydes' eye, which was swollen shut, following the second round and made the decision to wave the fight off. It was Blaydes' first loss as an amateur or professional.
The defeat showed Blaydes and Guerrero that something needed to change. As luck would have it, former UFC light heavyweight Cody Donovan was in attendance as the cornerman of another fighter and watched Blaydes' bout.
"I could tell there was skill. I could tell that there was potential, but the world's greatest wrestler isn't the world's greatest fighter – it's two different sports," said Donovan, a coach at Elevation Fight Team.
"He did nothing to set up his takedowns and there was no striking prior. In MMA we call that a 'fit in' – you use your boxing to set up your takedown. There was none of that. He was crossing his feet, standing in a southpaw stance but moving in the wrong direction, so moving towards his opponent's most dangerous hand."
Following the card, Guerrero reached out to Leister Bowling, who was running Elevation Fight Team at the time, to ask if Blaydes could try out for the team.
"If you were to look at a typical MMA fighter, they will train at least 300 to 500 times a year. Curtis hadn't even trained that much probably in his entire time before the UFC," said Guerrero. "He has a few years under his belt the time he fought Francis, but in the aggregate, if you look at how much training he had, he was like a first to second-year MMA fighter. That's how early of a stage he was in."
Following the loss to Ngannou, Blaydes moved to Denver and rented a bedroom at a house owned by UFC welterweight Neil Magny, living with four other fighters.
He's still there, crediting the living situation to helping him keep motivated because he is surrounded by others with similar goals.
"It's good to live with other guys who are doing exactly what you're doing," Blaydes said. "So on days when you don't have the energy or the motivation to go do what you're supposed to do, you look up and you see them going to practice. It's hard to have an excuse when they're going and they live with you. They know what you're doing all day; they know how many practices you've gone to. It is just easier."
Blaydes meshed well with Donovan as well as Vinnie Lopez, Elevation Fight Team's striking coach, and the training arrangement has helped Blaydes grow his game to levels that he would never have been able to achieve had he stayed in Chicago.
"The first time I'd even heard of Curtis was the first time he walked into MusclePharm [home gym of Team Elevation at the time]. He had very little striking – close to zero, if I'm being honest. His footwork was non-existent. But if we had him wrestle, his footwork was beautiful, so I knew the athleticism was there," said Lopez.
"Curtis is an elite athlete, so he was able to compensate and get by on just pure athleticism and that's still there. That's why he's so great now. That's why he took hold of what we're trying to teach him so well, because of that raw athleticism. For a 275-pound man to be able to move and control his body like that, it's no surprise to me that he got to the UFC using that only."
Blaydes is undefeated in his five fights since moving to Denver to train with Elevation Fight Team, upping his performance as the opponents get progressively tougher.
His first statement win was against veteran Mark Hunt in Australia at UFC 221. Blaydes got hit with several of Hunt's signature overhand strikes and was able to weather the storm. That was the performance where Lopez knew that Blaydes could be something special.
"When I saw him be at the brink of losing, the brink of getting his head knocked off from a legendary striker and fight his way through that and those are the types of things I think that champions are made of," said Lopez. "Anybody can win or anybody could dominate a fight, but when you can come back from being literally one punch away from losing and come back to win that fight, that's when you know you have a special person in front of you."
Blaydes' most recent win was over Alistair Overeem, who he defeated in vicious fashion with ground strikes at UFC 225 in June in his hometown of Chicago. Now a rematch with Ngannou this Saturday in Beijing gives Blaydes a chance to show just how far he has come in a few short years and a chance at redemption for his only loss.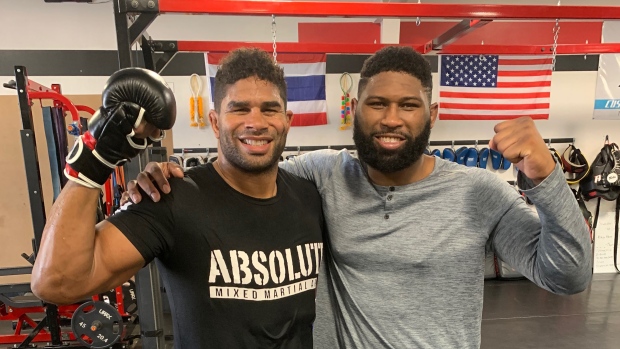 While Blaydes aims to earn a title shot with his sixth straight win, one of which was overturned due to a failed drug test for marijuana, Ngannou comes into the fight off of consecutive defeats.
Following a loss to then-heavyweight champion Stipe Miocic at UFC 220 in January, Ngannou dropped his next fight to Derrick Lewis at UFC 226 in July in a fight that many consider one of the most boring UFC matchups in history.
But while the two are trending in opposite directions, it is hard to ignore that Ngannou is the last man to defeat Blaydes and that his vicious knockout power is always a threat.
"There's two different ways guys go when they lose, either they say, 'Well I'm afraid to lose again. I'm afraid of it.' Or they say, 'I'm never gonna lose again.' Francis when he fought [Derrick Lewis] he said, 'I was afraid. I was afraid to lose again. I fought with fear,' said Guerrero.
"Curtis went the other route and said to me, 'Rick, I'm never going to lose again, I'm gonna bust my ass. I'm not going to lose.' So he felt what it was like to lose. He hadn't lost in MMA at all. He was an 8-0 amateur, so he'd been training for three years or so and hadn't lost anything, hadn't lost a round."
Blaydes feels that the Ngannou he fought in 2016 isn't much different than the Ngannou he'll see across the octagon on Saturday.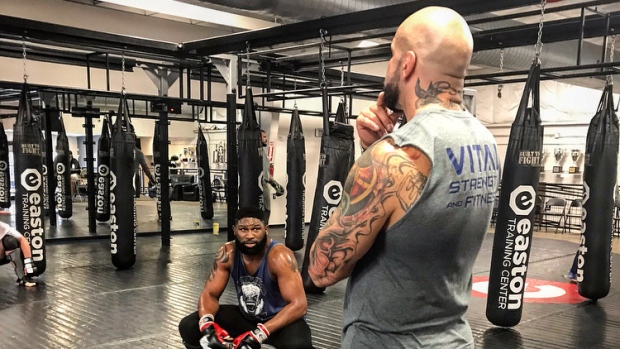 "I don't think [Ngannou] has improved. I think he's the exact same fighter he was," said Blaydes. "He doesn't move his feet very well. He doesn't use his hips at all – he just swings with his body. He drops his hands when he throws power, he drops his other hand. There are a lot of holes in his game. Back then, he beat me just because I had zero striking. He had a little bit and I had none. I thought I could beat him with just wrestling, which is disrespectful to a UFC fighter. You can't go into a fight like that with one weapon. It makes it too easy to beat you."
Blaydes' coaches have the utmost confidence in how their fighter matches up against Ngannou and the rest of the UFC heavyweight division.
"I really don't see anybody that we're not going to really dominate. I really don't see it. I see our hardest person to dominate as being Stipe [Miocic] because his striking is on a very high level and he's a very good wrestler," said Lopez.
"But do I think his wrestling is on Curtis's level? Absolutely not. Do I think his striking is on Curtis's level? It's close. His footwork isn't, but he understands how to fight in the clinch and dirty box. I know he got knocked out by (Daniel Cormier) doing that, but he's still a very high-level fighter in that area, so I see Stipe being our biggest challenge right now in the heavyweight division."
For the first fight, Blaydes sat in the middle seat in economy on an 11-hour flight to Croatia. This time, he's flying first class on a 17-hour flight to Beijing. Rather than having his manager as his corner man, he has a proper coaching team who train him day in and day out with other mixed martial artists.
Most importantly, Blaydes has elevated every facet of his game. His striking is advanced, his grappling has evolved, he's training at a real camp and he is on the cusp of a title shot.
With the heavyweight title picture unclear due to the pending retirement of champion Daniel Cormier, Blaydes will be looking to make a statement.
"If they give me the opportunity to fight for the belt, I feel like I'll have it for a while, unless some new heavyweight comes in with Olympic-level wrestling or is just as fast as me, just as big as me. I just don't see it happening," Blaydes said.
"Most really good wrestlers, especially heavyweights, once they're finished with their collegiate careers they don't want to continue the grind. That's why I don't see another guy with my grappling skills coming around, which will be the only way to dethrone me, because even if there's a heavyweight with better hands than me, I'll just take them down."