The stats say Karlsson still his dominant self
Don't be fooled by the ugly goal differentials from last season, Travis Yost writes. Every other performance measure suggests the Ottawa Senators captain was a force.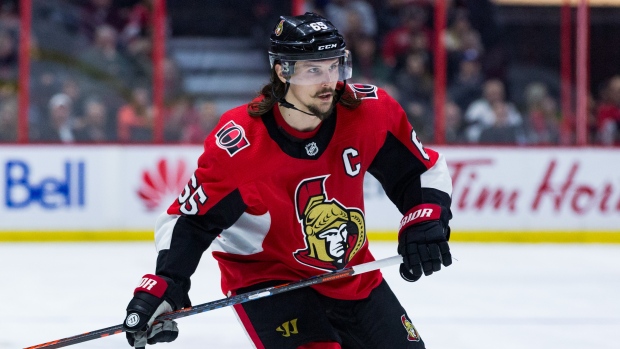 Erik Karlsson is moving on.
It may be tomorrow. It may be next week. It may be at some point during the regular season, though that appears increasingly unlikely. Regardless of timing, it seems that all parties involved are ready to separate. And now, it's up to Ottawa to maximize on the trade return.
The trade discussion surrounding the cornerstone defenceman has been fascinating. It's rare for a player of Karlsson's calibre to shake loose, but it's even rarer for a player of Karlsson's calibre to shake loose one season before his contract actually expires.
There's certainly a feeding frenzy of interest on the player around the league, but it sure doesn't sound like teams are willing to part with much by way of trade. I attribute that to two items – teams have all but concluded that Ottawa and Karlsson are at impasse and separation is imminent, and teams may be concerned about his performance and longevity after an invasive ankle surgery.
Quite a bit of Ottawa's underwhelming season has been retroactively attributed to the fact that Karlsson was never 100 per cent healthy following that surgery.
Interested buyers surely are reviewing his tape from last year to get a feel for how much the injury impacted both his game and the performance of his team. What's interesting though is that, even amidst a throwaway season where he probably wasn't totally healthy, Karlsson was still his dominant self. And the stats back that up.
The crux of the concern around Karlsson seems to centre on goal plus-minus last season. Karlsson was -20 (+61/-81) in goals last year, which is a massive decline from prior years. But note that's also collinear with Ottawa's struggles as a team. With Karlsson off of the ice, Ottawa was still -26 in goals.
Why the decline? An awful lot of it can be tracked up to the fact that Ottawa's goaltending was abysmal last season. In the four seasons pre-dating 2017-18, Karlsson's on-ice save percentage was around 92 per cent – just a shade under league average. In 2017-18, that save percentage sat at 89 per cent. Ottawa's Only Pittsburgh's Kris Letang had a worse on-ice save percentage last year, for a point of reference.
So we know the goaltending tanked last year, regardless of whether it was behind Karlsson or behind any other player on the Senators roster – Ottawa, at aggregate, finished dead last in goaltending performance last season. That makes goal-based analysis awfully difficult. Goaltending, at its extremes, can really cloud how we think about the value a player added to his team.
To that end, let's look at some other measures. If Karlsson's game had eroded at some point, we would likely see it in his individual performance or on-ice measures blind to goal plus-minus. Let's start individually first. How did Karlsson look compared to prior years?

Ice time, shot generation rates, and scoring rates were nearly identical to the four prior seasons. However, Karlsson did see a massive dip in his shooting percentage. A career 8 per cent shooter at 5-on-5, Karlsson managed to score on just 3 per cent of his shots last year.
That sort of dip seems inexplicable and a likely measure to regress next season. We just don't have a lot of history of guys who see shooting percentage randomly fall off of a cliff like that, and our best bet for Karlsson in 2019 and beyond is back to being an 8 per cent shooter.
Let's move on to the on-ice and team relative measures. Again, we know here that Karlsson struggled mightily, thanks in large part to a leaky goaltending situation all year. What about the territorial play, though? Was Karlsson routinely flipping the ice as he has done for so long in his career, or were other teams more successful at pinning Ottawa into the defensive zone and generating more dangerous shot attempts against Craig Anderson and company?

There is a critical takeaway here. Ottawa saw a 5.5 per cent boost in territorial advantage with him on the ice (versus other pairings on the ice) and still outshot the opposition over the course of the season. To reiterate: Ottawa, who managed just 67 points last year, were in the offensive zone more often than not with Karlsson out there.
But knowing how ugly the goals fell in 2017-18, we need to bring in an element of shot quality. That's where Expected Goal% measures (via Corsica) come into play. They not only take into account the volume or disparity of shot generation, but the quality of each of those shots. It's a good way to tease out if teams in certain situations are more or less vulnerable to dangerous scoring chances, rather than treating all shots as equal.
From an Expected Goal% perspective, Karlsson's numbers are a bit less flattering. Ottawa, in a goaltending-neutral situation, would have expected to realize about 48 per cent of the goals with Karlsson on the ice – a five-year low. But that number was still more than three percentage points higher than with Karlsson off of the ice. And 48 per cent of the goals would have put Karlsson at -5 on the season – not great, but far better than the -20 in actual goals Ottawa experienced.
Which is to say: Karlsson may not have been 100 per cent last season, and I don't think we saw his best regular season to date. But don't be fooled by the ugly goal differentials on the ice last year. Every other performance measure suggests Karlsson was still a force. And if he was still a force at 70 or 80 per cent, I'm guessing his next team will reap substantial benefits in 2018-19 and beyond.