The TradeCentre Match Game: Evander Kane
Frank Seravalli, TSN Senior Hockey Reporter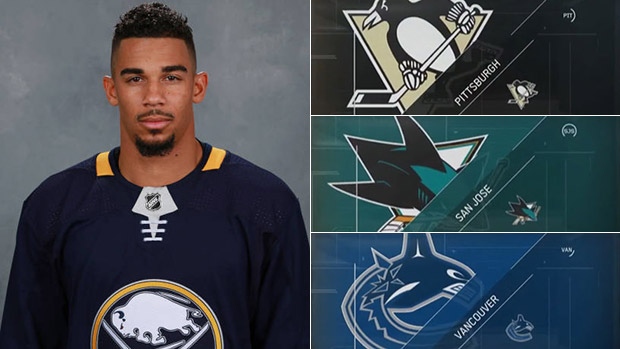 With the National Hockey League's Feb. 26 trade deadline rapidly approaching, TSN Senior Hockey Reporter Frank Seravalli plays TradeCentre Match Game: Proposing a number of potential team fits for players on the TSN Trade Bait Board.
Today, we examine potential new homes for Buffalo Sabres left winger Evander Kane.
Match Game 2018
Evander Kane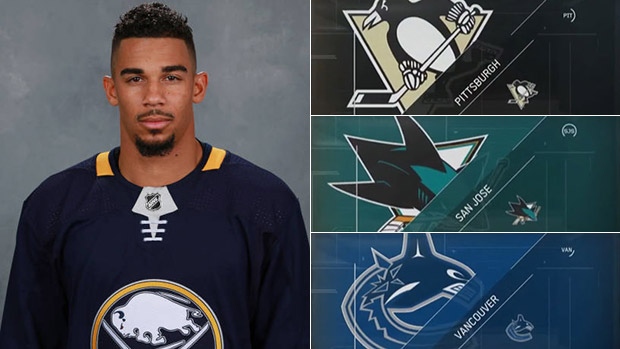 Evander Kane
| Team | Pos | Age | GP | G | P | 17-18 Cap Hit | Past 17-18 |
| --- | --- | --- | --- | --- | --- | --- | --- |
| Buf | LW | 26 | 50 | 16 | 36 | $5.25M | UFA |
Pittsburgh Penguins: The Penguins have been linked to Kane because, well, which big name has GM Jim Rutherford not been in the mix for over the years? Rutherford would like to add an impact winger with scoring punch along with a much-needed third line centre. The Metropolitan Division is wide open for the Penguins to make a run at a third Cup. Rutherford has the relationship with Sabres GM Jason Botterill, his former assistant, and the Penguins' leadership core is one of the few that can unquestionably handle the injection of a complex personality like Kane.
San Jose Sharks: The Sharks and GM Doug Wilson are believed to be interested in Kane, but only to a certain point. They also don't have second or third-round picks this summer. While Kane could be a nice potential fit in the Bay Area, he probably makes more sense as a player you plan to keep long-term. It's possible for the Sharks to do that cap-wise, but Wilson is believed to be stockpiling ammo for a potential run at John Tavares this summer.
Vancouver Canucks: Of course, it's been long-rumoured that the Canucks are interested in bringing Kane home to Van City. The only reason to go for Kane now, in a season that's beyond playoff hope, would be that you think the team acquiring him now will undoubtedly keep him. Otherwise, it would make sense to attempt to sign Kane when he hits the market on July 1. Vancouver will have significant cap space available with only $44 million committed to a potential $80 million ceiling without the Sedins under contract.
PLAY THE TRADECENTRE MATCH GAME
Where will Evander Kane go?