Tolvanen gets first NHL goal, Predators beat Blackhawks
Eeli Tolvanen scored his first NHL goal and added an assist to lead the Nashville Predators to a 5-2 victory over the Chicago Blackhawks on Saturday night.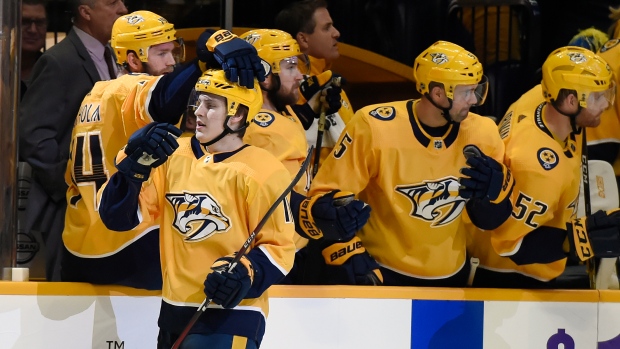 NASHVILLE — Missing a few players due to injuries and an illness, the Nashville Predators reached to the minors for some help. It paid off with a win.
Eeli Tolvanen scored his first NHL goal and added an assist to lead Nashville to a 5-2 victory over the Chicago Blackhawks on Saturday night.
Tolvanen, the 30th overall pick in the 2017 NHL Draft, got his first goal 3 1/2 minutes into the game. On the left half wall, Smith sent a backhand pass to Tolvanen alone in the low slot, where he sent a backhand over Ward's glove to push Nashville's lead to 2-0.
"That's a goal I'm going to remember my whole life," Tolvanen said. "It was a great pass. I was kind of alone with the goalie and I tried a backhand and it went in."
Tolvanen was recalled from Milwaukee of the AHL earlier Saturday after Filip Forsberg, the team's leading goal scorer, was placed on Injured Reserve with an upper-body injury that will sideline the Swede for 4 to 6 weeks.
Nashville was already without forwards Viktor Arvidsson and Kyle Turris and defenceman P.K. Subban, who all are on IR. Center Nick Bonino missed Saturday's game with illness. Anthony Richard was also recalled Saturday and arrived at the arena late in the afternoon in time to make his NHL debut.
"It's different when you lose one," Nashville coach Peter Laviolette said. "When it was just (Arvidsson), it was. 'Alright we'll juggle it up a little bit,' but I still think that there was a real belief that we were going to be successful tonight. Opportunity for guys like Eeli, like (Anthony) Richard coming up here. I thought he played a good game."
Craig Smith, Kevin Fiala and Ryan Johansen also each had a goal and an assist, and Austin Watson added an empty-netter for the Predators. Pekka Rinne stopped 19 shots.
Nashville was motivated after a 3-0 loss to Arizona on Thursday night.
"We had a tough practice yesterday, everybody was pretty angry," Fiala said. "Today we (brought) it to the game and everyone was still (upset) about the last game and it was a great response."
Brandon Saad and Artem Anisimov scored for Chicago, which has lost three straight. Cam Ward finished with 24 saves.
Johansen's power-play goal at 4:11 of the first made it 3-0. Fiala attempted a wraparound on the right post but the puck sailed wide to Johansen positioned on the left post and he scored his fifth of the season.
"We haven't started well lately and we're trying to figure out a way to correct that and it's just not happened," Chicago captain Jonathan Toews said. "It's frustrating. We've got to be better, we know that. Try and keep cracking down on all the little details, that's all we can do."
On a rare 7-minute power play for the Predators, including two full minutes of a 5-on-3, the teams traded goals, with Saad scoring short-handed with 7:40 left and Smith on the power play with 6:25 remaining to make it 4-1.
"We got energy from the penalty kill," Chicago coach Jeremy Colliton said. "It seemed like we got the desperation and the urgency that we needed when we were in that spot."
The lengthy man-advantage was a result of Duncan Keith being assessed 29 minutes in penalties, including a game misconduct, at 7:18 after taking exception to a check that Predators forward Miikka Salomaki delivered to him on the right boards.
Anisimov scored the only goal of a relatively quiet second period. Brandon Manning drew three Predators to him in the left circle before firing a pass to an unchecked Anisimov in the slot, where he beat Rinne on the glove side to pull Chicago within two.
Watson added his empty-netter with 2:54 remaining in the third.
Fiala scored the game's first goal at 2:11 of the opening period. From the left point, Matt Irwin threw the puck into traffic in front of the Chicago net. In the low slot, Fiala grabbed the puck, spun around and beat Ward low on the stick side.
NOTES: Laviolette earned his 200th regular season victory with Nashville. ... Predators C Anthony Richard made his NHL debut. ... Nashville is 6-2-0 against fellow Central Division teams this season. ... Chicago is 2-12-1 when giving up the first goal. .. Anisimov has scored in consecutive games for the first time this season.
UP NEXT
Blackhawks: Host Calgary on Sunday.
Predators: Host Buffalo on Monday.
___
More AP NHL: https://apnews.com/NHL and https://twitter.com/AP_Sports