Lucic inks seven-year deal with Oilers
Milan Lucic signed a seven year, $42 million deal with the Edmonton Oilers on Friday. The Vancouver native has 159 goals and 238 assists for 397 points over 647 career games with the Boston Bruins and Los Angeles Kings.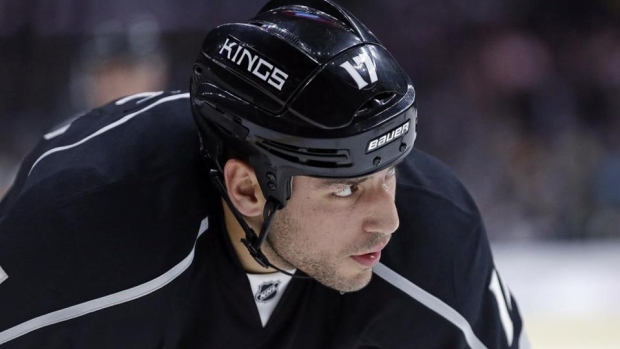 EDMONTON — Peter Chiarelli admits there's a risk in every decision he makes.
But the Edmonton Oilers general manager said Friday that he's happy after three days of dealing that landed him power forward Milan Lucic, defenceman Adam Larsson and backup goaltender Jonas Gustavsson.
"I think we have improved our team significantly," he told a news conference to introduce Lucic. "Milan is an impactful player who will change a lot of things here. I love the way he plays."
Lucic, 28, signed a seven-year, US$42-million deal with Edmonton shortly after the NHL free agency period opened at Noon Eastern. The six-foot-three, 233-pound winger played with the Los Angeles Kings last season.
Lucic said his decision to sign with Edmonton came down to two factors: the opportunity to play with centre Connor McDavid and his familiarity with Chiarelli.
"The No. 1 reason I came here is Connor McDavid," Lucic said. "He's a special player. What I saw (of him) in one season, as 18-year-old, was something special. It's inevitable he's going to do something great and that's something I want to be a part of.
"The opportunity to play with someone like that doesn't come around too often."
Lucic said even if he doesn't get to play on McDavid's line, he's looking forward to being on his team and part of what he and others in Edmonton hope will be a resurgence of the team that has floundered for the last 10 years.
And then there was Chiarelli, who built a Stanley Cup championship team in Boston.
"In my eight years in Boston I saw what he did there, made us champions, and I have full confidence he will do that here in Edmonton."
The Oilers are looking for Lucic to replace left-winger Taylor Hall, their leading scorer last season, who was traded to New Jersey on Wednesday.
Lucic scored 20 goals and 55 points last season for the Kings, the fourth time in his career that he has hit those thresholds.
Lucic is one of five players to score more than 100 goals over the last six years while accumulating at least 500 penalty minutes. While he's not in Hall's class when it comes to scoring, he's expected to provide physical protection for McDavid.
"I still think the intimidation factor is still there," Lucic said. "I think the Oilers have been missing a bit of attitude and swagger over the last couple of years and that's something I bring to a team as well."
Lucic said opponents were never intimidated playing against the Oilers in the past and "its about time this team started heading in the right direction."
A direction he hopes to lead.
"I cherish this opportunity. I'm exited about doing it all over again," Lucic said. "I feel like that 19-year-old who went into Boston. . .and I'm excited for another fresh start here."
Several teams were interested in the former Bruin, including their long-time rivals the Montreal Canadiens. Lucic said he was tempted by Montreal's offer, especially after the P.K. Subban trade that brought veteran Shea Weber to the Habs.
"It would be great to play with those Western (Canadian) guys" he said, referring to Weber, forward Brendan Gallagher and goaltender Carey Price.
The Vancouver native has 159 goals and 238 assists for 397 points over 647 career games with Boston and Los Angeles. Lucic was selected in the second round of the 2006 NHL draft.
The Oilers also signed goaltender Gustavsson to a one-year contract Friday to back up starter Cam Talbot.
Gustavsson, 31, appeared in 24 games last season with the Bruins, posting an 11-9-1 record, a 2.72 goals-against average, a .908 save percentage and one shutout.