Toronto's top-tier talent came up short
The Maple Leafs were outclassed at even strength by the Bruins in their first-round series, and Toronto's star players were the biggest culprits, Travis Yost writes.
Six weeks ago, I wrote about the massive challenge in front of the Toronto Maple Leafs – namely a surging Boston Bruins team that looked every bit the part of a Stanley Cup contender.
It was apparent from about mid-December that Toronto would draw into a first-round series with Boston, and a rough March all but ensured the Maple Leafs would be the road team. Beating Boston in a road series is a tall task for any team in the league, and to that end, we must take Toronto's first-round exit with a grain of salt.
But that grain of salt shouldn't stop the Maple Leafs organization from conducting a much-needed post-mortem. On one side of the equation, it's clear the team has assembled a tremendous amount of talent through an intelligent rebuild, and that they'll remain competitive for quite some time. On the other side, it's Year 4 of the Mike Babcock era with zero postseason series victories (and a third consecutive year with a first-round playoff exit).
It gets much more difficult from here. The Maple Leafs aren't in salary cap hell, but they already project to carry just $4-million in cap space heading into the 2019-20 season, and that's before they make any decisions on a number of key players.
Restricted free agent Mitch Marner is the big name here, and based on the way his 2018-19 season progressed, he will likely command an eight-figure salary per year. Keep that in mind when you remember that the team also has other players to take care of, including Kasperi Kapanen, Andreas Johnsson, and Jake Gardiner (Ron Hainsey, Igor Ozhiganov, and Tyler Ennis are also set to expire, and the team is still hunting for a backup goaltender).
In other words, it gets much trickier from here on out. The Leafs have lost their financial competitive advantage with their star players signing lucrative long-term contracts, so the salary cap squeeze is here. That is standard operating procedure for any successful NHL team. The problem? Even when the contracts were very favourable, Toronto only intermittently looked like a team that could make a deep playoff run.
That brings me back to the Boston series. I know people want to focus on Babcock's usage and deployment, or a ghastly penalty kill, or the organization's failure to address the blueline – all topics worthy of discussion. But the part that leaves me mystified more than anything else is the fact that the Maple Leafs were outclassed at even strength by the Bruins. Most of Toronto's star players either couldn't get out of the defensive zone, couldn't sustain time in the offensive zone, or a combination of sorts.
This wasn't a series about lucky bounces. Toronto was outscored 16 to 13 at even strength (44.8 per cent) and that was probably a touch generous. Expected goals (blind to goaltender performance) in the series were 20 to 15 at even strength (42.9 per cent) in favour of Boston. Keep in mind that this is a Toronto team that owned 54.1 per cent of the goals at even strength over the regular season with the league's second-most explosive offence.
So which players dragged Toronto down in the series? Well, that's the thing. We can nitpick at the depth all day long, but it was largely the top-tier players who were taken out of most of the games: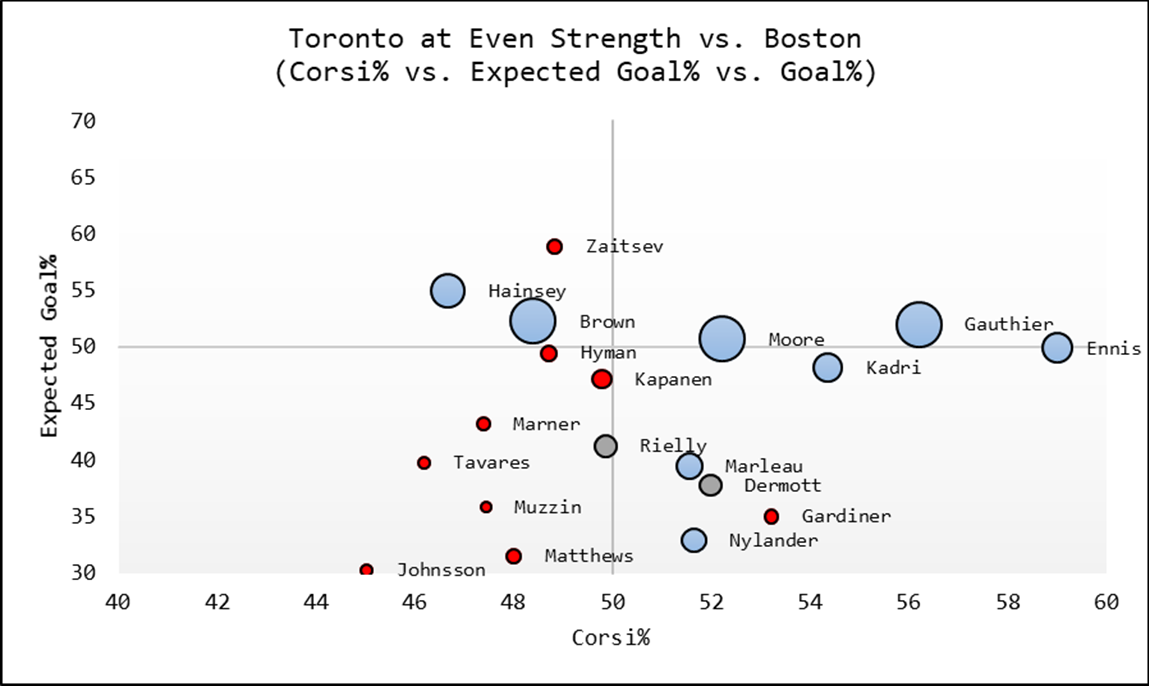 The list of players who owned a pitifully low percentage of the expected goals – guys like Auston Matthews, William Nylander, Gardiner, Jake Muzzin, John Tavares, Morgan Rielly, and Marner – also just so happen to be the core group of players who have driven the Leafs to where they are today.
It's worth repeating that the goal differentials we did see were largely mirror images of how the game was played territorially. Of Toronto's 12 most-utilized skaters in the series, only one – embattled defender Hainsey – actually drove a positive on-ice goal differential in the series. That's also true if you isolate it to just expected goals. The rest of Toronto's key players were either a wash in the minutes they played or were considerable negatives.
Toronto has had some frustrating postseason exits in the past, but this one is particularly problematic. How much do you weigh a seven-game series? That's the question that the Maple Leafs front office needs to answer in short order. Because for as much as we talk about how talented their core players are (and make no mistake, they are absurdly gifted), this group was noticeably outskated by an older Boston team that shouldn't have been able to match speed or skill against Toronto at evens.
It will be a fascinating summer in Toronto. Changes were coming well before their first-round exit, and now we sit back and see if this year's exit – where Boston's best simply outplayed Toronto's best – increases the scale and magnitude of what Kyle Dubas and company plan on accomplishing.