Trade Talk: Ducks interested in Myers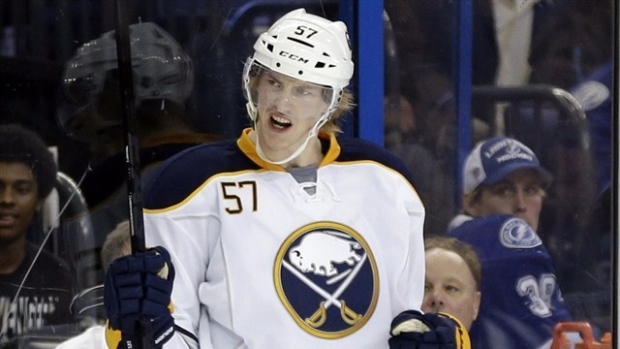 The NHL's Mar. 2 Trade Deadline is approaching and teams are making decisions on whether to buy or sell and decide which players can make the biggest difference and hold the greatest value. Check out today's trade rumours and speculation from around the NHL beat. And follow TradeCentre on TSN and TSN.ca through Deadline Day for all the updates.
Eyeing Myers
The Western Conference leading Anaheim Ducks appear to be in the market for talented Buffalo Sabres defenceman Tyler Myers, according to Bruce Garrioch of the Ottawa Sun. Garrioch says Ducks general manager Bob Murray has had regular talks with the Sabres about the availability of the 25-year-old defenceman. Anaheim is one of a handful teams that would be in good position and have the right assets to get a deal done for Myers as Buffalo would likely ask for a considerable amount in return. "He's got the bargaining chips and there's a ton of interest in Myers," said a league executive regarding the position Sabres general manager Tim Murray is in. Garrioch also mentions the Colorado Avalanche and Montreal Canadiens as being possible suitors for Myers. Myers has two goals and eight assists over 42 games in Buffalo this season, his sixth with the organization.
Greener Pastures
Garrioch has another interesting rumour in his Sunday column, stating the Montreal Canadiens could have considerable interest in Washington Capitals defenceman Mike Green. The Habs acquired the veteran Sergei Gonchar earlier this season, but haven't seen much production from Bryan Allen (sent to down to the AHL) and Mike Weaver (post-concussion symptons). The 29-year-old Green, who has played his entire 10-year career in America's capital, could be a good fit. The Calgary native has five goals and 24 assists in 41 games this season.
Up Against the Cap?
The New York Rangers could have little wiggle room when it comes to buying players at this year's Trade Deadline and could have a tough time signing pending unrestricted free agents Martin St. Louis and Mats Zuccarello in the offseason, according to Larry Brooks of the New York Post. Brooks says the Rangers have $52.375 million locked up next season for two goalies, five defenceman and six forwards with Derek Stepan possibly getting somewhere in the $6 million range in salary arbitration.