TradeCentre Match Game: Michael Grabner
Frank Seravalli, TSN Senior Hockey Reporter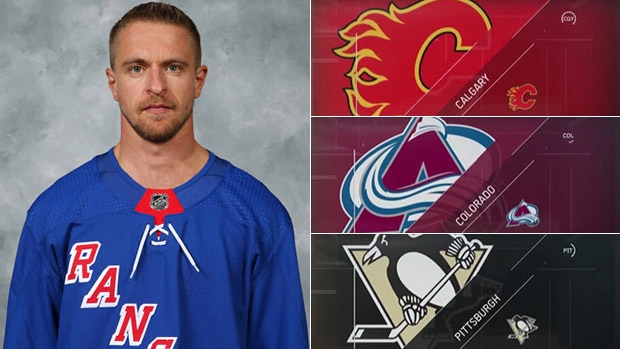 With the National Hockey League's Feb. 26 trade deadline rapidly approaching, TSN Senior Hockey Reporter Frank Seravalli plays TradeCentre Match Game: Proposing a number of potential team fits for players on the TSN Trade Bait Board.
Today, we examine potential new homes for New York Rangers left winger Michael Grabner.
Match Game 2018
Michael Grabner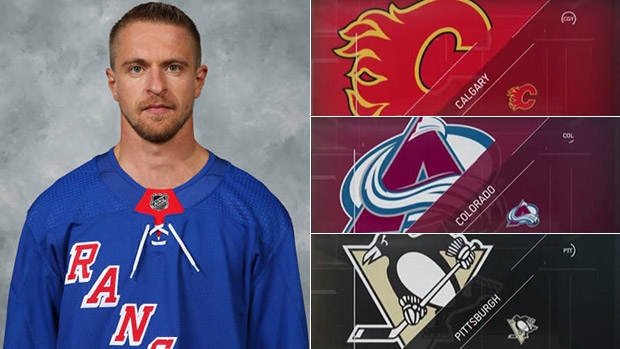 Michael Grabner
| Team | Pos | Age | GP | G | P | 17-18 Cap Hit | Past 17-18 |
| --- | --- | --- | --- | --- | --- | --- | --- |
| NYR | LW | 30 | 49 | 21 | 26 | $1.65M | UFA |
Calgary Flames: The Flames could certainly use an upgrade on their bottom two lines, someone who brings speed where guys like Troy Brouwer and Kris Versteeg slow them down. Calgary's top deadline need is depth scoring help. One caveat to Grabner's gaudy 21-goal campaign, though, is that six of them are empty-net goals. Of course, you have to be on the ice in the waning minutes to score those goals. The NHL single season record belongs to Pavel Bure with nine in 1999-2000.
Colorado Avalanche: It's a wait-and-see game for the Avalanche, who are sitting right on the playoff bubble after one of the most dramatic season-to-season turnarounds in NHL history. If they're buying, Grabner might not be a bad bet. There are plenty of playmakers in Colorado to offset Grabner's goal-first points ratio, with just four assists to go along with his 21 goals this season.
Pittsburgh Penguins: Coach Mike Sullivan has remarked on multiple occasions that the Penguins' team speed is not where it needs to be. Grabner might be the sort of low-cost, high-value trade piece - like a Carl Hagelin - that helps get the Pens back on track. Grabner has speed to burn and the skill level to play as high or low in Sullivan's lineup as the coach desires.
PLAY THE TRADECENTRE MATCH GAME
Where will Michael Grabner go?