Turris settling in with Predators on and off the ice
Kyle Turris's pre-game routine is a little different these days. As a member of the Ottawa Senators, he used to meet up with a close-knit group of neighbours every afternoon to chat and get their dogs some exercise.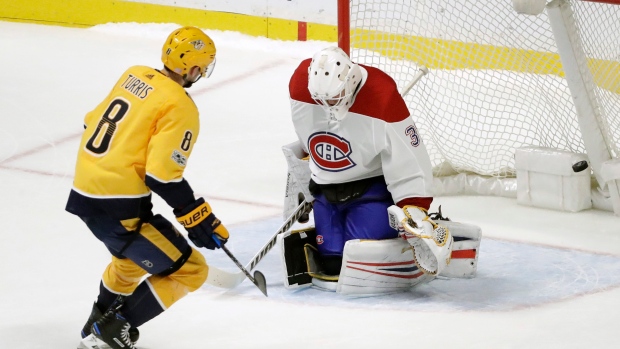 VANCOUVER — Kyle Turris's pre-game routine is a little different these days.
As a member of the Ottawa Senators, he used to meet up with a close-knit group of neighbours every afternoon to chat and get their dogs some exercise.
Since a blockbuster three-team trade that saw Turris shipped to the Nashville Predators, most of his spare time has been spent buried in paperwork.
"It's been a lot of fun at the rink and on the ice," the 28-year-old said this week. "Off the ice is where it's been really crazy. Just trying to organize the move with my wife and three kids.
"Everything from vehicles to housing to (immigration) status. It's been a crazy month."
That crazy month kicked off when the Senators dealt Turris to Nashville on Nov. 5 as part of a swap that saw Ottawa acquire fellow centre Matt Duchene from the Colorado Avalanche.
Despite having just helped lead the Senators to within a goal of making the Stanley Cup final, Turris sensed over the summer his time in the nation's capital might be drawing to a close as negotiations on a new contract stalled.
Set to become an unrestricted free agent next July, Turris was eventually sent packing from the franchise he had been with since former Senators general manager Bryan Murray, who died in August after a long battle with cancer, acquired him from the Phoenix Coyotes in late 2011.
"We kind of had an inkling (a trade was coming)," said Turris, the third overall pick in the 2007 draft. "You hear the rumours and kind of had an idea, but how fast it happened ... it's always shocking.
"I'm so thankful to Bryan Murray and the Ottawa organization for giving me the opportunity they did to develop into the player I've become."
After signing a six-year, US$36-million extension following the trade, Turris and the Predators have been nearly unstoppable. Nashville is 12-2-2 in 16 games since the move — the best record in the NHL over that span — with Turris compiling three goals and 11 assists in 15 contests playing on a line with wingers Kevin Fiala and Craig Smith.
"I've seen trades where it takes a little bit for a guy to find his footing," said head coach Peter Laviolette. "Sometimes it can take two weeks, it can take a month, it can take longer than that. Sometimes you make a trade like that (and) they never find their footing. He's come in, and that line has just been terrific every night.
"I'm saying it, but you're seeing. They're dangerous, they're fast and they're skilled."
Turris was uncharacteristically outspoken Wednesday when he suggested the only reason he's no longer with Ottawa is because team owner Eugene Melnyk overruled general manager Pierre Dorion in contract talks.
"It was tough because I think management did want to sign me, but I think that the owner didn't," said Turris. "And that was his decision."
The comment did nothing to quell the fears of Senators fans after captain and star defenceman Erik Karlsson said recently he won't take a hometown discount when his deal runs out in just over 18 months, but Dorion disputed his former player's version of events at a press conference later in the day.
The Predators, who lost to Pittsburgh in last season's Cup final, sat third in the Western Conference and fourth in the NHL's overall standings heading into Thursday's game in Edmonton following Wednesday's 7-1 thumping of Vancouver.
Nashville is deep down the middle with Turris, Ryan Johansen and Nick Bonino capable of going toe-to-toe against any opposing trio in the league, while a defence anchored by Roman Josi and P.K. Subban, and a crease protected by goalie Pekka Rinne, has the Predators once again thinking big.
"We have a great group," said Turris. "They had a ton of success last year that we're looking to build off of."
But while he's landed with a franchise that has a legitimate shot at winning a championship this season and beyond — the Senators, on the other hand, have cratered with the league's worst record since the trade — it still hurts the native of New Westminster, B.C., that he had to leave Ottawa.
"We love the city. We had our three kids there, we had a house," said Turris. "The relationships we built with our friends in our neighbourhood, the Condors (a hockey team for children with special needs he and wife Julie donated a lot their time to) ... I mean, we loved it.
"We didn't want to go anywhere."
The rest of the Turris family will be joining him in Nashville next week when they take possession of their new house. Then the process of trying to put down roots similar to the ones they had in Ottawa begins in earnest.
"Just looking forward to having the family there and getting them comfortable, and starting to develop our home in Nashville," said Turris. "We're really excited."
Now he just needs to find some new dog-walking partners.
---
Follow @JClipperton_CP on Twitter