Undersized Palmu likes the direction Canucks and NHL are heading
Perhaps the one person in the Vancouver Canucks organization most excited about the team taking diminutive defenceman Quinn Hughes seventh overall in last month's National Hockey League draft was Petrus Palmu, TSN 1040's Jeff Paterson writes.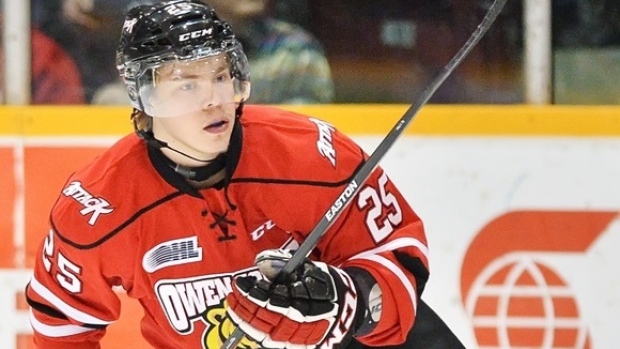 VANCOUVER – Perhaps the one person in the Vancouver Canucks organization most excited about the team taking diminutive defenceman Quinn Hughes seventh overall in last month's National Hockey League draft was Petrus Palmu. It was an indication that the Canucks are placing a premium on elite skill and skating over all other traits. And that gives the 5'6" Finn more hope than ever that he'll one day have the chance to realize his dream of playing in the NHL.
Palmu, who was a sixth round pick of the Canucks in the 2017 draft, remains a long-shot to climb hockey's ladder to the top rung. But based on his size, battling long odds is nothing new. Yet Palmu is not only an NHL draft pick, but he's signed to an entry-level contract and ready to play in Utica next season. The idea of him getting his chance in the NHL isn't as far-fetched as it once seemed. And he's excited by the prospect of playing for a franchise hitching its wagon to Hughes along with 2017 first rounder Elias Pettersson who, like Palmu, has also spent the past season shaking this notion he isn't big enough to make his mark on the game.
"The game is changing and it's a sport and you have to have a good hockey IQ and the smarts – it's not all about size and strength," Palmu said after the first day of on-ice sessions at Canucks' summer development camp at Rogers Arena on Monday. "There's a puck and you have to skate and stick handle. It's a good thing that Vancouver wants players who are skilled and smart and good skaters. So I like that."
Listed at 172 pounds on the Canucks roster, Palmu arrives at this camp coming off an impressive first professional season in which he scored 17 goals and produced 36 points in 59 games for TPS Turku in the Finnish SM-liiga. That led all first year players in that league and for his efforts, the right winger was named Rookie of the Year.
With a low centre of gravity, Palmu is strong on his skates and despite being shorter than opponents he's certainly not easy to push around. After a few games of adjusting to life as a pro, the soon to be 21-year-old (his birthday is on July 16th), was pleased with the way his season unfolded.
"For my first year in pro hockey, I had dreams about being a professional , I think it went well and it was fun," he says. "I take little steps every year. It's not like it's one summer and I'll be a National Hockey League player. It's a process and it may take a summer or two or maybe three, but I try to do my best and enjoy every day. I'm living my dream and hopefully I'll get the chance at some point. I believe in myself."
While he may have been little more than a curiosity with potential when they selected him a year ago, the Canucks now believe in Palmu, too. He's destined to start next season in the American Hockey League, but unlike many Europeans who need time to adjust to smaller ice in North America, Palmu has experience to draw on from three years in the Ontario Hockey League.
In fact, he's just one year removed from a 40-goal and 98-point season on small ice in Owen Sound where he was teammates with fellow 2017 Canucks draft pick Jonah Gadjovich.
"You look at the way the game is trending and he fits all those things," Utica general manager and Canucks director of player development Ryan Johnson says of Palmu's prowess. "Yes, he's small in stature, but he protects the puck very well. He's almost like a fire hydrant. He's tough to knock off the puck. He's very shifty down low. He's quick in the small areas and the East/West game and has a really high hockey sense. I know when our guys drafted him, that's what they were envisioning. You look at a guy like (Viktor) Arvidsson in Nashville that plays a crafty game, he's quick all over the ice and he plays in traffic. Petrus has a lot of those similar qualities and we're just trying to help him bring them out."
A decade ago, it would have been difficult to imagine a player like Palmu getting a legitimate chance to play in the NHL. But with the emergence of stars like Patrick Kane and Johnny Gaudreau leading the way for others like Tyler Johnson, Jonathan Marchessault, Cam Atkinson, Connor Sheary and Alex DeBrincat – all members of the 5'9" and under club – the opportunities in the NHL now seem better than ever.
And for Palmu and others of his ilk, recently-named 2018 Hockey Hall of Fame inductee-to-be Martin St. Louis remains the gold standard for undersized players.
"I have a teammate in Turku Eric Perrin who is friends with Marty and I have a St. Louis jersey I want to send to him," Palmu laughed. "He said he was going to see Marty this summer, so maybe I'll get it autographed."
That would be a terrific keepsake and a reminder for Palmu of just what is possible. While he may be shorter than those around him, Palmu wants to prove he measures up. And the Canucks may find in the years ahead that this Finn is a perfect fit for an organization trying to climb back to the Stanley Cup playoffs.
CAMP NOTES:
Jonah Gadjovich
is nursing a wrist injury that is preventing him from shooting pucks at camp. He took part in Monday's on-ice drills by was limited during the session. He says he suffered the injury during the OHL Playoffs. He's been examined by the Canucks medical staff and expects to be 100% for training camp in September. Fellow 2017 second round draft pick
Kole Lind
is spending the summer in Saskatoon after moving from his home in small town Shaunavon, Sask. where he felt he couldn't adequately train for the upcoming hockey season. Lind is living at the home of former NHLer Rich Pilon who was his Midget hockey billet. At one point Monday, there were 11 coaches on the ice working with the players. Canucks prospects will tackle the Grouse Grind on Friday as the finale to this year's Summer Development Camp.