Leipold: I wish we hadn't traded for Hanzal
Minnesota Wild owner Craig Leipold says he approved of the trade to acquire Martin Hanzal and Ryan White in February, but now wishes the team had stood pat.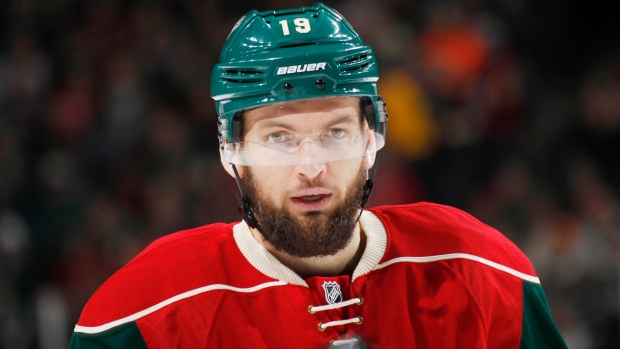 The Minnesota Wild attempted to load up for a deep playoff run by acquiring Martin Hanzal and Ryan White from the Arizona Coyotes in February.
Hanzal scored one goal in the five playoff games, White played in only three games, failing to register a point as the Wild were eliminated in five games by the St. Louis Blues.
Wild owner Craig Leipold said he approved of the trade to acquire the two veterans, but now wishes the team had stood pat.
"In hindsight, geez, I wish we wouldn't have done that," Leipold told the Minneapolis Star Tribune on Wednesday. "I supported that decision at the time, and I'm willing to live with it."
The Wild traded a 2017 first-round pick and a 2018 second-round pick along with AHL forward Grayson Downing and a conditional fourth-round pick to the Arizona Coyotes for Hanzal, White and a fourth-round pick in February. Both players are set to hit free agency this summer.
As a result of the Hanzal-White trade and the 2015 trade which brought Chris Stewart to Minnesota, the Wild do not own a pick in either of the first two rounds of June's entry draft.
The Wild have made the playoffs in each of the past five seasons, but have failed to advance past the second round. Minnesota has exited in the first round in each of the past two seasons.
"I'm not satisfied where we are," Leipold said. "In my feeling with the playoffs, we took a step back, and we never expected that. We didn't think that was going to happen, so it's causing us to think, 'What do we need to do?'
"But I'm still … I like our team, I like the way it's built. Sure, there's some issues that we need to address, and we will. But I'm not disappointed with our team. I'm disappointed with how we ended the season."
Despite his feelings in hindsight on the Hanzal trade, Leipold backed general manager Chuck Fletcher, saying Fletcher's contract does not expire soon enough that he needs to worry about signing him to an extension.
The Wild face plenty of questions this offseason and face the prospect of losing a key player to the Vegas expansion draft.