Will Holland be a builder or a spender in Edmonton?
There's no question the new Oilers general manager has a stellar resume, but he's also responsible for a Red Wings front office that struggled with the architecture of a rebuild, Travis Yost writes.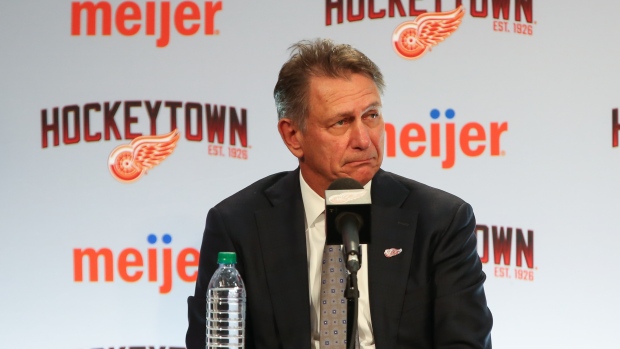 On Sunday, news broke that the Edmonton Oilers are tagging Ken Holland to take over general managerial duties on a reported five-year, $25-million dollar contract.
Since the report, there has been ample debate about the type of fit Holland will be within the Oilers organization. It is hard to think of another NHL team that's had more trouble finding quality executives or head coaches over the last decade. To that end, it's understandable that fans and media are approaching the reported hiring with hesitation.
After the firing of both general manager Peter Chiarelli and head coach Todd McLellan, it became clear that the market wanted real change – the type of change that didn't include another Oilers retread assuming executive control. It forced Bob Nicholson, Oilers Entertainment Group CEO and the man tasked with leading the executive search, to look outside of the normal run of candidates. That meant capitalizing on a changing landscape in Detroit.
Edmonton preyed on Detroit the same way Detroit preyed on Tampa Bay. When Steve Yzerman – one of the principal engineers behind the Lightning's surge to the top of the NHL hierarchy – became available, Detroit immediately signed him and handed him the primary role overseeing hockey operations in Motown. Since that day, it seemed all but certain Holland would be moving on. The question was when and where.
Still, the plans for Holland's eventual succession were probably in the works for quite some time.
Holland had signed a curiously short-term, two-year contract extension in April of 2018. It's not the type of extension you tend to see for legacy general managers, certainly not for the likes of a general manager with Holland's resume. Three Stanley Cups and five Presidents' Trophies can buy you an awful lot of time and equity, and understandably so.
A year later, we are starting to see why. Holland, increasingly frustrated with the team's status and direction in the middle of an ugly rebuild, was paving the way for an inevitable transition. It just so happened that the timing worked in Detroit's favour, with Yzerman looking to return to his old stomping grounds around the same time.
The ongoing rebuild in Detroit has had myriad issues. At the top of the list, they tried to extend the useful life of their window through paying and re-paying some of their veteran players – veteran players who were once impact skaters on the ice, but had obviously seen their talent erode with time.
When they realized they had largely misevaluated on those contracts, they went out and sought expensive help in free agency. Only after a few years of doing this (over, and over) they went full steam ahead into an actual rebuild.
The notion that the Red Wings have been gutting their roster for some time would be incorrect. Even through this year regular season, Detroit has consistently carried some of the most penalizing salary caps in the NHL.
CapFriendly has an impressive catalogue of spending over the last four seasons, more or less the timeframe we are talking about here. Using that data, we can see the Red Wings have been the least efficient spending team the league has had to offer: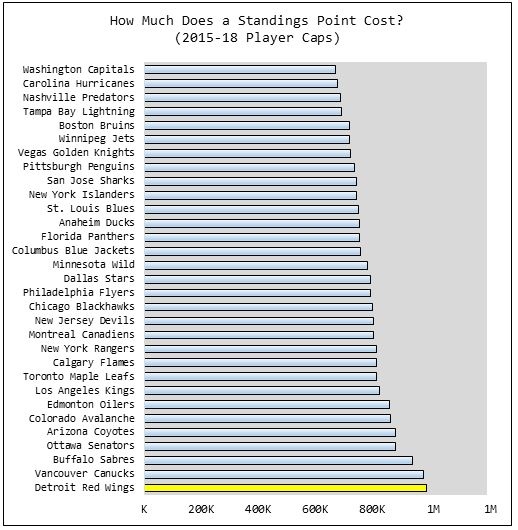 No team has spent more and picked up less than the Red Wings. While this is going to be directionally true for most teams in a rebuild, it's worth pointing out that the Oilers – perhaps one of the least efficient teams we have seen in quite some time – spent nearly $130,000 less for every standings point accumulated.
So we know the Red Wings have burned a lot of money over this window. But it's important to note that this isn't front-loaded in any way. Detroit has consistently carried one of the league's most penalizing caps, year over year.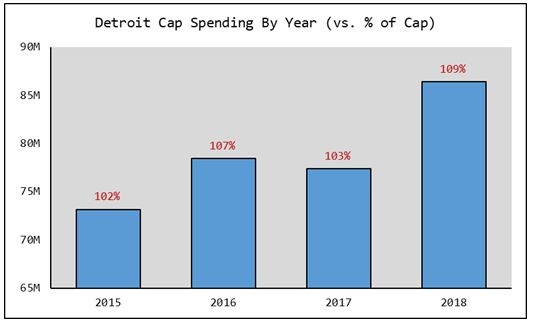 Yes, Detroit has consistently met or exceeded the cap threshold. Their focal point of relief has generally come by way of long term injured reserve ("LTIR"), which allows teams to artificially exceed the salary cap when roster players are expected to miss a minimum of 10 NHL games and 24 calendar days in a given NHL season. In 2018-19, we saw the Red Wings exercise this with the likes of Henrik Zetterberg, Johan Franzen and Mike Green, providing a nearly $7-million overage.
But LTIR is just one small part of the story. Consider just the 2018-19 regular season – a throwaway year designed to bring as many quality trade assets and draft picks as possible. Here were Detroit's most heavily paid rostered players:
Forwards: Dylan Larkin, Frans Nielsen, Justin Abdelkader, Darren Helm
Defence: Danny DeKeyser, Niklas Kronwall, Jonathan Ericsson, Trevor Daley
Goalies: Jimmy Howard, Jonathan Bernier
Not exactly a murderers' row of talent there, and yet this group of 10 players ate up nearly $45-million in cap space last season. And here is the gut-wrenching part for most Red Wings fans: only one (Kronwall) has a contract expiring this season.
The team has been able to secure additional draft picks in coming years to help combat some of the salary cap swell, and will start seeing some real cap relief as soon as this summer. The 2020-21 season will be even friendlier on the team's cap outlook, and will give Yzerman substantial room moving forward.
No one is ever going to take away that blistering run of success that is front and centre on Holland's resume. But those runs were many, many years ago. And years after those runs the Red Wings have no immediate future, thanks in large part to so many crippling long-term contracts given out to aged-out veterans or players who never had a prime in the first place.
Outside of Detroit, no team needs more immediate help managing against the salary cap than Edmonton. That's what makes the Holland hiring so curious. Is Edmonton getting the builder from 15 years ago, or a piece of the Detroit front office that has spent the Red Wings into the ground?
We will find out soon enough.
Editor's Note: This article was updated with additional information after its original publication.