Wilson scores in OT as Caps rally past Leafs
The Toronto Maple Leafs put a scare in the Washington Capitals, but it was the favourites that prevailed in Game 1. Toronto native Tom Wilson scored five minutes into overtime as the Caps came all the way back from a 2-0 first-period deficit, winning 3-2 on Thursday night.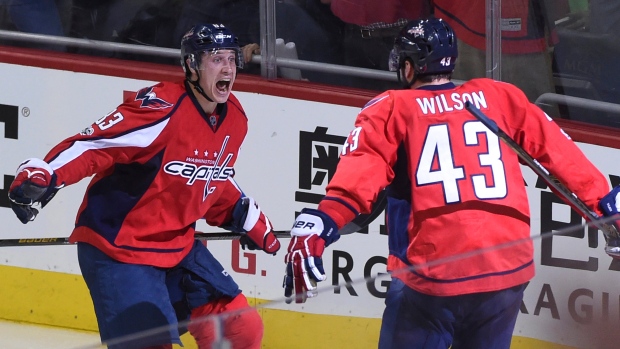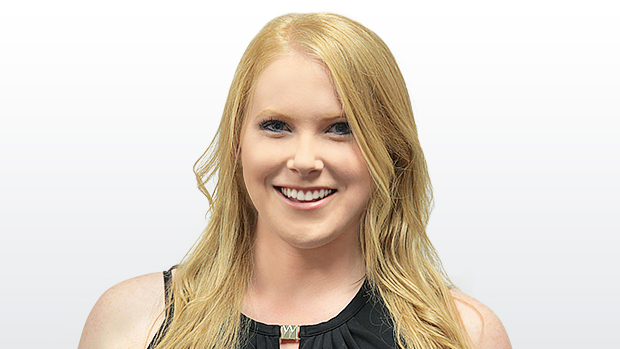 WASHINGTON, D.C. – This Toronto Maple Leafs' season has been dotted with opportunities – the ones they've seized, ones they've missed but all that they've tried to learn from.
Thursday night was no different. The Maple Leafs had a brilliant chance to surprise the hockey world by taking Game 1 of their first-round playoff series against the Washington Capitals, but the battle-tested Capitals overcame an early 2-0 deficit to beat the upstart Maple Leafs 3-2 in overtime.
Just like in the regular season, when they had to soldier through to their second-last game to secure a playoff berth, Toronto can take a full spectrum of lessons from this game, including that they can indeed go toe-to-toe with the big, bad Capitals.
"I thought [it was a] confidence builder for sure. I liked our game," said Mike Babcock. "I didn't like the way we wouldn't shoot the puck – we had so many opportunities to shoot and we wouldn't. I think it's important to get a taste [of playoffs] and understand what the game is like, and what it feels like, and now it's important we leave here 1-1."
As they did several times in the regular season, Toronto jumped all over their opponent out of the gate to the tune of a 2-0 lead just 9:44 into the game. But holding those advantages has been a curse since October, the single most frustrating trend for a young team that hasn't been eradicated fully even as the Maple Leafs have matured and evolved at an impressive rate. Toronto blew 11 multi-goal leads in the regular season, but only one in the final six weeks.
"It was a good start, we've just got to be able to get something out it," said Frederik Andersen. "It was a fun game. It wasn't the end result we wanted but we played really good and we showed we can play with these guys. But you don't get a win for that so we have to come back and play the same way and better."
The Maple Leafs' last road playoff victory was 16 years ago to the day on Thursday, when Mats Sundin scored the game-winner in Ottawa. Mitch Marner put Toronto on track for a good night when he opened the scoring 1:35 in, finishing off a fantastic play off the rush that started with Tyler Bozak feeding James van Riemsdyk and Marner burying van Riemsdyk's initial shot on goal as he was falling to the ice.
Marner, who became the first Maple Leafs rookie to score in a playoff game since Jeff Farkas in 2000, had an excellent game overall. He was shooting the puck with more authority, including while he finished off a superb toe-drag in the third, and looked more like himself than he has in weeks.
"It was a lot of guy's first experience with this and we came out how we wanted to," said Marner. "I think we played the game how we wanted to. It wasn't the result we wanted, so we have to start looking forward to next game. It's a lot tighter, so when you get a chance you have to try to put them in as much as possible."
That's what Tom Wilson did on the overtime winner, scoring a soft goal Babcock said Andersen "would like back." When the coach was asked about Wilson earlier in the week, he said, with all due respect to the forward, there were other players on the Capitals that Toronto was more concerned with. When it came down to it, Wilson did what the Maple Leafs weren't doing by the third period – he was putting pucks on net without worrying about making a pretty play first. In the end the Maple Leafs may have been getting in their own way offensively.
"I kept trying to tell them – we have good players, we're allowed to play at a high level," said Babcock. "You don't have to watch them, you can play good. I don't think they had to learn that [the margin for error is small]. I think they know that. What they found out tonight is they can skate with them, [they] can be physical."
The Maple Leafs knew nothing about slaying the Capitals would be easy, but what has gotten them where they are is the singular belief they are a better team than most give them credit for. Opening this series with a loss decided on a single shot has only seemed to buoy their resolve.
"We're not really focused on what anyone else says other than what's said in this locker room," Marner said. "We believe in ourselves in here and I think that's a thing that's made our team so successful, the trust we have. We believe in each other out on the ice and know we can make plays. That's what's going to make our team successful."
Takeaways
Hot-handed Andy: Toronto chances of winning this series hinge on Andersen being as good or better than he's been all season, and he delivered in Game 1, even after five days off with an upper-body injury. The Capitals outshot the Maple Leafs 44-37 overall, but Toronto had the better of them in the first two periods 28-25 before Washington really started pressing in the third. Andersen was sharp against the Capitals' big guns throughout, helped by the Maple Leafs' holding their top line to just five shots on goal. With the game chippy from the start, Andersen showed he wouldn't be intimidated by the Capitals' brand of physical play when he hip-checked Brett Connolly in the second period. The major blemishes on the goaltender's night were the easy scores allowed to Justin Williams and Wilson. On Williams' second goal of the night, Andersen lost track of the puck and Williams buried it with four minutes left in the second period to tie the game and shift all the momentum back to Washington. But as the home team came bearing down hard in the third period, and Toronto started chasing them around in their own end, Andersen was better than ever. He made a spectacular glove save, one of many on the night, on Marcus Johansson in the waning minutes of the third to keep the game tied and a couple more sprawling stops in overtime to give Toronto a chance.
No experience, no problem: Toronto had nine players making their NHL playoff debut on Thursday, but that group didn't look at all out of place against a team with only one player getting his first taste of the postseason. Along with Marner having a terrific game, and Martin Marincin earning some praise from his coach for shaking off the rust, William Nylander and Auston Matthews were equally strong. Nylander was all over the Capitals, blasting through the neutral zone just to stop on a dime and set up a scoring chance. He barreled in on Braden Holtby several times himself but the Vezina Trophy winner gloved a couple of his patented wristers. Nylander had three shots before eight minutes had elapsed in the first period and finished with four. Meanwhile, Matthews' ability to create something from nothing and steal pucks out from underneath players continues to be impressive. He ended up drawing the Capitals' top line from the second period on but kept playing his game. Drawing Nicklas Backstrom in the faceoff circle dropped his winning percentage down to 30 per cent, but overall it was a solid debut for Toronto's vaunted rookie class.
Defence depth: When news of Nikita Zaitsev missing Thursday's game with an upper-body injury officially came down from Babcock, there was widespread panic about how Toronto's wafer-thin defence corps would manage without the player who has eaten up the second-most ice time on average this season. Matt Hunwick and Roman Polak have been maligned by fans all season but they have both had strong second halves of the season and were steadying forces during the Maple Leafs' push into the postseason. They continue to execute the simple, smart plays that not only balance their younger, riskier counterparts but also make them effective at limiting opportunities against. Marincin was also seeing him first game action since March 14 and played well on the third pairing with the always-feisty Connor Carrick, but he can't play to the same level as Zaitsev in his own zone, which is where the team misses the rookie most. Babcock also singled out Morgan Rielly as having perhaps his best game of the season. Rielly scored the game's second goal and finished tops in ice time at 26:27.
Bad boys: Some penalties a team doesn't mind killing, but after Babcock and multiple players said the Maple Leafs would have to stay out of the box and prevent the Capitals' dangerous power play from going to work, they didn't follow their own advice. Toronto took three penalties in the first two periods, including overlapping infractions in the first period that gave Washington a 5-on-3 power play for 1:30 (which Babcock said after he was unhappy about) and ultimately allowed Williams to get the home side on the board just as the first penalty expired. Martin's cross-checking penalty in the second period was especially poor because it gave the Capitals momentum back which they used to tie the game before the frame came to an end. Discipline is crucial for Toronto in this series and the fact veterans like Martin and Brian Boyle (interference) were in the box was not a positive sign, but an easily fixable one.
Next game: Toronto will face Washington in Game 2 on Saturday.