Zuccarello suffered brain contusion, couldn't speak for four days
New York Rangers winger Mats Zuccarello said he suffered a brain contusion when he took a puck to the head in Game 5 of the team's opening round series against the Pittsburgh Penguins. The 27-year-old made the announcement to the media during the team's end of year locker cleanout on Monday. Zuccarello also said he couldn't speak for four days after the incident.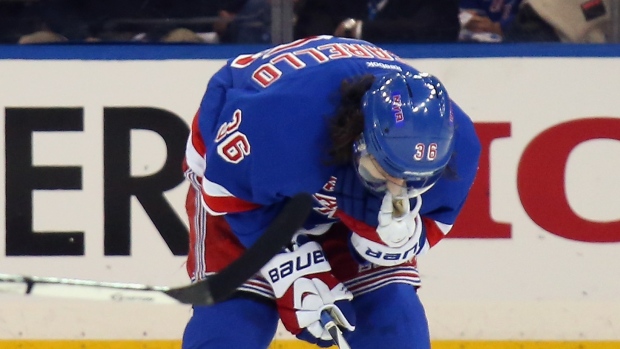 GREENBURGH, N.Y. - New York Rangers forward Mats Zuccarello could not speak for four days after being hit in the head by a shot in the opening round of the playoffs and sustaining a small skull fracture and some bleeding.
Three days after the Rangers lost Game 7 of the Eastern Conference final to the Tampa Bay Lightning, Zuccarello discussed his injury for the first time on Monday.
"I was in the hospital for three days," Zuccarello said after meeting with coach Alain Vigneault on the team's breakup day at their Westchester training facility.
"I couldn't talk for a while, had a contusion, some blood in my brain. That affects a lot. Now I go to speech therapy. I'm getting much better. I couldn't say a word for four days. I feel much better."
Zuccarello was hit on the side of the head by teammate Ryan McDonagh's shot in the series-clinching Game 5 against the Pittsburgh Penguins on April 24. He missed the last two rounds of the playoffs and said it was unlikely that he would have returned had the Rangers advanced to the Stanley Cup final.
The 27-year-old Norwegian also said he lost some feeling in his arm after the injury.
"... I lost everything," he said. "It was scary but the doctors were really good and made sure I knew that I was going to be healthy. After a while I was just happy to recover quickly."
McDonagh said teammates did not know about the seriousness of Zuccarello's injury on the night of the game.
"I went with our doc to see him. It was not a very good sight for sure," McDonagh said. "You don't want to see your teammate in a hospital bed with wires going every which way, making sure that he's OK."
Zuccarello's inability to talk also was a concern.
"You wanted to try and communicate with him, but it was a challenge for him," McDonagh said. "It was tough to see a very close friend and obviously a big part of our team go down that way, in that fashion. We sorely missed him for sure in the playoffs."
Zuccarello, who had 15 goals and 34 assists in the regular season, believes he will be ready to play next season.
The Rangers, who missed going to the Cup final for the second straight year, had other injuries. Defenceman Keith Yandle sprained a shoulder in the first round against Pittsburgh.
Defenceman Marc Staal sustained a hairline fracture of his ankle late in the regular season and did not miss a playoff game. McDonagh broke his right foot in Game 4 against the Lightning and did not miss a game. Defenceman Dan Girardi also had an ankle injury.