Adams apologizes for sounding off on Manziel chants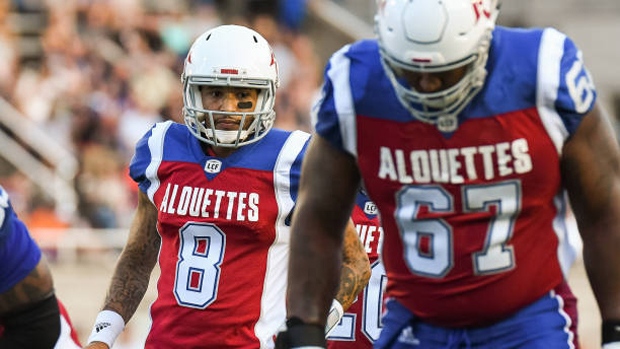 Montreal Alouettes quarterback Vernon Adams Jr. apologized after Tuesday's practice for sounding off on Montreal Alouettes fans for their 'We want Johnny' chants during Thursday's loss to the Edmonton Eskimos.
The chants were, of course, made in reference to fans wanting to see newly acquired quarterback Johnny Manziel hit the field. Adams was making his first start of the season on Thursday, and reports prior to the game indicated Manziel, a former first-round pick in the NFL, would see his first regular season snaps in the CFL at some point. Instead, Adams took every snap in the 44-23 loss as the Alouettes dropped to 1-5 on the season.
"I was just emotional" Adams said Tuesday. "I need to be better. I know I would never disrespect the fans or anything like that."
Adams made his apology shortly after Alouettes head coach Mike Sherman said Manziel would start Friday against the Hamilton Tiger-Cats.
The 25-year-old, who went 15-for-28 for 217 yards and an interception on Thursday, told La Presse on Monday he felt the fans were unfair to him.
"Yes, it hurt me to hear that. I have nothing more to say or to give to the fans of Montreal. Never again," Adams said, per Google translate. "Their behavior was very disrespectful. It was not like I was playing badly. I do not want them to ask me for anything, not even a small piece of equipment."
"I do not care what the situation is. It was a lack of respect and it affected me," Adams continued. "I tried anyways to make plays on the field. But that's fine. In the future, I'll treat the fans as they treated me. That's all."
Adams finished as the Alouettes leading rusher against the Eskimos, adding 72 yards and a touchdown on eight carries, and Sherman said after the loss he believed the quarterback "played well enough to win."
"My performance was not perfect, but I think I played a pretty good game overall," Adams said. "We left points on the ground for several reasons, some of which because of my passes lacked precision. We should have scored at least 10 more points."
Despite Sherman's praise for Adams after last week's game, Manziel opened the week by taking first-team snaps at practice Monday and was named the starter one day later.