Atkins cautious in addressing Donaldson relationship
The interesting side of this story was never going to come from Ross Atkins' mouth. We'll leave that to Josh Donaldson, who likely has a thing or two to say about how his relationship with Toronto Blue Jays deteriorated so quickly. Here are five things we do know about the trade, writes TSN's Scott Mitchell.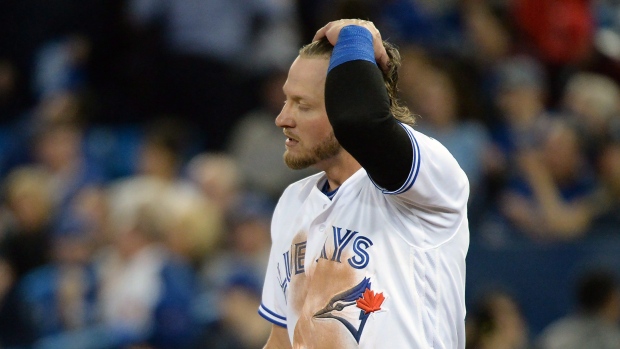 TORONTO — The interesting side of this story was never going to come from Ross Atkins' mouth.
We'll leave that to Josh Donaldson, who likely has a thing or two to say about how his relationship with Toronto Blue Jays deteriorated so quickly.
On Saturday, it was Atkins taking centre stage on a conference call, a day after shipping the 2015 American League MVP to his previous employer in Ohio in exchange for a player to be named later.
Atkins said the move was "the best thing for the organization" and the "best decision for our future."
Between the GM speak and the obvious attempt to say very little when it came to various eyebrow-raising comments made by Donaldson to the Toronto Sun in Dunedin this week, here are five things we learned about the trade:
PTBNL is likely no secret … or is it?
Shortly after the Donaldson trade became official Friday night, Paul Hoynes of the Cleveland Plain Dealer tweeted he was hearing that right-hander Julian Merryweather was a part of the deal.
Merryweather, a 2014 fifth-round pick, underwent Tommy John surgery in spring training, and the 6-foot-4, 200-pounder has sat out the season.
Not held in high regard as a prospect, Merryweather turns 27 in October and is coming off a 2017 season that saw him register a 5.32 ERA in 25 starts at Double-A and Triple-A.
Based on Atkins' comments, the fact Merryweather's on the disabled list and not eligible to be included in a waiver deal could mean he's the guy.
Speculation was that the Jays could strike a conditional deal based on how much and how well Donaldson plays for the Indians over the next month or two, but that's not the case.
"What I can tell you is we're excited about the return," Atkins said. "It's a near-term prospect that we feel will impact our major-league team in a significant way. As far as how it works, there are rules that are in place that are the reason it needs to be a player to be named later, but we have already identified who that person is."
The PTBNL has to be named by the end of January, but Atkins said "the player will be named well before that."
One aspect to consider is whether what the Jays landed from the Indians is better than the potential compensation pick they would've received had Donaldson been given a qualifying offer in November and then rejected it.
That pick would've landed in the 75-80 range next June.
"It's hard to say," Atkins said. "Time will certainly tell … Right now, thinking about it that way, I would say we feel strongly it is."
Rehab process over past three months dictated by Donaldson
In telling the Sun he had "ruptured" his left calf during a setback, Donaldson seemed to indicate there was miscommunication and misinformation surrounding how hurt he actually was.
Atkins quickly shot down rumours circulating that the Jays were pressuring Donaldson to speed up his rehab process.
"None from this organization," Atkins said. "We were not pressuring him to play. Josh was driving his timeline entirely and was leading us through when he wanted to play so we followed his lead on that. So not at one point did we place any pressure on him and we had discussions about the potential of trades well before he was on waivers, and very open and very candid discussions about that that were very amicable. There was not any pressure from me or from our medical staff for him to play."
Donaldson trained his own way over the winter
Considering his comments on the final weekend of the 2017 season in New York, it should come as no surprise that Donaldson decided to train on his own this past off-season, foregoing the resources provided by the Jays and its high performance department.
"All we've done, is tried to add resources," Atkins said. "Physical therapists, more medical support, nutritionists, sleep therapists, massage therapists, more resources. What we try is to have the best for the players, and, ultimately, Josh decided this past off-season to follow his own path.
"He was not using our resources during the offseason, which was fine with us. We support him 100 per cent in his desire to do that. There's certainly not a disconnect internally, but, I think, when players are being traded there is a level of emotion."
Four teams were in the Donaldson hunt
There were five teams rumoured to be in on Donaldson as the deadline approached Friday night: The Cardinals, Yankees, Phillies, Braves and, of course, the Indians.
But Atkins said Saturday there were four serious suitors, so you'll have to strike one of them from the list.
Safe to say, more than one team being involved likely helped.
"There were several teams," Atkins said. "There were four teams with solid interest in play. We had very good alternatives and this was the best return."
Donaldson's health didn't seem to mute the interest, just the return.
Jays leveraged cash in Donaldson, Granderson trades
In order to help get what they wanted, the Jays even had to spend money to make Donaldson go away, sending $2.7 million to Cleveland.
Donaldson was owed about $4 million for remainder of the season.
The Jays did the same thing in the other trade they made Friday when they sent 37-year-old outfielder Curtis Granderson to the Milwaukee Brewers in exchange for 21-year-old Canadian outfield prospect Demi Orimoloye, a fourth-round pick from the 2015 draft.
"In every trade, that's a component that will offer up opportunity to get more prospects," Atkins said. "The same thing occurred in the Curtis Granderson deal with the Milwaukee Brewers."​