Bautista, Jays beat Yanks in home finale
Jose Bautista had two hits, drove in one run and scored another to help lift the Blue Jays to a 9-5 win over the New York Yankees on Sunday in what was likely his final home game in a Toronto uniform.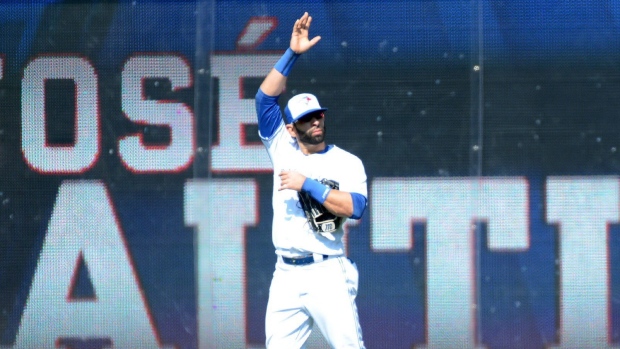 TORONTO — Jose Bautista looked up, tears welling in his eyes, as he thought about his curtain call in the ninth inning of Sunday's game.
"I think the fans were expecting it and you gotta give them what they want," he said with a slight smile.
Bautista, in what was likely his final home game in a Toronto uniform, had two hits, drove in one run and scored another to help lift the Blue Jays to a 9-5 win over the New York Yankees.
The 36-year-old signed a one-year contract with the Blue Jays prior to the 2017 season, a deal which includes a mutual option for 2018 that's unlikely to be picked up.
A six-time all-star and two-time silver slugger, Bautista was met by a loud ovation each time he stepped to the plate. He left the game to a rousing applause, replaced by Ezequiel Carrera in right field after Roberto Osuna got the first out of the ninth. He hugged each of his teammates on the field and in the dugout before coming back for the curtain call.
Bautista came to Toronto as a relative unknown player in 2008 and blossomed into a star, raising the profile of baseball in Canada as his own popularity took hold.
"I wouldn't go that far, I'll take the compliment," Bautista said when his impact on baseball in the city was brought up by a reporter. "Maybe I like to think I helped a little bit."
Bautista walked in the third and scored on a three-run double from Russell Martin, then drove in Teoscar Hernandez with a bases-loaded single in Toronto's four-run fourth inning. He nearly scored later in the frame but was tagged out at home plate. The Blue Jays challenged the call, which was upheld after a video review.
Bautista, who brought back Usher's "OMG" as his walk-up music — the song he used during his 54-homer 2010 season —singled and advanced to second on a wild pitch in the first inning, flied out to right in the sixth, and hit a high pop out in the eighth in his final at-bat.
Bautista began the game by running out on the field on his own — his teammates orchestrated that without him knowing — and waved to the crowd of 47,394 when he first took his spot in right field.
"That was a joint idea, it was a discussion I had with (Kevin) Pillar and (Ryan) Goins, trying to figure out what we can do to celebrate him," said Marcus Stroman, who started the game and allowed three runs over 5 2/3 innings. "We kind of just let him run out by himself.
"It's special to see how much the fans and the entire country of Canada appreciates him and they should because he's had a remarkable career. I hope he's back. I hope this is not the last home game I have with him."
The Blue Jays close out the season with a pair of three-game series in Boston and New York next week.
Stroman (13-8) was wearing a black Bautista jersey during warmups in the bullpen. He came up with the idea to wear the throwback the day before after seeing a highlight of Bautista hitting his 50th homer of the 2010 season and asked one of Toronto's clubhouse attendants to track one down for him.
"I think they went up to one of the showcases and took it out. It's authenticated," Stroman said with a laugh. "They took it out of a showcase and let me wear it if I wash it and put it back."
Stroman, three innings shy of reaching 200 for a second straight year, left the field to a loud ovation of his own after walking Todd Frazier. He clapped at the fans and tapped his chest as he disappeared into the dugout.
Hernandez led off the game with a homer for Toronto (73-83), Morales added two runs batted in, Josh Donaldson drove in one and Darwin Barney hit a sacrifice fly.
New York starter Jaime Garcia (5-10) lasted just 2 1/3 innings, allowing five runs for the loss.
Aaron Judge hit two homers and drove in three, Greg Bird had an RBI and Didi Gregorius cashed in a run for the Yankees (86-69). The 25-year-old Judge is one homer shy of Mark McGwire's rookie record from 1987.
But the day belonged to Bautista.
"The focus was on Jose today, what he's done for this town, this country," manager John Gibbons said. "He helped rebuild the team, the face of the franchise for a number of years and he did it the right way."
Even Yankees manager Joe Girardi agreed.
"I know there's people that sometimes have some issues with some of the things that he does, but I told him I respect the way he plays," Girardi said. "Sometimes, when you have guys that are that big of a competitor, they're going to rub the other teams wrong sometimes.
"He's meant a lot to this city, he's meant a lot to this organization. You could see that he was emotional coming off the field. I thought it was nice what they did."
NOTES: Sunday's game was the 17th sellout of the year, bringing the season attendance total to 3,203,886.