Blue Jays' end-of-season report card a mess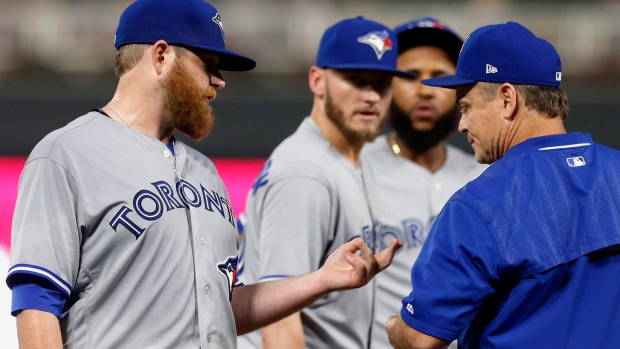 Like a student with a penchant for skipping class, grade time isn't going to be pretty when your baseball team didn't show up in April and generally failed to meet expectations the rest of the way.
But that's the situation the Toronto Blue Jays find themselves in, sitting on the outside looking in when it comes to the post-season for the first time since 2014.
At the all-star break, we handed out individual grades for each player with a sample size big enough to warrant one.
This time around, we'll take a look at each area of the organization and roster, assigning end-of-season grades for each.
STARTING PITCHING: C
Marcus Stroman is by far the best student in this class, but some of his peers either didn't show up often enough or simply didn't grade out well when they did.
J.A. Happ's season was solid — his 2.9 fWAR was just below his 3.2 mark from 2016 and 3.4 from 2015 — but he only threw 145.1 innings, thanks to a DL stint early in the year due to an elbow injury.
Marco Estrada was good for about four months, but the two months he wasn't were ugly with a 9.52 ERA in nine starts.
Aaron Sanchez only threw 36 innings due to blisters, while the other 10 starters that took the ball were tough to watch on most nights.
Overall, the Blue Jays rotation finished with a 4.57 ERA, placing them seventh in the American League.
2018 OUTLOOK: The top four of Stroman, Sanchez, Happ and Estrada are all signed and ready to reload. If they're healthy — especially Sanchez — they could be really good, but depth is needed.
BULLPEN: B+
If it weren't for Roberto Osuna's league-leading 10 blown saves and some hiccups early in the season that cost them a few games, this would easily be an A grade.
But even if there was some bad luck involved, those things happened, erasing a bit of the goodwill that was provided by breakout performances from Ryan Tepera (3.59 ERA in 73 appearances) and Dominic Leone (2.56 ERA in 70.1 innings).
Thanks to the rotation's inability to get deep into games, the 'pen was worked as hard as it's ever been, throwing a franchise record 596.2 innings.
That's going to limit the effectiveness of any bullpen, no matter who's in it.
2018 OUTLOOK: The workload is a concern, but Osuna is one of the game's best and there is some depth. Like the rotation, the main pieces look solid, but GM Ross Atkins would be smart to add more depth to deal with the inevitable attrition.
CATCHING: C
When you consider his 1.8 WAR and .343 on-base percentage, Russell Martin's age-34 wasn't a complete lost cause.
He actually walked more and struck out less than he did in 2016.
The problem is he only played 91 games thanks to two separate DL stints — one for a nerve problem in his neck/shoulder and then a strained oblique — and allowed 48 stolen bases in 78 starts.
The biggest problem, however, was the depth, as Jays catchers combined to slash an ugly .187/.282/.323 over 704 plate appearances to sit tied for last in catcher WAR at 0.2.
2018 OUTLOOK: Martin has two more seasons left at $20 million per, but considering his age and recent track record of iffy health, a backup catcher upgrade is essential.
INFIELD: C+
This one is pretty simple.
First baseman Justin Smoak was really, really good for the first half.
Third baseman Josh Donaldson was really, really good in the second half.
On the flip side, Troy Tulowitzki was bad all season long, and hurt most of the season, too.
Devon Travis was one of the best hitters in baseball in May, then suffered a season-ending knee injury.
In the end, the infield production was a mixed bag due to injuries and the depth wasn't good enough to make up for the lost production.
Ryan Goins, despite his career-high nine home runs and 63 RBI, was worth -0.3 fWAR, while Darwin Barney was even worse (-0.6 fWAR) over 362 plate appearances.
2018 OUTLOOK: All four starters are signed and, barring something unexpected, will return to their infield spots next spring. It's a common theme, but GM Ross Atkins has already noted the desperate need for better backup plans in the middle infield.
OUTFIELD: F
The Blue Jays fielded one of the worst outfields in baseball this season.
The left fielders — mainly the platoon duo of Ezequiel Carrera and Steve Pearce with a few others thrown in — combined to produce 1.4 fWAR, second last in the AL.
The right fielders were also second last in the AL, as Jose Bautista's demise helped post a negative WAR mark at -0.3.
Kevin Pillar's defence helped prop up centre field to the tune of a 2.1 fWAR, 10th-best in the 15-team American League, but the offensive production left a lot to be desired.
2018 OUTLOOK: This area of the roster will have to be overhauled this winter in order to get the lineup back to scoring enough runs to keep up in the high-powered AL East.
COACHING STAFF: B-
Evaluating a coaching staff in this sport is one of the toughest things to do.
More than any other sport, players have a tendency to have their own programs and seek answers in their own way because swings and throwing motions are so unique to each individual.
If Josh Donaldson is struggling, he's figuring things out on his own.
At his end-of-season press conference, Atkins gave John Gibbons a glowing review, saying he's "part of the solution" and didn't place any of the blame for a 76-86 record at the manager's feet.
The rest of the coaching staff will return intact for 2018, including pitching coach Pete Walker and hitting coach Brook Jacoby, who had to work through numerous injuries this season.
2018 OUTLOOK: The only thing the disappointing 2017 season did was maybe shorten the leash a little bit if this club struggles again next year. Gibbons has a contract that runs through 2019 with a club option for 2020.
FRONT OFFICE: C
Last off-season left a lot to be desired for Atkins' first full winter at the helm.
Depending on how you grade things and how much you value home runs, Kendrys Morales and Pearce were busts as free agents. Morales did hit 28 homers to sit third on the club, but his 97 wRC+ was below average and his -0.6 fWAR had him tied for the worst position player mark on the roster.
There also wasn't nearly enough depth in the rotation or behind the plate, and fixes couldn't be found fast enough.
However, trade deadline deals of free agents Francisco Liriano and Joe Smith returned an MLB-ready outfielder in Teoscar Hernandez and a control and command lefty in Double-A prospect Thomas Pannone.
The haul Atkins & Co. came up with at the 2017 MLB Draft in June also added a ton of talent to the pipeline and was looked upon very favourably by industry experts.
2018 OUTLOOK: Atkins is facing a critical off-season. The outfield, the rotation and the depth all need to be addressed.
MINOR LEAGUE SYSTEM: B+
This is one of the more positive grades, thanks to the positive progress of a handful of position prospects in the organization.
Vladimir Guerrero Jr. is now considered one of the best prospects in baseball, while Bo Bichette went from project to top-tier prospect.
There were other success stories as far as position players go, but the lack of overall success on pitching side — Sean Reid-Foley, Conner Greene, T.J. Zeuch and Jon Harris all encountered struggles — dropped the grade.
Overall, the Blue Jays system has gone from the lower third to at least a top 12 system in baseball in one calendar year.
2018 OUTLOOK: The system may finally start spitting out some talent as a number of players — Hernandez, Anthony Alford, Danny Jansen, Ryan Borucki, among others — are looking close to big-league ready.​