Bombers to start Streveler at QB in opener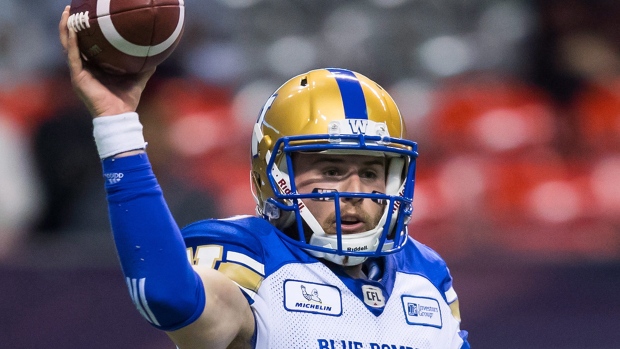 The Winnipeg Blue Bombers will start quarterback Chris Streveler Thursday as the Bombers open the season against the Edmonton Eskimos.
Head coach Mike O'Shea made the announcement Monday afternoon. He is the first rookie quarterback out of college to start Week 1 of a CFL season since Anthony Calvillo.
The news comes after QB Matt Nichols went down with a non-contact injury in practice last week. While Nichols is scheduled to be out for four to six weeks with an unspecified injury to his right knee, the diagnosis was relatively positive news.
"When you're dealing with people, you don't ever think it's fortunate that they got injured in practice, but it's positive that it's that time line for sure," head coach Mike O'Shea said after the team's walk-through practice.
"If he's healthier in the four, which I would think he would be, then he'll come off the six-game or we'll decide then what we'll do," he said.
Streveler played with the South Dakota Coyotes for the last two seasons, throwing for 32 touchdowns and eight interceptions in 13 games.
The Blue Bombers finished last season at 12-6 to finish second in the West Division.