Honey Badgers get second win against Alliance
Koby McEwen's 17 points led the Brampton Honey Badgers (3-2) to a 89-65 win over the Montréal Alliance (2-3) in CEBL action on Wednesday morning.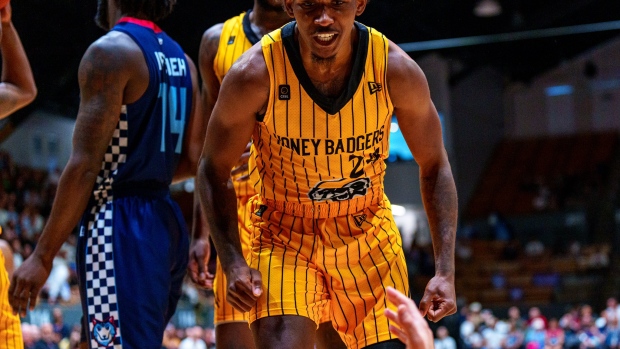 Koby McEwen's 17 points led the Brampton Honey Badgers (3-2) to a 89-65 win over the Montréal Alliance (2-3) in CEBL action on Wednesday morning.
The reigning sixth man of the year is now averaging 14.4 points a game and sits within the top 20 for scorers in the league. His stat line also included four rebounds, six assists, and two steals.
It was a full team effort for the Honey Badgers as all five of their starters scored in double figures, with four of them scoring 14 or more points. Christian Vital notched 16 points, five rebounds and four assists, while Zane Waterman put forth another strong performance of his own. The forward notched 14 points on an efficient 83 per cent shooting from the field, to go with his four rebounds.
It's Waterman's third consecutive game scoring in double figures, and he attributed that recent success to his preparation and belief in what he has to offer.
"It's just about being confident," said Waterman post-game. "I'm not doing anything different in any of these games. Sometimes the shots fall and sometimes they don't. I just have to stay ready to shoot it."
On the other end, Montréal got a strong outing from Nathan Cayo. His team-high 19 points were the second most he's put up this season, and they were needed as their leading scorer Blake Francis had an off game. It was clear the guard was battling through injury as he clutched his taped-up thumb multiple times throughout the game. He ended the day with 15 points and six assists but struggled from the field shooting just 17 per cent.
In the first few minutes of the game, it looked like a three-point contest out there. The first four makes of the game were from beyond the arch, with both teams going shot for shot. However, that's as far as things went from distance as neither team knocked down another triple in the frame.
Brampton and Montréal kept it tight for the rest of the quarter with each team doing their damage in different ways. The Honey Badgers got a majority of their production through Christian Vital and Jeremiah Tilmon Jr., with the duo accounting for 12 of Brampton's 19 points in the first.
On the other side, the Alliance put forth a more collective effort offensively with all five of their starters scoring a basket, to keep things close at 19-18 heading into the second.
Brampton started strong in the second frame by forcing their way into the paint and drawing fouls. Nearly half their points through the first six minutes of the quarter came from the charity stripe, and the disparity continued throughout the frame as the team finished the half +8 from the line. The Honey Badgers strong free-throw shooting (12-16) helped spark a 13-6 run, giving them the biggest lead of the game so far, up 43-31 at the break.
Vital led all scorers at half-time with 14 points, beating his total of 11 from last game, and doing so on an efficient 5-8 shooting.
Montréal was able to cut it down to as little as six points, but their struggles defensively hurt them as Brampton began feasting in transition. The Honey Badgers were pushing the pace on what felt like every defensive rebound they grabbed, outscoring the Alliance 24-5 on fast break points in the process. Through three quarters they held a nine-point lead, 66-57 over Montréal.
The Alliance were looking for answers heading into the final frame of the game, and it was a zone defense they hoped would work. In their first matchup against Brampton the adjustment seemed successful as it allowed Montréal to cut down a double-digit lead and go on a 17-5 run. Unfortunately for them, it didn't work this time around as Brampton looked ready for it.
"Last game, they went to the zone…it kind of slowed us down," said Brampton head coach Antoine Broxsie when asked about the team's response to Montréal's zone defense.
"We didn't expect them to do that. This time, we came in and practiced a lot on it. One of the things I challenged them on was getting a paint touch 99 per cent of the time."
The Honey Badgers took their coach's advice to heart as they made a conscious effort to attack Montréal's zone defense by pushing the pace and getting baskets inside. Brampton finished the game +22 on transition baskets and +12 on points inside the paint, a majority of those coming in the fourth quarter.
Brampton's strong efforts in the frame helped them go on a 13-4 run, extending their lead to 16 points, 79-63 going into Target Score Time.
In Target Score Time Montréal was only able to manage two points as the Honey Badgers made quick work of the period. They scored 10 straight points to end the contest, capped off by a Vital breakaway dunk to end things 89-65.
The Honey Badgers will return to action on Friday night, staying at home to take on the Vancouver Bandits. The Alliance will head back home and get three days rest before gearing up to face the Scarborough Shooting Stars.