Bills' Davis scores four touchdowns, makes postseason history
Buffalo Bills wide receiver Gabriel Davis has made NFL postseason history. Davis became the first player in NFL History with four receiving TD in a playoff game.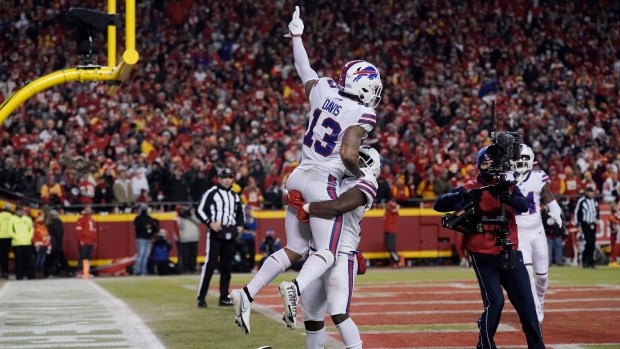 Buffalo Bills wide receiver Gabriel Davis has made NFL postseason history.
Despite a heartbreaking 42-36 loss to the Chiefs tonight, #Bills WR Gabriel Davis become the 1st player in #NFLPlayoff history to have a 4 TD receiving game. Since 1950, he's also only the 7th player to get 4+ TD and 200+ yard receiving whether it be a PO or regular season affair pic.twitter.com/zeQAXoZvaP

— StatsCentre (@StatsCentre) January 24, 2022
Davis caught eight passes for 201 yards and scored four touchdowns. He's the first player in NFL history to catch four touchdown passes in a single playoff game. He caught a touchdown pass in the second quarter, one in the third quarter and two in the final two minutes of regulation.
"[Allen's] always going to make a play with the ball in his hand." Davis said after the game, "We've got a lot of trust and faith in him. He's the best quarterback in the NFL. And I stand by that and I know that when it's time to make plays, I know he's going to be there to make 'em."
Davis' touchdown in the third quarter came with the Bills down nine and needing the spark.
Davis broke through the Chiefs secondary and hauled in a pass from quarterback Josh Allen, taking it 75 yards to the house and bringing the Bills within two points of the lead.
Allen found Davis for a third time with just under 2:00 minutes to play in the fourth to give Buffalo their second lead of the game, and once again found the endzone with 17 seconds to play, putting the Bills up 36-33.
The wideout finished the game with eight catches for 201 yards and four touchdowns.
The 22-year-old had just 529 receiving yards and six touchdowns he entire 2021 season.
The Chiefs would go on to win the game 42-36 in overtime.