Countdown to TradeCentre: An untouchable Jet?
Follow the latest trade rumours and speculation leading up to the Feb. 25 trade deadline with TSN.ca's Countdown to TradeCentre. Tuesday's roundup includes how the Jets view Jack Roslovic ahead of the deadline, the cooling market for Micheal Ferland and the latest speculation in Columbus.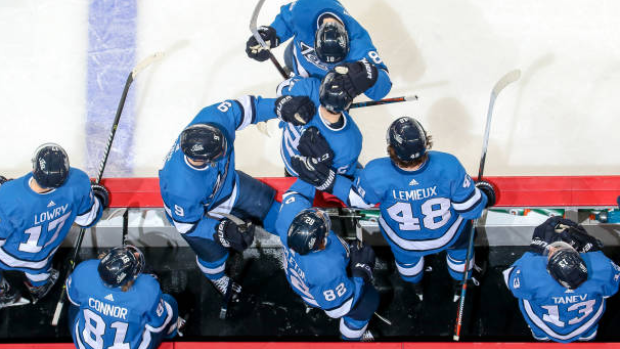 The National Hockey League's Trade Deadline is 3 p.m. ET on Monday, Feb. 25, and teams will be making decisions on whether to buy or sell and decide which players can make the biggest difference and hold the greatest value. Check out the latest trade rumours and speculation from around the NHL beat.
---

Off the Table?
Winnipeg Jets forward Jack Roslovic recorded his first career hat trick on Saturday in a 9-3 rout of the Anaheim Ducks and TSN Hockey Insider Bob McKenzie was asked Monday if Roslovic's recent success will change the way the Jets view him when it comes to a potential trade.
"I don't think so," McKenzie told TSN Radio 1290 Winnipeg. "I think what you see is what you get. They're a really good team, a contending team, and at times they've been carried more by their top guys. There's been times where the supplementary guys have helped out. But at the end of the day, you've got a plan in place.
"And I think when I say nothing changes, it's because all of these teams that want to deal with the Jets now - the guy that they're up and asking about is Roslovic. They're not stupid. They look at the thing over the course of the season - they look at his minutes. They see sometimes he's there on the fourth line. And that's the guy they want to get out of there.
"And the Jets are like, 'No, no, no. We're not going to do that.' At least that's my understanding so far, is that that's been a non-starter for them.
"So I don't know that a performance like that night changes anything, because I don't think the Jets wanted to move him anyway. And if anything, it would just reinforce the fact that these teams that want to get a good young player out of there are still going to continue to try to do that, and I would imagine the Jets would continue to try to resist it.
"So I would think they'll try to find another path to getting the player that they need."
Roslovic was named the NHL's first star of the week Monday after posting six points (five goals, one assist) in four games last week. He has seven goals and 16 points in 51 games this season while averaging 9:10 of ice time.
TSN Senior Hockey Reporter Frank Seravalli wrote Monday that the Jets' first-round draft pick is once again in play ahead of the deadline and noted that "the Jets are believed to be big-game hunting, doing their due diligence on a number of marquee names, including Mark Stone, Matt Duchene, Wayne Simmonds and Micheal Ferland, among others."
Their first-round pick sits as No. 5 on the TSN Trade Bait Board, while Roslovic is listed at No. 20.

---

Waiting Game
The Carolina Hurricanes have been looking to move oft-injured winger Micheal Ferland well ahead of the deadline, but it appears things have slowed down while contenders chase bigger names.
TSN Hockey Insider Pierre LeBrun wrote in The Athletic that buyers are waiting to see whether they can acquire Artemi Panarin, Mark Stone or Matt Duchene before considering assets on Ferland.
LeBrun also noted that the Hurricanes now sit just three points out of the final wild-card spot and could opt to keep Ferland as an own rental if they continue to close the gap.
Ferland, 26, has 13 goals and 27 points in 43 games this season. He is listed at No. 4 on the TSN Trade Bait Board.

---

All Eyes on Columbus
The Columbus Blue Jackets have lost five straight games and rumours continue to swirl around pending free agents Artemi Panarin and Sergei Bobrovsky.
A source within the Panthers told George Richards of The Athletic that a media report Monday suggesting Florida was interested in trading Derick Brassard in a deal for Bobrovsky to get an early jump on signing him to an eight-year contract was "just speculation." Richards notes, however, that the Panthers are expected to have serious interest in Bobrovsky and Panarin as free agents in July.
The Panthers are projected to have more than $21 million in cap space this season and are expected to make a run at both Blue Jackets players.
TSN Hockey Insider Bob McKenzie said Monday he believes Panarin is interested in signing in Florida, but disputed the notion that he already knows where he wants to land in July.
"Actually, you know what - I don't think he does," McKenzie told TSN Radio 1290 Winnipeg. "I think he does and he doesn't. But I think the places he wants to go are multiple. He's going to go through, I think, a rather exhaustive process once the season is over and he gets into that shopping period before free agency.
"My understanding is that any of the Florida teams, he's interested in. Any of the big teams on the Eastern seaboard - the New York Rangers, like that. The Chicago Blackhawks, there's been indications that he would go back and try to find a way to work him back into the fold. I don't think smaller market Canadian teams would be in his wheelhouse at all. Toronto is not going to be positioned to do anything. But I think he liked the idea of Original Six a little bit. I wouldn't rule Detroit out of the equation, especially with the history Detroit has had with Russian players in the past.
"So I think it's a pretty wide-open landscape, but only to a point. He's going to want to have a chance to contend with good young players that give him a chance. So I think it's a relatively wide-open field, but there's probably 10-12 places already where the doors are closed. Maybe even half the league will be out of it before they start."

---

Atlantic Arms Race
TSN Hockey Insider Darren Dreger told WGR 550 Buffalo that he expects the Boston Bruins to be buyers at the trade deadline as they look to keep up with their competition.
"Yeah, or before, right," Dreger said. "Boston is definitely thinking that they've got to add up front. They'd like to add a centre. If they can't find that piece, whoever it might be - Matt Duchene, if he's available - then maybe they look to a right winger. I think they've got interest in (Tyler) Toffoli. My understanding is Boston is going to heavily scout (Friday's) Senators-Pittsburgh game, so I wouldn't be surprised if they make a play on Ryan Dzingel.
"But I don't doubt for a second that the Boston Bruins are - look, it's an arms race in the East, right. They're a very good team, but for the most part they're a one-line team. They need secondary scoring there as well to compete with Tampa Bay and to some degree Toronto.
"So I can't imagine Don Sweeney won't do something."
According to CapFriendly, the Bruins have $4.2 million in cap space available ahead of the deadline, an easy fit for potentially adding Dzingel's $1.8 million cap hit. Duchene, who like Dzingel is a pending free agent, carries a $6 million cap hit, while Toffoli is signed through next season with the Los Angeles Kings at a $4.6 million cap hit.