Countdown to TradeCentre: Buyer's market for forwards?
Follow the latest trade rumours and speculation leading up to the Feb. 25 trade deadline with TSN.ca's Countdown to TradeCentre. Friday's roundup includes why buyers could be in luck at the deadline, where the Lightning may look to improve and trade options for the top-heavy Avalanche.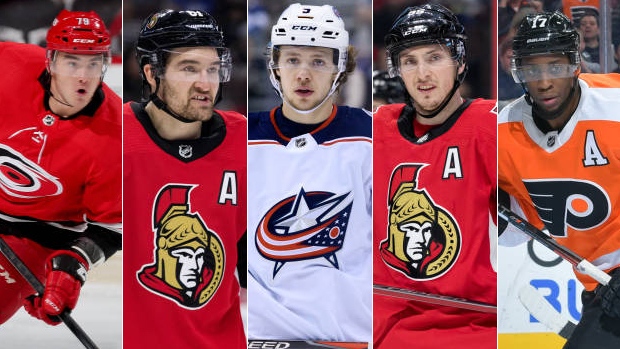 The National Hockey League's Trade Deadline is 3 p.m. ET on Monday, Feb. 25, and teams will be making decisions on whether to buy or sell and decide which players can make the biggest difference and hold the greatest value. Check out the latest trade rumours and speculation from around the NHL beat.
---

Buyer's Market?
There's no shortage of high-profile forwards on the TSN Trade Bait board and TSN Hockey Insider Bob McKenzie said the long list could work to the advantage of teams in the rental market ahead of Feb. 25.
Columbus Blue Jackets winger Artemi Panarin is No. 1 on the list, followed by Ottawa Senators forward Matt Duchene. McKenzie said Thursday there's no update on contract progress for either Duchene or Mark Stone with the Senators, and there's a chance both could become available on the trade market.
"Technically, there is no news. This is not one of those situations where you can say no news is good news," McKenzie said on Insider Trading of the Senators top two pending free agents. "Just no news is no news and the longer it drags on you (just) don't know. What we do get the sense of is that Duchene's agent Pat Brisson and Senators GM Pierre Dorion are going to talk again in the next day or two and the dialogue will continue over the next days or weeks. As far as the representatives for Stone, I don't get the sense that they are making huge progress here, necessarily. But, that pessimism that I have that maybe both of these guys staying Ottawa is more anecdotal than empirical.
"But, let's assume for the moment that both Duchene and Stone go to market. Talking to a number of general managers across the league, if you include Blue Jackets forward Artemi Panarin, who is obviously available for the right price, they are saying it's unprecedented in the amount of rental crop of elite offensive players are available. What might that mean? Well, when you factor that there is (Philadelphia Flyers forward) Wayne Simmonds out there, and there is (Carolina Hurricanes forward) Micheal Ferland, and (Pittsburgh Penguins forward) Derick Brassard and any other number of forwards available in the rental market or in trade, it might be a buyer's market. And that the prices that teams are expecting to get for these guys could very well be suppressed.
"Let's keep an eye on that overall market with so many guys flooding the market, potentially."
Duchene, 28, has 20 goals and 47 points in 41 games this season, while Stone has 22 goals and 50 points in 50 games. TSN Hockey Insider Darren Dreger added that the Winnipeg Jets will have interest in either player if they become available.
"You can count Kevin Cheveldayoff of the Winnipeg Jets among the teams that are eager to learn of what is going to happen with Stone or Duchene," Dreger said. "It's no secret that Cheveldayoff and the Jets are in the market for a forward. It could be a bottom-six guy, but it might be a hometown home run like Stone, a Winnipeg native, that they desire if he's available.
"Likewise for Duchene who would help them up the middle of the ice. Again, a word of caution. Of course Cheveldayoff will be involved in the discussions if either one of those key players is available. But he's kicking tires on a lot of players, top-six guys and bottom-six guys."
According to CapFriendly, the Jets have $5.6 million in cap space and would have to free up more to bring in either Duchene, signed at $6 milllion, or Stone, who has a $7.35 million cap hit.
As for Panarin, TSN Hockey Insider Pierre LeBrun said that the Florida Panthers make may run for the pending free agent, despite sitting outside the playoff picture.
"Bob mentioned Panarin at the top. He will be a major headliner," LeBrun added. "The Jackets found out a few days ago that he would not entertain negotiating a (contract) extension. But within those couple of days. I'm told several contenders have already reached out to Columbus to find out what's going on, what the price might be and get that conversation going. There'd be so much interest in this player.
"One team that isn't a contender is the Florida Panthers, but I do think GM Dale Tallon has an interest not only in Panarin come July 1st, but his Jackets goalie teammate Sergei Bobrovsky. Yes, you'd have to clear cap room to get that done if he's able to nail them both (down). But, there is interest. They haven't had a lot of saves this year in Florida. So keep an eye on that, especially ahead of Feb. 25th, even though he could get them for free on July 1st, maybe he keeps an eye on what Columbus wants to do."

---

Looking to Get Better?
The Tampa Bay Lightning sit atop the NHL with 76 points through 50 games this season, but TSN Hockey Insider Darren Dreger believes they may still look to improve before the trade deadline.
Speaking to TSN Radio 690 Montreal, Dreger pointed to the team's $1.7 million in cap space as a limitation for the Lightning ahead of Feb. 25.
"Not going to be easy," Dreger said. "But I think even the best teams and their general managers are looking for areas that they can deepen or improve on. So I'd say yes in answer to your question. I don't think that they have any glaring needs, and obviously they've got cap to worry about. So what are they willing to part with player-wise to bring in what might be perceived as an upgrade.
"Believe it or not, I think Tampa Bay has inquired on Wayne Simmonds and on Micheal Ferland. I can see both of those players - you can't get them both, but if Tampa Bay were able to find a way to add one of those pieces, that would be a nice little add for them. Little bit more bite in their lineup. Both of those guys can comfortably play in your top-six or worst case top-nine. But to have a player like that, a power forward who can play throughout your lineup up and down, would be a premium type of asset.
"The question is, are they willing to part with anyone off their roster. If I look at Ferland in Carolina, I believe that's what Don Waddell is trying to there, is bring in some scoring back. When you talk about their available defense, that's kind of why the Toronto Maple Leafs shied away from Brett Pesce or Dougie Hamilton, even though they're right-shot guys - and specifically that's what the Leafs wanted - it was because Don Waddell needed a roster player from Toronto.
"So I'm not sure Tampa Bay would want to get into that, but I think that there would be some interest in that type of player, or even a depth defenceman - a 7-8 guy. They've got a terrific blueline in Tampa Bay, but you always worry about injury and you have to make sure that you've got depth."

---

In the Race?
The Colorado Avalanche currently own the final wild-card spot in the crowded Western Conference playoff picture, but the team has struggled for production beyond their top line.
Mikko Rantanen (74 points), Nathan MacKinnon (71) and Gabriel Landeskog (54) have all topped 50 points through 50 games, but Carl Soderberg is fourth among the team's forwards with 30 points and is one of just three forwards after the top line to record 20 points this season.
TSN Hockey Insider Darren Dreger said Thursday he expects the Avalanche to pursue secondary scoring in the trade market, even as rental buyers.
"Yeah, I think Joe Sakic has to be in the market for any piece that's going to help him with that need," Dreger told TSN Radio 690 Montreal. "And you're right, beyond that big line - and that line has been so dynamic this year - they don't have enough consistent offensive push, so that's an area of need.
"I guess the question that I would have though is if Sakic is willing to dip into the pool of some of the bigger names, one that comes to mind is Artemi Panarin from the Columbus Blue Jackets. What's he willing to part with. And you know Jarmo Kekalainen, if he decides he's trading Panarin, is going to expect a king's ransom in return, even if Panarin is a rental in this case.
"And then you look at some of the other pieces that could be available. And we're going to have to spend some time watching Ottawa. I mean, Matt Duchene isn't going back to Colorado, but Ottawa is leaning towards trying to sign Ryan Dzingel. If they don't, if they don't like the numbers that are being thrown out by Newport, who represent Ryan Dzingel, then why wouldn't Colorado take a look at him? I mean, this guy might end up with 30 goals this season.
"So there could be some available pieces, and I'd be real surprised if Sakic isn't among the lead contenders for one of those men."
Though the majority of production has come from the team's top line, the Avalanche sit fourth in the Western Conference in goals for with 169 this season.