Countdown to TradeCentre: Canes and Leafs linked again?
Follow the latest trade rumours and speculation leading up to the Feb. 25 trade deadline with TSN.ca's Countdown to TradeCentre. Thursday's roundup includes the latest tie between the Maple Leafs and Hurricanes, the Oilers new plans and the Flames outlook for deadline day.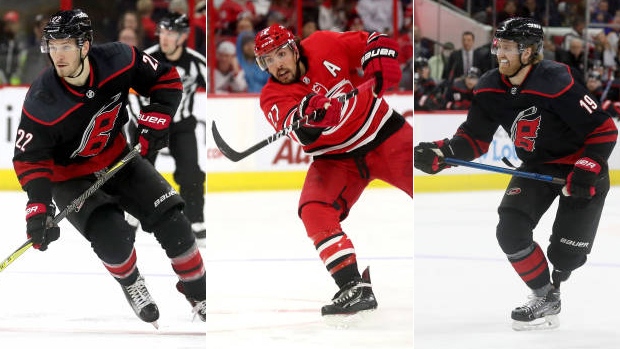 The National Hockey League's Trade Deadline is 3pm et on Monday, Feb. 25, and teams will be making decisions on whether to buy or sell and decide which players can make the biggest difference and hold the greatest value. Check out the latest trade rumours and speculation from around the NHL beat.
---

Opposites Attract?
TSN Hockey Insider Darren Dreger reported this week that while Toronto Maple Leafs general manager Kyle Dubas addressed the media Tuesday in Toronto, other members of management scouted the game between the Carolina Hurricanes and Flames in Calgary.
"Toronto continues to scout Carolina's available (defencemen)," he tweeted.
The two teams have been linked dating back to William Nylander's contract saga earlier this season, when Hurricanes general manager Don Waddell said he spoke to Leafs GM Kyle Dubas about the situation.
Dreger said earlier this week that Jaccob Slavin appears to be lone untouchable on the Hurricanes' defence, noting that Brett Pesce, Justin Faulk and Dougie Hamilton all appear to be available in some capacity.
Waddell has also been open about his pursuit of scoring help and TSN Hockey Insider Pierre LeBrun wrote Tuesday in The Athletic that they could move Hamilton or Pesce for a "top-six forward with offensive skill."
For the Maple Leafs, wingers Kasperi Kapanen and Andreas Johnsson are ranked at Nos. 23 and 24 respectively on the TSN Trade Bait Board. TSN Hockey Insider Bob McKenzie suggested last week that one or both of the two pending restricted free agents could be moved for a defenceman.
Kapanen is sixth on the Maple Leafs in scoring with 15 goals and 30 points in 49 games this season, while Johnsson is eighth on the team with 10 goals and 22 points in 43 games.
Hamilton, who has seven goals and 17 points in 49 games this season, is listed at No. 7 on the TSN Trade Bait Board. He has the highest cap hit of any Hurricanes defenceman at $5.75 million and is signed through 2020-21.
Pesce, with three goals and 11 points in 40 games, is ranked 21st on the Trade Bait Board and has a $4.03 million cap hit through 2023-24.
Faulk is No. 28 on the Trade Bait list, with three goals and 17 points in 49 games. He carries a $4.83 million cap hit through next season and has a 16-team no-trade list in his contract.
---

Off the Table
Edmonton Oilers CEO Bob Nicholson said Wednesday the team's top pick in June is off the table in trades leading up to the deadline and it appears forward Jesse Puljujarvi - listed at No. 15 on the TSN Trade Bait list - could also be off the market.
"I can tell you quite clearly. You look at the way this team has played at times this year. We just have to get them consistent and playing that way," he explained. "We know we have to bring in some other pieces but we are going to put the onus on the group inside the dressing room because they have shown that they can do it.
"We will look to try to bolster the offence and the defence, but again we're not trading away our first-round pick. When you look at some of our other top prospects, we're not giving them away unless we get some real good pieces back."
The Oilers' 2019 first-round pick was listed at No. 5 on the TSN Trade Bait board prior to the team's firing of general manager Peter Chiarelli.
Nicholson didn't rule out making trades and said that he still believes the team can make the playoffs this season, but added the Oilers will not mortgage their future to do so.
"We're not going to trade any of our assets away for a quick fix. We'll make some trades at the deadline if they are the right trades to get us in the playoffs but not giving away the future...I emphasize again, we're not going to give away the future."
As to what the Oilers are looking for moving forward, Nicholson said the team will focus culture over the next month and beyond.
"No matter what the talent is, we have to have that day in and day out," he said. That's what we have to get fixed in the next 10 days going into the playoff run. Character is going to be a big thing going forward. If they don't want to play for each other we don't want them in the room going forward."
---

Getting the Ball Rolling
The Calgary Flames enter the All-Star break in first place in the Western Conference and appear to be shaping up as buyers ahead of the trade deadline. Flames general manager Brad Treliving and his staff scouted the CHL/NHL Top Prospects Game on Wednesday and will use the opportunity to map out their plans for February.
"Probably, for the most part, if teams haven't had their (scouting) meetings, they're having them right now," Treliving told The Calgary Sun on Wednesday. "You try to do that five or six weeks before the deadline to get a sense of what your people see. And you start the dialogue with teams. I don't necessarily think this year is any different from year's past.
"What changes is where your position is, right? What you may be doing or not be doing… I say it all the time, and it sounds boring, but we continue to watch our team and continue to see if there are ways out there to help you."
The Flames made a blockbuster off-season trade after the missing the playoffs last season, acquiring Elias Lindholm and Noah Hanifin from the Carolina Hurricanes for Dougie Hamilton, Micheal Ferland and Adam Fox.
Calgary appears to be a lock for the postseason this year with a 19-point lead on the final wild-card team, but Treliving isn't thinking that far ahead.
"We don't talk like that," Treliving said. "We are like everybody else right now. We're trying to make the playoffs. They'll put an asterisk beside teams that make it, we don't have one yet…we think we have a good team. We've played well.
"But there's lots more to give and a lot of work ahead of us."