Countdown to TradeCentre: Flames, Jets in an arms race?
Follow the latest trade rumours and speculation leading up to the Feb. 25 trade deadline with TSN.ca's Countdown to TradeCentre. Thursday's roundup includes why the Flames moved Micheal Ferland in June, whether Eric Staal could hit the trade market and the Canucks interest in a young winger.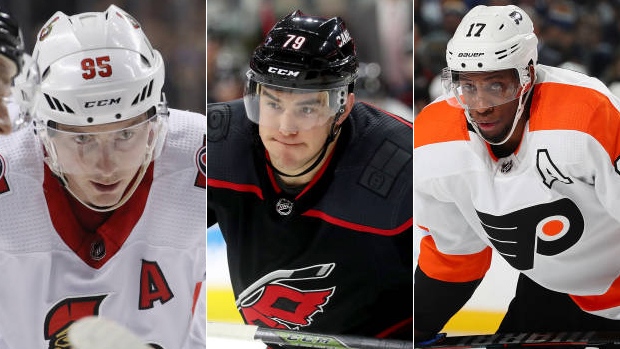 The National Hockey League's Trade Deadline is 3 p.m. ET on Monday, Feb. 25, and teams will be making decisions on whether to buy or sell and decide which players can make the biggest difference and hold the greatest value. Check out the latest trade rumours and speculation from around the NHL beat.
---

How the West is Won?
Just under a month away from the trade deadline, the Calgary Flames sit first in the Pacific Division and Winnipeg Jets own the top spot in the Central.
TSN Hockey Insider Pierre LeBrun said Wednesday that he believes both teams will be buyers at the deadline, with the Flames looking to add the size they failed to land on July 1.
"I think both Brad Treliving and Kevin Cheveldayoff make a splashy move," LeBrun told TSN Radio 1200 Ottawa. "So I'm not even picking one, I think they both are. Cheveldayoff already showed us last spring in giving up a first for Paul Stastny that he understands his team is all in.
"It wouldn't surprise me, quite frankly - and I don't want to be 'radioed' here, but - if the Senators can't re-sign Matt Duchene, it wouldn't surprise me if Winnipeg phoned. But at the same time, I think Winnipeg is going to phone on all the rental forwards that are out there.
"And I think the rental part is the key for Winnipeg because they've got cap issues moving forward, so I don't think they can trade for a guy who's under contract past this year. But whether that's Wayne Simmonds or Micheal Ferland, I think the Jets have everyone on their radar.
"And I think in terms of Calgary, it wouldn't surprise me at some point in time if they phoned Carolina on Ferland. But some way to get some size up front. They've had a great year.
"But here's the thing: They almost signed Ryan Reaves last summer - a lot of people perhaps didn't hear that. They actually thought they had him, but then Reaves had a last-minute change of heart and went back to Vegas. But I think when they included Ferland in the Carolina deal, I think they thought they were getting Reaves. So I think they feel probably they need a little more muscle up front, even though James Neal is a pretty rugged offensive player on the third line. So I think that's the idea for Calgary.
"But I'm telling you right now, I think both of those teams are aggressive."
Ferland was traded by the Flames to the Hurricanes along with Dougie Hamilton and Adam Fox in June for Noah Hanifin and Elias Lindholm. He has 13 goals and 25 points in 41 games this season and is listed at No. 4 on the TSN Trade Bait Board.
---
Wait and see on Staal?
Eric Staal told The Athletic that the Minnesota Wild have yet to open negotiations on an extension with him and his future with the team is up in the air approaching the trade deadline.
Staal shares an agent with John Carlson, who stayed with the Washington Capitals on an expiring contract at the deadline last season and re-signed ahead of July 1. When asked if he could in a similar situation, Staal pointed out the differences between him and the All-Star defenceman.
"I've been around long enough to understand how everything works and I'm not 25 anymore. I'm not 26," Staal said. "I'm 34, so I think I feel it's a little bit different of a situation (than Carlson). But at the same time, I still feel like I can be a player for the next number of years yet. So, still decisions to be made and that will all kind of happen in due process."
Staal overcame a slow stretch to post four goals and nine points in his past six, raising his season totals to 17 goals and 36 points in 49 games. Staal, who scored 42 goals last season, carries a $3.5 million cap hit in the final season of the three-year deal he inked with the Wild in 2016.
Michael Russo of The Athletic writes that league executives surveyed all agreed that the Wild would not get a first-round pick in return for Staal - should he be traded. The executives pointed to the Toronto Maple Leafs setting the market by trading their first-round pick for Jake Muzzin, who still has a year left on his contract.
"Mentally, it's hard, but I've hit a point where this is the least of what I need to be worried about," Staal said of approaching the deadline. "Again, it's tough, but I have a lot of better things to be worried about and at the end of the day, I'm thankful to just be playing and having fun and when we win, that helps."
---

Chasing Burakovsky?
Andre Burakovsky has been in the rumour mill for much of the season and TSN Hockey Insider Darren Dreger said Wednesday the Vancouver Canucks are among the teams interested in the Washington Capitals forward.
Dreger notes the Canucks are still interested, but teams are having trouble matching the asking price from the Capitals.
"I think it's still there," Dreger said of the Canucks interest on TSN Radio 1040 Vancouver. "I mean, obviously Burakovsky is still in play and he's still with the Washington Capitals. He hasn't been traded.
"I don't know what the specific ask was from Vancouver, but I know that some of the other teams that were involved, the ask was too high. Brian MacLellan was looking for a similar type player in return. They're looking for a third-line forward. But maybe - maybe - they can get a bit more creative and maybe it's a draft pick and another asset that MacLellan can peddle into something else to fill the void in moving Burakovsky out.
"I had a conversation with somebody who's pretty tight and knows the situation well and didn't say that Vancouver was still very much in it, but thought that Vancouver - along with maybe Boston, Montreal was kicking tires a while back - the same teams that explored interest early on might circle back before the deadline."
TSN Hockey Insider Pierre LeBrun reported last week that the Capitals are seeking a veteran top-nine forward in return to boost their chances of repeating as Stanley Cup champions in return for Burakovsky.
Burakovsky scored 12 goals and posted 25 points in 56 games last season and added two goals and six points in 13 games during the team's playoff run. Dreger noted Burakovsky is believed to be unhappy with his current role with the team.
"It's as much about the player wanting a better opportunity," Dreger said. "I don't know that he's come out and officially asked for a trade. I think that there was just an acknowledgement at the start of the season that Burakovsky felt like he could do more, he wanted to do more, and he wanted a more significant role.
"Maybe the belief was that Barry Trotz didn't see him in that way and Todd Reirden might, but obviously Todd Reirden doesn't. So I think that there's a bit of a disconnect there between player and coach. And that happens. It happens all the time with a lot of teams around the National Hockey League.
"So I think this is more about the player wanting a better fit and opportunity."
---