Countdown to TradeCentre: Lightning, Predators geared to make moves?
Check out some of the latest updated trade rumours including whether the Lightning and Predators are geared to make moves, whether the Flyers might look at swapping some of their young core for veteran help and the future of Henrik Lundqvist.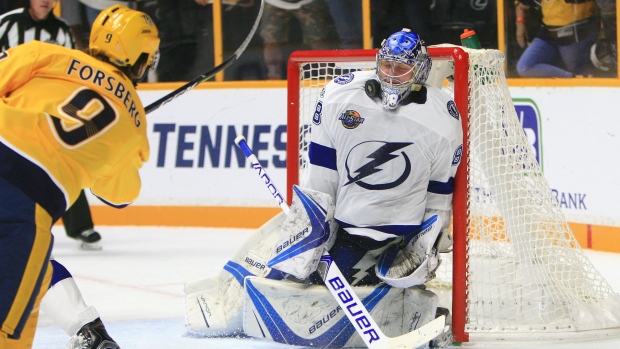 The National Hockey League's Trade Deadline is on Monday, Feb. 26, and teams will be making decisions on whether to buy or sell and decide which players can make the biggest difference and hold the greatest value. Check out the latest trade rumours and speculation from around the NHL beat.
---
Lightning, Predators geared to make moves?
With the trade deadline just over three weeks away, two teams that could make significant moves given their firm status as Stanley Cup contenders according to TSN Hockey Insider Bob McKenzie are the Tampa Bay Lightning and the Nashville Predators.
McKenzie notes that Tampa Bay's primary desire is for a veteran defenceman. They have all their draft picks for the next three years, which could set them up well for a deal. Nashville's prime target would be a top-six scoring winger and while they have dealt some of their second and third rounders, they still own their next three first-round picks.
McKenzie said he thinks both the Lightning and the Predators are keeping open minds on all possibilities, suggesting they won't limit themselves to either rentals or guys with term. Given their roster construction both teams feel they can contend beyond 2017-18 which could mean a player with term may be a better option in some cases.
The Lightning lead the NHL with 73 points coming into play Saturday while the Predators sit at 67, two points behind the first-place Winnipeg Jets in the Central Division.
---
Flyers not ready to sell the farm?
The Philadelphia Flyers find themselves in the second Wild Card spot, but should they give up some of their young assets to try and make a playoff push? McKenzie joined TSN Radio 1200 Ottawa Saturday and said the Flyers shouldn't be so quick to deviate from their long-term plan.
"If you can make a low-cost deal that addresses a specific need, up front maybe a little extra scoring, and it doesn't cost you one of your top prospects or a first-round pick, then you look at it and you consider it. But you don't do anything that too much deviates from the plan. You don't offload any of your top-end veteran guys, you don't offload any of your premium young guys for immediate help and you judiciously look at your draft picks and decide what you can and can't afford to give up," McKenzie said.
"Keep an open mind and if you make the playoffs, great. If you don't make the playoffs, that's fine too because there's many playoff years to come for this young group in Philadelphia, it may not be ripened quite yet.
The Flyers fell to the Ottawa Senators 4-3 in the shootout on Saturday.
---
Eberle might influence Tavares to stay put?
The New York Islanders are getting a solid year from forward Jordan Eberle – acquired from the Edmonton Oilers in the summer for forward Ryan Strome – and that might influence John Tavares' decision on whether to re-sign with the Islanders in a small way according to TSN's Travis Yost.
"He could end up being a small reason why John Tavares might stay because if you're John Tavares and you're looking around for talent, let's be honest, when you're a player searching for a max deal and a long-term contract you want to know am I going to get paid and is the team around me talented enough where we can win," Yost told TSN 1050 Toronto.
"I think John Tavares can look around and say 'Ok, we need to improve the goaltending, the defence is kind of shotty, but I can look at other forwards on this line and be like yeah, these guys can play.'"
Tavares, who is set to be an unrestricted free agent at the end of the season, might hold up the trade market as teams aim to keep cap space free for next season to make a run for him according to Craig Custance of The Athletic.
Custance also notes that general manager Garth Snow may opt to add players to further sell Tavares on a bright future for the team.
---
Lunqvist staying put?
The New York Rangers aren't having the success this season that they've had in years past, on pace to miss the playoffs for the first time since 2010. Coming off a 4-0 loss to the Toronto Maple Leafs on Thursday – their third in four games – the Rangers sit seventh in the Metropolitan Division. With three players in the top 15 of TSN's latest Trade Bait List, the Rangers may be destined for a shakeup at the trade deadline.
But that doesn't change things for goaltender Henrik Lundqvist.
"I want to play for one organization. This one," Lundqvist told the New York Post. "I love it here. I want to be here and battle through the ups and downs, the good and the bad. It's important to me."
"The question has come up before about maybe having to go somewhere else to win it, but I don't think that way. I've never felt the need for that," Lundqvist said.
In 43 games so far this season, the 35-year-old has a GAA of 2.69 and a save percentage of .919.
---
Wild shopping a defenceman?
The Minnesota Wild might soon make a decision between defencemen on their third pairing according to Michael Russo of The Athletic.
Gustav Olofsson and Mike Reilly have been splitting time on the third line and Russo speculates one of them may become available approaching the Feb. 26 trade deadline.
Reilly played his first game since Jan. 10 Friday night in their 5-2 win over the Vegas Golden Knights and picked up an assist. Olofsson has played the last several games but got Friday off so Reilly could dust off some rust according to Russo.