Countdown to TradeCentre: Duchene trade opening the market?
Follow the latest trade rumours and speculation leading up to Monday's trade deadline with TSN.ca's Countdown to TradeCentre. In today's roundup, which big-name players could the Jets pursue, who the Maple Leafs are willing to trade and what the Oilers could get back as sellers on deadline day.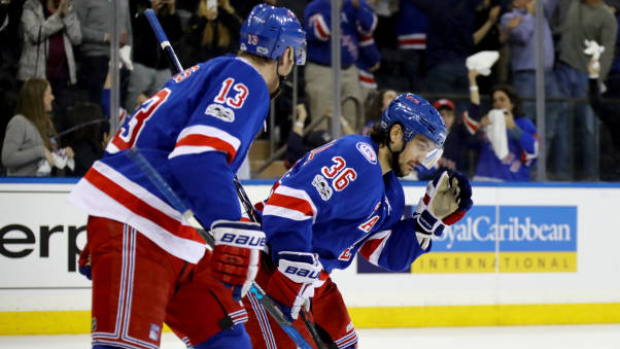 The National Hockey League's Trade Deadline is 3 p.m. ET on Monday and teams will be making decisions on whether to buy or sell and decide which players can make the biggest difference and hold the greatest value. Check out the latest trade rumours and speculation from around the NHL beat.
---

Opening the Floodgates?
With Matt Duchene off the market, buyers are moving on to other names on their list of targets, and TSN Hockey Insider Darren Dreger reports the New York Rangers' phone line is starting get busy.
Dreger reports that since the Duchene deal, teams are starting to key-in on Kevin Hayes, who was the second ranked centre on the TSN Trade Bait board before the Blue Jackets acquired Duchene. He adds, however, that some teams have expressed interest in getting both Hayes and Mats Zuccarello from the Rangers.
Both players are pending free agents, with Hayes carrying a $5.175 million cap hit and Zuccarello signed for $4.5 million.
Hayes, 26, has 14 goals and 42 points in 51 games this season, while Zuccarello has 11 goals and 37 points in 46 games.
Dreger adds that high picks or a high pick and a prospect expected to be the return for just Zuccarello in a trade.

---
Making the Big Move?
TSN Hockey Insider Darren Dreger said Thursday on Insider Trading that Winnipeg Jets general manager Kevin Cheveldayoff is "pretty keen on trying to add a significant piece" before the trade deadline.
"Well, Kevin Cheveldayoff is checking in on a number of teams and is pretty eager to find out what the direction is for the players in Ottawa," Dreger said. "There's no question about that he's staying in touch with the New York Rangers as well. There are lots of teams with interest in Kevin Hayes and Mats Zuccarello and interestingly enough, those guys are in the lineup for the New York Rangers – they're playing in Thursday's game. He's also checking in with the Philadelphia Flyers on Wayne Simmonds, so he's pretty keen on trying to add a significant piece as we know, but he's getting a significant piece regardless of trade because Nikolaj Ehlers is very close to coming in off injury."
The team has been linked to Columbus Blue Jackets winger Artemi Panarin, though TSN Hockey Insider Pierre LeBrun reports the Blue Jackets are willing to hold on to the pending free agent unless a team "really steps up."
Roslovic, 22, has seven goals and 17 points in 59 games this season. He was selected 25th overall by the Jets in the 2015 NHL Draft.

---

Who's Available?
The Toronto Maple Leafs have a cap crunch looming this off-season with Mitch Marner, Kasperi Kapanen and Andreas Johnsson all set for restricted free agency.
TSN Hockey Insider Bob McKenzie reports Maple Leafs general manager Kyle Dubas has reached out to Kapanen and Johnsson's agents to get a sense of their asking prices on extensions, but said the team does not want to trade either ahead of Monday's deadline.
"Yeah, Kyle Dubas wanted to get together this week with both the agents for Kasperi Kapanen and Andreas Johnsson just to find out what might be in store down the road," McKenzie said on Insider Trading. "Are these negotiations potentially going to go the way William Nylander negotiations went - which was to the mat which is a real tough fight to get something done – and what are the expectations for these players?
"Now, I don't believe that Kyle Dubas and the Toronto Maple Leafs want to trade Kasperi Kapanen or Andreas Johnsson between now and Monday, but I also think that Dubas and the Leafs wanted to get a handle on what the reasonable expectations of the player might be in a contract just in case the Leafs are presented with something that would open the door for them to maybe trade one of those guys because there may be financial reasons why they can't keep them long-term anyway."
The Maple Leafs are without their first-round pick in this year's draft after trading it to the Los Angeles Kings for Jake Muzzin last month. With the team still potentially interested in a right-shot defenceman, TSN Hockey Insiders Darren Dreger and Bob McKenzie broke down who the team could move ahead of the deadline.
"What we continually are told is that 'Yeah, they're scouting (right-shot defencemen), but they don't want to give up a player off their existing NHL roster,'" Dreger said on the TSN Hockey Bobcast. "So, then you look to the (Toronto) Marlies and you see (Timothy) Liljegren, you see (Andreas) Borgman, and you see Jeremy Bracco and guys like that - I'm sure everybody's asking for (Rasmus) Sandin, but that's not happening."
"They're not getting Sandin," McKenzie added. "And there are other people who maintain that Liljegren is an untouchable too and I don't believe that. That's my take, is that he could be had, that Sandin's the guy that they really want to protect at all costs. But that they'd be much more open to just about anybody else off the Marlies."
Dreger, who agreed with McKenzie that Liljegren is not untouchable, listed New York Rangers veteran Adam McQuaid and Brett Pesce and Justin Faulk of the Carolina Hurricanes as potential targets.
Liljegren, the Leafs first-round selection in 2017, has two goals and eight points in 23 games with the Marlies this season. Sandin, selected 29th overall last June, has five goals and 11 points in 25 games during his first season with the Marlies.

---

Time to Sell?
With the Edmonton Oilers sitting second-last in the Western Conference, TSN Hockey Insider Darren Dreger was asked Thursday if the Oilers should look to sell off pending unrestricted free agent Alex Chiasson or veteran winger Zack Kassian.
Chiasson is in the midst of a career-year, with 17 goals and 27 points and carries just a $650,000 cap hit. Kassian is signed through next season at a $1.95 million and Dreger believes there will be a market for him if the Oilers decide to put him on the block.
"Yeah, I think they'll get more for Chiasson," Dreger told TSN Radio 1260 Edmonton. "I believe that the ask is pretty high. I think it's a second-round draft pick or a pretty decent prospect or, if you want to be creative, I suppose you could find a way to maybe add both in that package.
"But I don't think that the Oilers have written off the idea of potentially extending Chiasson either. That has to be considered. But given the situation that the Oilers as an organization are in, Chiasson is likely going to fetch the highest return among the players that you're willing to trade. If they were willing to consider any of the bigger boys like Darnell Nurse, they'd knock it out of the park. They're not doing that, we can understand why.
"But in saying everything I've said about Chiasson - I believe he's going to fetch the most return - there is a market for Zack Kassian. Teams like the fact that he's not a bad skater. He obviously has that gritty element to him, and he's going to be highly motivated as a playoff performer if given the opportunity.
"So they do have a couple of pieces in play that could bring some return."
Kassian, 28, has eight goals and 16 points in 57 games this season with a minus-7 rating.