Countdown to TradeCentre: Quiet on Galchenyuk?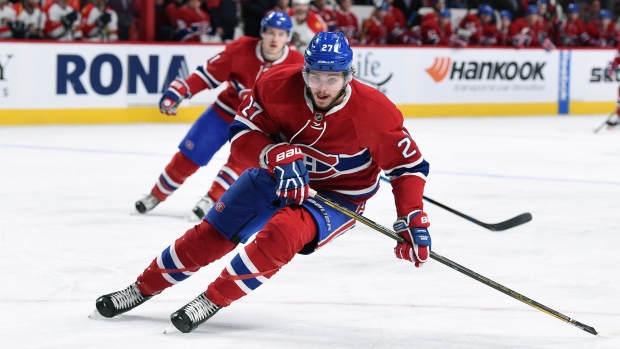 The National Hockey League's Trade Deadline is on Monday, Feb. 26, and teams will be making decisions on whether to buy or sell and decide which players can make the biggest difference and hold the greatest value. Check out the latest trade rumours and speculation from around the NHL beat.
---

Quiet on Galchenyuk?
Alex Galchenyuk has been the subject of trade rumours dating back to last season, but TSN Hockey Insider Pierre LeBrun reports the Montreal Canadiens don't appear to be shopping the 24-year-old.
"I haven't heard his name out there that much, to be quite honest," LeBrun told TSN Radio 690 in Montreal. "But I also haven't been told by a team that they called and that Montreal has said, 'Don't call.' So where does that leave things? I think that probably leaves things where it should be left on a lot of players for that team - you can't afford to say, 'Don't phone,' when you're needing to listen and be open-minded about ways to retool your team headed into September.
"But compared to the names that we're hearing routinely - from Mike Hoffman to Patrick Maroon, etc. - we're just not hearing Galchenyuk as much. And I don't want to come here and say he won't get dealt, I'm just telling you that I'm not hearing his name as much as I did in the off-season last summer."
The left winger has 12 goals and 32 points with the Canadiens this season with a minus-32 rating. He scored 30 goals in 2015-16 and LeBrun notes his true NHL value remains unknown.
"Certainly when I've talked to other teams about what they think of him it's interesting because you get a lot of the same answers," LeBrun said. "Which is, 'When he's on, he just wows you and we get these great scouting reports back.' But then there have been games, as you know, where he can be invisible and there can be scouts at those games, too. So I think other teams wonder: if they're going to pay a huge price price for him, what player are they getting.
"For me, again, I guess it's easy to say from my vantage point because I'm not on the hot seat. But I wouldn't move him. I just think that at the end of the day, I really feel in his case eventually he's going to be a more consistent player and the good games are going to vastly outweigh the invisible ones, and you're going to be happy that he's there creating on your team. And I think we're seeing more and more of that; but again, there are nights where it's not there."
In the TradeCentre Match Game last week, TSN Senior Hockey Reporter Frank Seravalli listed the New Jersey Devils, Tampa Bay Lightning and St. Louis Blues as potential landing spots for Galchenyuk in a trade.
He signed a three-year, $14.7 million contract extension with the Canadiens in July.

---

Creating a Need?
With Flyers goaltender Brian Elliott sidelined for five-to-six weeks after core muscle surgery on Tuesday, Sam Donnellon of The Philadelphia Inquirer believes it's likely general manager Ron Hextall will seek goaltending help before the trade deadline.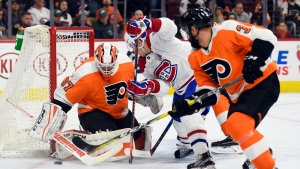 Michal Neuvirth, 29, is 7-7-3 with a 2.58 goals-against average and a .915 save percentage this season. Alex Lyon, 25, made his NHL debut on Jan. 31 and has an 0-1 record with a 3.93 goals-against average and an .860 save percentage in three appearances.
Hextall stopped short of saying he was looking for a goaltender, but noted he's always looking to improve his roster.
"I can't say I'll go with the 23 guys on our roster right now because I don't know what might come up," Hextall told The Inquirer on Tuesday. "I'll repeat what I always say: If we can make our team better at any position we'll look at it… That said, we like our team, we like what we've done. In saying that we've got to keep pushing. Neuvy is very capable. He's played some very good games for us this year. Some other ones haven't been that great. But if he can get on a roll right here and get some consistency and do a good job for us, we'll be fine."

---

Back In Time for a Trade?
TSN Hockey Insider Darren Dreger reported last week that injured New York Rangers forward Chris Kreider was drawing interest on the trade market. Now, it appears he could be ready to return from injury.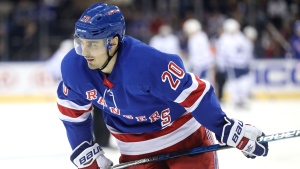 Kreider has been out since Dec. 27 due to a blood clot that required rib resection surgery to correct. He told The New York Post he plans to return to practice on Wednesday with a non-contact jersey.
Kreider, 26, has 11 goals and 22 points in 37 games with the Rangers this season. Dreger speculated he could be moved by the Rangers in a "low-level deal."
Since Kreider's absence, the Rangers have informed fans of their plans to make major changes to the team's roster.
"I haven't gone through this with them, so it's very hard for me to speak to it," Kreider told The Post. "But I can say that a lot of us have been together for a long time, we've been fortunate that way, and it would be a mistake to underestimate this group.
"I'm sure they're disappointed and disenchanted with some stuff, but there is a ton of heart in that room, and I cannot wait to get back and be a part of it. I'm healthy and I'm ready to go."
Kreider is under contract through 2019-20 at a $4.625 million cap hit.

---