Countdown to TradeCentre: Saturated rental market?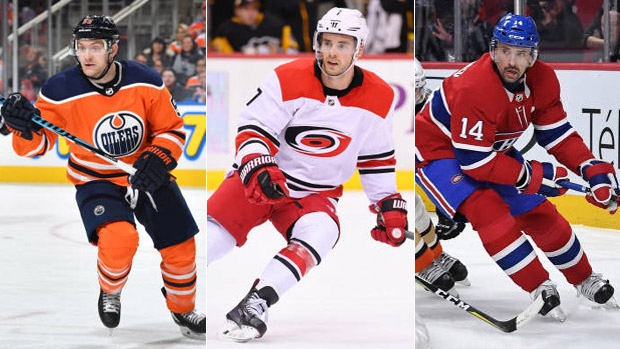 The National Hockey League's Trade Deadline is on Monday, Feb. 26, and teams will be making decisions on whether to buy or sell and decide which players can make the biggest difference and hold the greatest value. Check out the latest trade rumours and speculation from around the NHL beat.

---

Saturated Market?
TSN Hockey Insider Bob McKenzie was asked Monday morning what kind of return the Montreal Canadiens could get for centre Tomas Plekanec.
McKenzie said it's a tough question to answer since the rental market hasn't been set yet, but he noted that an oversaturated market could drive down the cost of rentals.
"Short answer is I don't know," McKenzie told TSN Radio 690 Montreal. "We haven't seen any rentals move here. And the rental market fluctuates year from year, and I haven't sat down and gone through the previous years with a fine-tooth comb. But if anything, and I could be wrong on this, I'm going to guess that the rental prices are going to continue to drop, that rentals are not going to be as popular as they have been in the past.
"And I guess sometimes it's just the basic law of supply and demand. But it sure seems like there are a lot of potential rentals out there, especially scoring wingers more so than checking or depth centres. I mean, Edmonton has got Mark Letestu, who could be in the same sort of conversation as a guy like Tomas Plekanec. I haven't sat and gone through all of the teams to see what other guys might become available in that regard.
"But the (Evander) Kane and Rick Nash rentals will probably drive the rental market in terms of setting a price. And right now the Sabres are looking for three elements - a first-round pick, a player off the roster, a prospect. I think that might be overly ambitious. Because as we've talked about before, if you look at what Martin Hanzal did or didn't do for the Minnesota Wild and the owner coming out afterward and saying, 'I wish we hadn't done that Martin Hanzal deal,' I think with things being as tight as they are and teams not even guaranteed a playoff spot – are they going to give up a first-round pick and a prospect for a player and then potentially miss the playoffs. People usually don't pay rental prices to get yourself into the playoffs; you do it to push yourself over the top if you think you can win the Cup, and that's the rationale for giving up as much as teams like the Rangers and Buffalo, the asking price for those guys.
"So getting back to your original question on Plekanec, I don't know. I would think it would probably just be a draft pick, but I don't know which one. I'd be surprised if it's a second-round pick, but I guess if there was a team that really felt they had a need and that Plekanec was the only guy that fit it somebody would, but that might be overly-ambitious on my end.
"And as I said before, I'll be curious to see if Plekanec even moves."
Plekanec is not listed on the TSN Trade Bait board despite his expiring contract. The list does, however, feature two centres on expiring deals in Letestu and Derek Ryan. The market is flooded with left wingers with six pending free agents in the top 13, including Kane and Nash.

---

Retool or Rebuild?
Bruce Garrioch of The Ottawa Sun reports the Senators have two options heading into the trade deadline, either retool their roster, or enter into a full-scale rebuild one year after reaching the Eastern Conference Final.
Garrioch believes the team will opt to simply retool their roster and keeps their playoff hopes for next season alive. He lists Mike Hoffman, Zack Smith and Jean-Gabriel Pageau as the Senators who are drawing the most interest, but thinks it will take a lot to pry Pageau from the team.
Senators general manager Pierre Dorion enters the trade deadline with a distinct benefit, though. As Garrioch writes, all of the team's top players have term remaining on their contracts, meaning he could choose to hold on and try to work out a trade at draft, or beyond.
According to Garrioch, the Los Angeles Kings have shown some interest in both defenceman Dion Phaneuf and Johnny Oduya, who is on an expiring contract. He adds a Phaneuf deal remains unlikely due to his $7 million cap hit, but notes the Kings did try to work out a deal for the veteran at the 2017 draft.
As for Erik Karlsson, Garrioch believes he'll be on the Senators roster on July 1, when the team can finally hear his ask on a contract extension.

---

Listening, Not Shopping
Arizona Coyotes general manager John Chayka refuted a report by the New York Post on Monday suggesting the team was shopping forward Max Domi.
"I don't know where they get this stuff," Chayka told AZ Central. He added, however, that the team will "listen on anything."
Domi, 22, has just three goals and 19 points in 52 games this season with the last-place Coyotes.

---

Happy to be Here
The Vancouver Canucks have used backup Anders Nilsson sparingly this season, but the goaltender has no intentions of asking for a trade.
Nilsson told The Vancouver Province on Monday that despite being outstarted 37-15 by Jacob Markstrom this season, he's perfectly happy where he is.
"I would never ask for a trade," Nilsson said. "For numerous reasons, I've been around. I've been on a lot of teams. I signed a two-year deal and I want to play here.
"I'm just going to work harder, and stay focused and be committed."
Nilsson has a .906 save percentage on the season, just below Markstrom's .907 mark. His goals against average, however, sits at 3.39 to Markstrom's 2.76.
Despite his unwillingness to move, Jason Botchford of The Province believes Nilsson could soon be forced out. Botchford believes 22-year-old Thatcher Demko, who owns a .929 save percentage at the AHL-level, could see starts with the Canucks in the near future.
Nilsson had a strong showing in his last start - a 35-save performance in a 1-0 loss to the Winnipeg Jets on Jan. 21 - hasn't gotten the nod to start since. Head coach Travis Green told The Province he's not worried about Nilsson wanting to leave due to a lack of starts.
"I love how he responded with his last game in Winnipeg," he said. "He's working really hard in practice right now. He looks sharp. I'm confident when he goes back in, he's going to be sharp."

---