Countdown to TradeCentre: Sens willing to trade Ceci?
Follow the latest trade rumours and speculation leading up to the Feb. 25 trade deadline with TSN.ca's Countdown to TradeCentre. Monday's roundup includes whether the Senators could sell Cody Ceci, the trade outlook for the Anaheim Ducks and questions on Cam Talbot's future in Edmonton.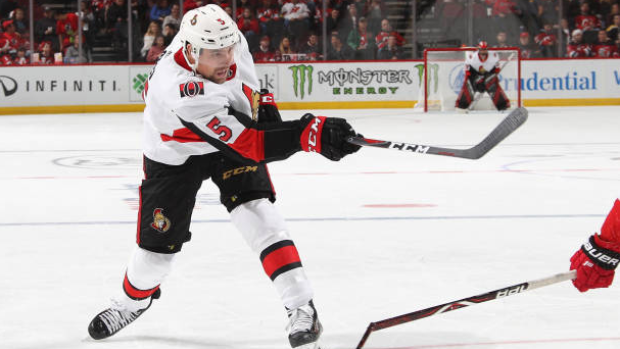 The National Hockey League's Trade Deadline is 3 p.m. ET on Monday, Feb. 25, and teams will be making decisions on whether to buy or sell and decide which players can make the biggest difference and hold the greatest value. Check out the latest trade rumours and speculation from around the NHL beat.

---

Wait and Ceci
Sitting 14th in the Eastern Conference, the Ottawa Senators project to be sellers ahead of the trade deadline, but who exactly will be on the move remains unclear.
The team has three key pending unrestricted free agents in Mark Stone, Matt Duchene and Ryan Dzingel and contract talks with Stone and Duchene are expected to heat up in the near future.
TSN Hockey Insider Bob McKenzie was asked over the weekend whether the Senators could consider trading defenceman Cody Ceci, who will become a restricted free agent once again this July.
"I think in the case of Ceci because he's on the one-year deal… RFA at the end of this year - I think that the notion of trading Cody Ceci is within the realm of possibility," McKenzie told TSN Radio 1200 Ottawa. "And that it wouldn't surprise me if the Senators have gotten calls on Ceci and it wouldn't surprise me if the Ottawa Senators are earnestly listening on those.
"Again, nobody has made any pronouncements, and so nothing is firm by any stretch of the imagination, but it wouldn't surprise me if Senators were open to the idea of trading Ceci. That doesn't mean they're going to give him away. It's not a fire sale. Contractually, they still own him. They could qualify him, or do another deal, or whatever the case may be - but he's not unrestricted, he's not walking out the door. You have some control over the player, but not a ton either. He's getting on.
"So on that one I think there'll likely be conversations."
Ceci, 25, re-signed with the Senators last summer on a one-year, $4.3 million contract. Through 42 games this season, he has five goals and 12 points with a minus-20 rating.

---

Roster Moves?
Anaheim Ducks general manager Bob Murray released a statement on Sunday confirming his support for head coach Randy Carlyle in the midst of the team's franchise-record 11-game winless streak.
In the statement, Murray said he was "more focused on our players" and TSN Hockey Insider Bob McKenzie believes that while Carlyle is safe, the Ducks roster hasn't been given the same assurance.
"Well, if they keep losing and losing and losing, I guess at some point maybe the coach goes," McKenzie told TSN Radio Ottawa 1200 prior to Murray's statement. "But to be honest with you, Bob Murray, the general manager there, seems to be not inclined to want to make a coaching change in-season. I think he wants to try to ride it out with Randy Carlyle as long as he can.
"I do believe he's been very active - and has been all season long, and continues to be - in terms of what might be a trade option for him.
"So he's got a lot going on there. It's a contract year for Jakob Silfverberg. Are they going to be able to get him signed, are they not going to be able to get him signed? He's a real good forward, and if they're not going to be able to get him signed, then maybe he has to go.
"They've got lots of defencemen, when healthy. When you've got (Hampus) Lindholm and you've got (Cam) Fowler and you've got (Brandon) Montour and you've got (Josh) Manson - there's a lot of really good young defencemen on that team. Some would say they have almost too many, that there's a surplus, versus some of the other weaknesses in their lineup.
"I've got to believe that Bob Murray is looking at any and all trade options, both in terms of trying to make his team better in the very short term, so they can snag one of those playoff spots - the wild-card spots - but also with an eye toward, 'You know what? For most of the last couple of decades it seems it's been (Ryan) Getzlaf and (Corey) Perry and everybody else,' and they obviously need to transition to a younger team and get a younger core. So if there's hockey deals to be made that would allow him to do that as well…
"So I think he's got a lot of balls in the air in terms of going in both directions. Try and make a move here that might push a button that gets them over the top and into one of the wild-card playoff spots, but also maybe has him to think trading some players that might otherwise wouldn't think of trading, so that you can continue a renewal if you want - not a rebuild by any stretch - but just a bit of a renewal to try and change to change the look of this team long term for many years to come."
The Ducks' current skid has dropped the team out of a playoff position, though they remain tied in points with the Minnesota Wild, who currently occupy the final wild-card spot in the Western Conference. The Ducks have been without Perry rhis season due to a preseason knee injury, but are expected to get the 33-year-old back sometime in February.

---

Oil (Goalie) Change?
With the Edmonton Oilers already up against the salary cap, Kurt Leavins of The Edmonton Journal wonders if the team will consider trading goaltender Cam Talbot as they seek offensive help ahead of the deadline.
Leavins noted that both Talbot, who carries a $4.167 million cap hit, and Mikko Koskinen are pending free agents and the team is unlikely to re-sign both this summer.
Talbot, 31, has struggled this season, posting a 9-13-2 record with a 3.17 goals-against average and a .896 save percentage. He has a limited no-trade clause which allows him to submit a list of 10 teams approved for a trade.
Koskinen, who was signed as a free agent out of the KHL this past summer, has outplayed Talbot this season, posting a 12-8-1 record with a 2.72 goals-against average and a .913 save percentage. The 30-year-old also owns a full no-move clause on his $2.5 million contract.
Koskinen has also started 20 games since Nov. 1, while Talbot, the team's starter to begin the year, has started 14.
Edmonton currently sits 11th in the Western Conference, but only two points back of the Minnesota Wild for the final wild-card spot.

---