Countdown to TradeCentre: Time for Ducks to blow it up?
Follow the latest trade rumours and speculation leading up to the Feb. 25 trade deadline with TSN.ca's Countdown to TradeCentre. Monday's roundup includes where the Anaheim Ducks go from here, the asking price for Senators forwards and the Oilers' looming decision.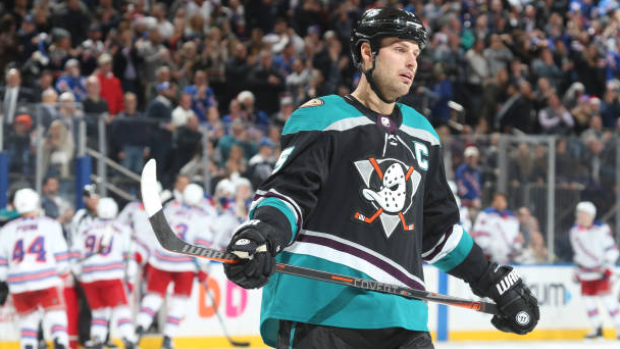 The National Hockey League's Trade Deadline is 3 p.m. ET on Monday, Feb. 25, and teams will be making decisions on whether to buy or sell and decide which players can make the biggest difference and hold the greatest value. Check out the latest trade rumours and speculation from around the NHL beat.
---

Time For Change?
Mark Whicker of The Orange County Register believes no Anaheim Duck other than goaltender John Gibson should be surprised if they're traded ahead of Feb. 25. Whicker notes, however, that the Ducks are highly unlikely to be able the shed the contracts of Ryan Getzlaf, Corey Perry or Ryan Kesler this year.
Murray said Sunday he had "no fear" in asking any of the three of them to waive their no-move clauses, but with Perry carrying an $8.625 million cap hit, Getzlaf coming in at $8.25 million and Kesler at $6.875 million, Whicker believes the team may be forced to consider buyouts in the summer.
Perry, signed for two more seasons, has just one assist in five games this season since returning from a pre-season knee injury. Kesler, who is signed through 2021-22, has four goals and six points in 48 games this season with a minus-21 rating.
Getzlaf, also signed for two more seasons, is the Ducks leading scorer this season with 11 goals and 36 points in 50 games. He said Sunday he hopes to stay with the franchise moving forward.
"I'm not exempt from anything that's going on in this room," Getzlaf said. "I've been here my whole career. The last thing I plan on doing is to go somewhere else unless Bob says I have to.
"I've always told him that if either side has an opinion that this needs to end, we'll have the discussion. But I've put too much into this organization to not see it through. Going to another team is not in my vocabulary."
The Ducks have nine pending unrestricted free agents on their current 23-man roster including leading goal-scorer Jakob Silfverberg.
---

What's the Price?
Bruce Garrioch of The Ottawa Sun writes that should the Ottawa Senators fail to re-sign Mark Stone or Matt Duchene in the coming days, then the team will likely seek three pieces in exchange for each of the forwards on the trade market.
Garrioch added that one of those three pieces would be a first-round pick, something the Senators are currently without in this year's draft thanks to their 2017 trade for Duchene.
In addition to Stone and Duchene, the Senators' third-leading scorer at forward, Ryan Dzingel, is also a pending unrestricted free agent. Garrioch believes the Senators could turn their focus to keeping Dzingel once they discover Stone and Duchene's plans, but notes he's believed to be seeking a salary over $5.5 million, which could lead him being traded. He adds that the price tag on Dzingel, who has 21 goals and 40 points in 53 games this season, is believed to be a first-round pick.
Garrioch lists the Winnipeg Jets, Nashville Predators, Calgary Flames, New York Islanders, Vegas Golden Knights, Minnesota Wild, Boston Bruins and Pittsburgh Penguins as teams who are expected to be in the market for forward help this month.

---

Decision Coming
Edmonton Oilers defenceman Andrej Sekera has played two rehab games with the AHL's Bakersfield Condors, posting a plus-5 rating in his recovery from a torn Achilles.
Kurt Leavins of The Edmonton Journal writes the Oilers could be faced with a decision on activating Sekera from injured reserve as soon as Wednesday, when he plays in his third AHL game.
The Oilers are currently $1.19 million over the cap using the relief from having Sekera on long-term injured reserve. The team will have to clear cap space in order to activate Sekera, who carries a $5.5 million hit.
TSN Senior Hockey Reporter Frank Seravalli wrote last week that the Oilers' "cleanest option" could be to place both Brandon Manning and Alex Petrovic on waivers and demote both players to the AHL if they clear. Seravalli noted that waiving the two players would free the necessary space - as Petrovic carries a $1.95 million cap hit as a pending free agent and Manning counts for $2.25 million with one year left on his deal.
Leavins added that the Oilers could delay their decision if they chose to have Sekera play the maximum of five games in the AHL.
---