Countdown to TradeCentre: Who's interested in Panarin?
Follow the latest trade rumours and speculation leading up to the Feb. 25 trade deadline with TSN.ca's Countdown to TradeCentre. In Wednesday's roundup, the suitors for Artemi Panarin and his looming July 1, trade options for the Winnipeg Jets and Alex Edler's future in Vancouver.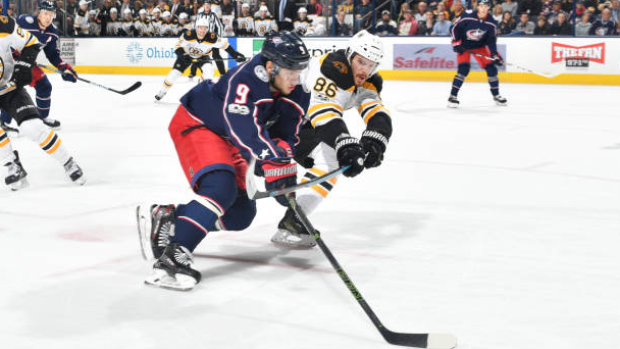 The National Hockey League's Trade Deadline is 3 p.m. ET on Monday, Feb. 25, and teams will be making decisions on whether to buy or sell and decide which players can make the biggest difference and hold the greatest value. Check out the latest trade rumours and speculation from around the NHL beat.
---

Payday Coming
Artemi Panarin appears set to hit the open market on July 1 and TSN Hockey Insider Darren Dreger believes the Russian winger could come close to doubling his current salary as a free agent.
Dreger said Tuesday - one day after Panarin's agent announced he would not re-sign with the Columbus Blue Jackets in-season - that certain teams are going to have to overpay to land the winger in free agency and broke down potential landing spots.
"I'm telling you this: For a mid-market team like Columbus, or any team - and I'm going to include Pittsburgh into this grouping, St. Louis, I mean these are teams with good rosters - for them to get in on Panarin, they're going to have to overpay," Dreger told TSN Radio 1050 Toronto. "They're going to have to overpay, because I think geographically that matters to him.
"So I'm looking at the Islanders - I think Panarin would love to play with Mat Barzal. I'm looking at even the Philadelphia Flyers, depending on what happens. I didn't know this, maybe you guys did and it slipped under my radar - apparently Philadelphia came real close to acquiring Panarin at the draft last year.
"I don't know what the components were, but I know that Philadelphia felt like they were pretty close to getting Panarin at the draft. Now, there's been a change in management obviously. Chuck Fletcher, he's going to be pretty motivated, isn't he, to add some pieces. Now, he might be able to add some pretty offensive-minded players through trade, considering some of the assets he's willing to peddle. But I look at Philadelphia as a potential landing spot for Panarin.
"The Rangers are always in that mix, even though they feel like they're a ways away.
"And then you've got to shift over into the Western Conference, and looks at the likes of maybe San Jose. Los Angeles feels a bit of a stretch because of the turnaround there. He's going to have lots of geographic locations that are much more appealing. In the East I forgot Florida... So maybe it's the Islanders, the Flyers, Florida in the East.
"The point being Artemi Panarin is going to have his pick of the litter, and I think they're going to steal a page from the Maple Leafs. I think he's going to get that seven-year term and $11 million AAV."
Panarin, who carries a $6 million cap hit this season, is the Blue Jackets' leading scorer with 19 goals and 55 points in 47 games. He set a Blue Jackets franchise record with 82 points last season.
In the less distant future, TSN Hockey Insider Pierre LeBrun believes the Blue Jackets will trade Panarin ahead of the deadline and pointed to the Nashville Predators and Boston Bruins as potential landing spots.
"It's an awful position to be in if you're Jarmo Kekäläinen, the GM of the Blue Jackets, but they knew for last summer that this would probably be the case. So here's where it sits, I think they're going to trade him, but it has to be at the level that they want in terms of a return," LeBrun said Tuesday on Insider Trading. "I can't think of a rental player that would have a bigger offensive impact on a contender this year. Think of Nashville or Boston, teams that I believe if they haven't already will phone Columbus on this player.
"If the Jackets can get the kind of package they want then they have to turn around and fill that roster spot. There are buyers and there's sellers, it's going to be a complicated month for Jarmo Kekäläinen."
The Blue Jackets remain third in the Metropolitan Division following Tuesday's loss to the Buffalo Sabres.

---

Time to Step In?
The Winnipeg Jets are 8-6 since the Christmas break and Mike McIntyre of The Winnipeg Free Press believes general manager Kevin Cheveldayoff needs to step up in order for the team to maximize their Stanley Cup chances this season.
McIntyre reports Cheveldayoff has been active of late attempting to acquire a depth forward for the team's bottom-six, but believes the top priority should be acquiring a top-six centre to help Patrik Laine snap out of his current slump. He has just one goal and three points in his past 10 games and saw just three shifts in the second period - and 10:55 of ice time total - of the team's shootout win over the Boston Bruins on Tuesday.
McIntyre believes the Toronto Maple Leafs' addition of Jake Muzzin, a defenceman the Jets had interest in, should be considered "a shot across the bow" to all contending teams. He points to pending free agent Matt Duchene as a target the Jets should look to acquire and adds the team could use defensive depth as well.
TSN Senior Hockey Reporter Frank Seravalli wrote earlier this week that the Jets "are undoubtedly on a mission to add a bona fide second-line centre" in order to move Bryan Little down to the third line. Seravalli adds that the Jets have already been in contact with the Pittsburgh Penguins on pending free agent Derick Brassard, but the initial asking price was high.
As for Duchene, Seravalli wrote that Cheveldayoff would prefer a player with term, but noted the team's upcoming cap crunch could lead him to acquire a rental instead.
The Jets sit first in the Central Division with a two-point lead and two games in-hand over the Nashville Predators.

---

Off the Market?
Vancouver Canucks defenceman Alex Edler might not be in the rental market, despite his expiring contract status.
TSN Hockey Insider Bob McKenzie said Tuesday the Canucks intend to re-sign the 32-year-old, who has spent his entire playing career in Vancouver.
"In order for there to be a market for Alex Edler, the Vancouver Canucks would have to have a willingness to want to move him," McKenzie told TSN Radio 1040 Vancouver. "I think the priority right now is that general manager Jim Benning is going to try and get an extension done with Edler. I think that's the plan, unless something has dramatically changed that I'm not aware of. It's kind of pie in the sky talk in terms of saying 'What's the market going to be for him?' Because he's technically at this point, anyways, not available."
McKenzie went on to explain that if the Canucks did decide to trade Edler, they could expect less in return than the Los Angeles Kings received for Jake Muzzin on Monday. McKenzie pointed to the fact that Edler is a rental, while Muzzin is signed through next season.
Benning said earlier this month that the team was still debating whether to re-sign Edler
Canucks general manager Jim Benning said Monday the team would look at all of their options with Edler, but added he wasn't sure if the team had the organizational depth to replace the blueliner.
Edler, who carries a $5 million cap hit and has a no-trade clause, has five goals and 20 points in 36 games this season.
---

Staying Put?
The Ottawa Senators continue to work to try to re-sign pending unrestricted free agents Mark Stone and Matt Duchene and it appears the hope of a third contract extension is in the team's plans.
TSN Hockey Insider Darren Dreger said Tuesday the Senators may try keep their third pending free agent forward, Ryan Dzingel, instead of trading him ahead of Feb. 25.
"I'm more curious on Ryan Dzingel," Dreger said on TSN Radio Ottawa 1200. "I think that there's as good a chance that the Ottawa Senators opt and try and sign and keep Ryan Dzingel than they are in exploring what the trade market is.
"He's going to be more affordable. You need good players to transition from rebuild into a playoff-contending team, and why trade a Ryan Dzingel when you're going to try and get that player back. Unless - unless - it just becomes a cost issue and whatever Ryan Dzingel is expecting to avoid free agency is cost prohibitive.
"But based on his level of production this year, I wouldn't be surprised if Ottawa takes a hard run at keeping him."
Dzingel, 26, has 20 goals and 38 points in 48 games this season and Dreger said keeping Dzingel may reperesent a change in strategy for the Senators.
"I feel like this is a developing scenario," Dreger said. "And because of that obviously it'll be a developing story.
"I wouldn't say that it's top priority to get this guy signed. You still have to go through what they're working through with Newport Sports on Mark Stone and CAA and Pat Brisson on Matt Duchene, but I think that the feeling has maybe shifted a little bit.
"So there's still the possibility that Dzingel gets traded. I'm not suggesting he's off the market, because he's not. But I just feel like recently maybe management has shifted a little bit and is looking at the bigger picture and seeing a - what is he, a 20, 25… well, he's at least a 20… he might be a 30-goal scorer before the end of the regular season.
"Again, why wouldn't you take a stab at trying to sign that guy and try and keep that player if you're worrying about the risk of losing either Stone or Duchene."
Dzingel posted a career-high 23 goals and 41 points in 79 games last season. He carries a $1.8 million cap hit in the final season of the two-year deal he signed in 2017.