Craig's List - Suspenseful race for No. 3
As TSN Director of Scouting Craig Button writes, the No. 3 selection is where the suspense will begin at this year's NHL draft. Dylan Strome, a prototypical lead centre and OHL scoring champion, or Mitch Marner, a highly creative and elusive forward who sits atop the OHL playoff scoring list.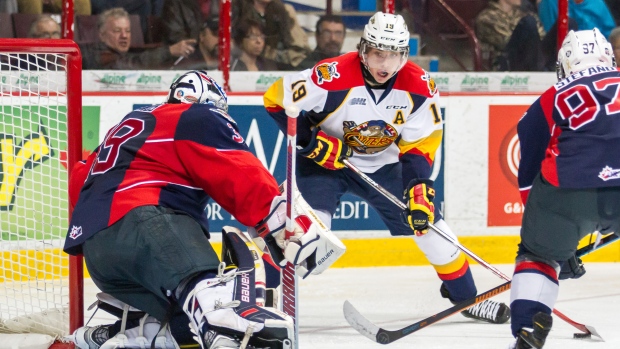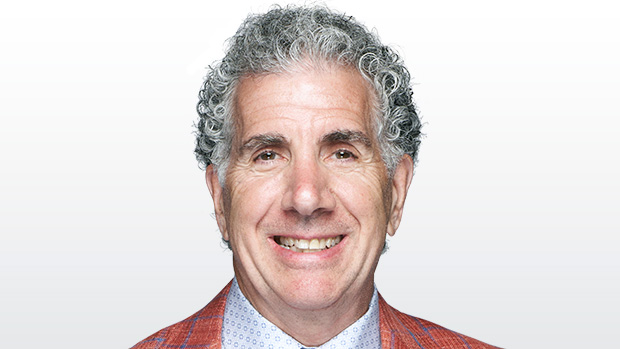 The only suspense heading into the NHL Draft Lottery is the team selecting first overall. There is no suspense as to who will be the first two players selected in the 2015 NHL Draft. The No. 3 selection is where the suspense really begins.
It could be Dylan Strome - a prototypical lead centre who scored four goals and added two assists on the season's final day to secure his spot as the OHL scoring champion - or Mitch Marner - a highly creative and elusive forward who chipped in six points of his own in a playoff game against the Kitchener Rangers and sits atop the OHL playoff scoring list with fifteen points in six games.
Any comments about Strome riding the coattails of his Erie teammate McDavid is preposterous. He carries his own game with a sound foundation rooted in discipline, smarts, competitiveness and a high-end skill level.
We knew Mitch Marner was good, but didn't quite know how good he is. The certainty with Marner is the uncertainty of opponents playing against him. His creativity sees the enormous potential - both seen and unseen - in every play and his elusiveness allows him to remain at arm's length of his opponents.
Strome is the foundation centre of every championship team, while Marner's the embodiment of what makes the game beautiful and brings people out of their seats. So while the first two players have separated themselves from the rest, these next two very well may have as well.
Thomas Chabot played on a bottom team as a 16-year-old but forged a strength to become a key player in a turnaround season for Saint John. His promise at the outset may not have been as well known, but that promise has seen a steady rise up the rankings this season. His command of the game from a mental perspective is exceptional. Combined with his ability to maneuver out of trouble and into advantageous positions, it allows him to meet the game's challenges and contribute regardless of the situation.
They were bypassed in their first year of draft eligibility but that will not be the case this year as they have both demonstrated promise.
CRAIG'S LIST - APRIL RANKING
| RK | NAME | TEAM | POS | HT | WT | GP | G | P |
| --- | --- | --- | --- | --- | --- | --- | --- | --- |
| 1 | Connor McDavid | Erie (OHL) | C | 6'1 | 195 | 47 | 44 | 120 |
| 2 | Jack Eichel | Boston U (NCAA) | C | 6'2 | 195 | 38 | 24 | 67 |
| 3 | Dylan Strome | Erie (OHL) | C | 6'3 | 187 | 68 | 45 | 129 |
| 4 | Mitch Marner | London (OHL) | RW | 5'11 | 160 | 63 | 44 | 126 |
| 5 | Ivan Provorov | Brandon (WHL) | D | 6'0 | 193 | 60 | 15 | 61 |
| 6 | Zach Werenski | Michigan (NCAA) | D | 6'1 | 201 | 35 | 9 | 25 |
| 7 | Kyle Connor | Youngstown (USHL) | LW/C | 6'1 | 170 | 53 | 32 | 74 |
| 8 | Brock Boeser | Waterloo (USHL) | RW | 6'1 | 187 | 55 | 34 | 65 |
| 9 | Timo Meier | Halifax (QMJHL) | RW | 6'1 | 208 | 61 | 44 | 90 |
| 10 | Thomas Chabot | Saint John (QMJHL) | D | 6'1 | 181 | 66 | 12 | 41 |
| 11 | Lawson Crouse | Kingston (OHL) | LW | 6'4 | 211 | 56 | 29 | 51 |
| 12 | Noah Hanifin | Boston C (NCAA) | D | 6'2 | 201 | 37 | 5 | 23 |
| 13 | Nick Merkley | Kelowna (WHL) | C | 5'11 | 188 | 72 | 20 | 90 |
| 14 | Mikko Rantanen | TPS (SM Liiga) | RW | 6'4 | 211 | 56 | 9 | 28 |
| 15 | Evgeni Svechnikov | Cape Breton (QMJHL) | RW | 6'1 | 180 | 55 | 32 | 78 |
| 16 | Jansen Harkins | Prince George (WHL) | C | 6'1 | 181 | 70 | 20 | 79 |
| 17 | Anthony Beauvillier | Shawinigan (QMJHL) | LW | 5'11 | 171 | 67 | 42 | 94 |
| 18 | Mathew Barzal | Seattle (WHL) | C | 6'0 | 178 | 44 | 12 | 57 |
| 19 | Thomas Novak | Waterloo (USHL) | C | 6'0 | 174 | 45 | 14 | 48 |
| 20 | Jakub Zboril | Saint John (QMJHL) | D | 6'1 | 184 | 44 | 13 | 33 |
| 21 | Jérémy Roy | Sherbrooke (QMJHL) | D | 6'0 | 189 | 46 | 5 | 43 |
| 22 | Jake Debrusk | Swift Current (WHL) | LW | 6'0 | 171 | 72 | 42 | 81 |
| 23 | Nicolas Meloche | Baie Comeau (QMJHL) | D | 6'3 | 199 | 44 | 10 | 34 |
| 24 | Travis Konecny | Ottawa (OHL) | C | 5'10 | 173 | 60 | 29 | 68 |
| 25 | Paul Bittner | Portland (WHL) | LW | 6'4 | 206 | 66 | 34 | 71 |
| 26 | Daniel Sprong | Charlottetown (QMJHL) | RW | 6'1 | 189 | 68 | 39 | 88 |
| 27 | Erik Foley | Cedar Rapids (USHL) | LW | 6'0 | 185 | 53 | 26 | 52 |
| 28 | Filip Chlapik | Charlottetown (QMJHL) | C | 6'0 | 194 | 64 | 33 | 75 |
| 29 | Oliver Kylington | Farjestad (SHL) | D | 6'0 | 180 | 18 | 2 | 5 |
| 30 | Pavel Zacha | Sarnia (OHL) | C | 6'3 | 210 | 37 | 16 | 34 |
| 31 | M. Vande Sompel | Oshawa (OHL) | D | 5'10 | 182 | 58 | 12 | 63 |
| 32 | Rasmus Andersson | Barrie (OHL) | D | 6'0 | 210 | 67 | 12 | 64 |
| 33 | Colin White | USA NTDP (USHL) | C | 6'0 | 183 | 45 | 16 | 42 |
| 34 | Noah Juulsen | Everett (WHL) | D | 6'1 | 175 | 68 | 9 | 52 |
| 35 | Gustav Bouramman | S.S. Marie (OHL) | D | 5'11 | 184 | 67 | 5 | 44 |
| 36 | Ryan Pilon | Brandon (WHL) | D | 6'2 | 212 | 68 | 11 | 52 |
| 37 | Travis Dermott | Erie (OHL) | D | 5'11 | 197 | 61 | 8 | 43 |
| 38 | Jack Roslovic | USA NTDP (USHL) | C | 6'1 | 182 | 67 | 21 | 67 |
| 39 | Andrew Mangiapane | Barrie (OHL) | RW | 5'10 | 170 | 68 | 43 | 104 |
| 40 | Vladislav Gavrikov | Lokomotiv (KHL) | D | 6'3 | 205 | 16 | 0 | 1 |
| 41 | Jacob Larsson | Frolunda (SHL) | D | 6'2 | 191 | 20 | 1 | 3 |
| 42 | Christian Fischer | USA NTDP (USHL) | RW | 6'1 | 212 | 57 | 28 | 53 |
| 43 | Felix Sandström | Brynas Jr. (Swe-J20) | G | 6'2 | 191 | 8 | 2.19 | .916 |
| 44 | Conor Garland | Moncton (QMJHL) | RW | 5'8 | 163 | 67 | 35 | 129 |
| 45 | Brandon Carlo | Tri-City (WHL) | D | 6'5 | 198 | 63 | 4 | 25 |
| 46 | Jens Lööke | Brynas (SHL) | RW | 6'1 | 180 | 43 | 2 | 6 |
| 47 | Jeremy Bracco | USA NTDP (USHL) | RW | 5'9 | 173 | 56 | 26 | 75 |
| 48 | Blake Speers | S.S. Marie (OHL) | C | 5'11 | 177 | 57 | 24 | 67 |
| 49 | Vince Dunn | Niagara (OHL) | D | 6'0 | 182 | 68 | 18 | 56 |
| 50 | Guillaume Brisebois | A. Bathurst (QMJHL) | D | 6'2 | 170 | 63 | 4 | 28 |
| 51 | Zachary Senyshyn | S.S. Marie (OHL) | RW | 6'1 | 192 | 66 | 26 | 45 |
| 52 | Denis Guryanov | Togilatti 2 (MHL) | RW | 6'3 | 183 | 23 | 15 | 25 |
| 53 | Yakov Trenin | Gatineau (QMJHL) | C/LW | 6'2 | 192 | 58 | 18 | 67 |
| 54 | Kyle Capobianco | Sudbury (OHL) | D | 6'1 | 178 | 68 | 10 | 40 |
| 55 | Brendan Warren | USA NTDP (USHL) | LW | 6'0 | 191 | 52 | 17 | 34 |
| 56 | Nathan Noel | Saint John (QMJHL) | C | 5'11 | 170 | 66 | 24 | 62 |
| 57 | Roope Hintz | Ilves (SM Liiga) | C/LW | 6'3 | 185 | 42 | 5 | 17 |
| 58 | Dennis Yan | Shawinigan (QMJHL) | LW | 6'1 | 180 | 59 | 33 | 64 |
| 59 | J. Forsbacka-Karlsson | Omaha (USHL) | C/RW | 6'1 | 192 | 50 | 15 | 53 |
| 60 | Mackenzie Blackwood | Barrie (OHL) | G | 6'4 | 215 | 47 | 3.09 | .906 |
| 61 | Brendan Guhle | Prince Albert (WHL) | D | 6'2 | 184 | | | |
| 62 | Sebastian Aho | Karpat (SM Liiga) | RW | 5'11 | 172 | | | |
| 63 | Michael Spacek | Pardubice (Czech Jr.) | RW | 5'11 | 187 | | | |
| 64 | Adam Marsh | Saint John (QMJHL) | LW | 6'0 | 160 | | | |
| 65 | Callum Booth | Quebec (QMJHL) | G | 6'3 | 199 | | | |
| 66 | Jordan Greenway | USA NTDP (USHL) | LW | 6'5 | 222 | | | |
| 67 | Ethan Bear | Seattle (WHL) | D | 6'0 | 202 | | | |
| 68 | Brad Morrison | Prince George (WHL) | LW/C | 6'0 | 154 | | | |
| 69 | David Kase | Chomutov (Czech B) | C | 5'11 | 169 | | | |
| 70 | Parker Wotherspoon | Tri-City (WHL) | D | 6'0 | 171 | | | |
| 71 | Nicolas Roy | Chicoutimi (QMJHL) | C | 6'4 | 202 | | | |
| 72 | Tyler Soy | Victoria (WHL) | C/LW | 6'0 | 172 | | | |
| 73 | Jonas Siegenthaler | GCK Zurich (Swiss 2) | D | 6'3 | 220 | | | |
| 74 | Julius Nattinen | JYP (Finland Jr.) | C | 6'2 | 191 | | | |
| 75 | Ryan Gropp | Seattle (WHL) | LW | 6'2 | 184 | | | |
| 76 | Aleksi Saarela | Assat Pori (Finland Jr.) | C | 5'11 | 198 | | | |
| 77 | Ziyat Paygin | Ak Bars Kazan (KHL) | D | 6'5 | 209 | | | |
| 78 | Jérémy Lauzon | R. Noranda (OMJHL) | D | 6'2 | 193 | | | |
| 79 | Tate Olson | Prince George (WHL) | D | 6'2 | 174 | | | |
| 80 | Austin Wagner | Regina (WHL) | LW | 6'1 | 178 | | | |
| 81 | Colton White | S.S. Marie (OHL) | D | 6'0 | 180 | | | |
| 82 | Spencer Smallman | Saint John (QMJHL) | RW | 6'1 | 184 | | | |
| 83 | Christian Jaros | Lulea Jr. (Swe-J20) | D | 6'3 | 201 | | | |
| 84 | Gabriel Carlsson | Linkoping (Swe-J20) | D | 6'4 | 183 | | | |
| 85 | Alexandre Goulet | Charlottetown (QMJHL) | C | 6'0 | 195 | | | |
| 86 | Erik Cernak | Kosice (Slovak Extra) | D | 6'3 | 203 | | | |
| 87 | Dryden Hunt | Medicine Hat (WHL) | C/LW | 6'0 | 199 | | | |
| 88 | Giorgio Estephan | Lethbridge (WHL) | C | 6'0 | 188 | | | |
| 89 | Samuel Montembeault | Armada (QMJHL) | G | 6'2 | 164 | | | |
| 90 | Daniel Vladar | Kladno (Czech Jr.) | G | 6'5 | 185 | | | |
| 91 | Gabriel Gagné | Victoriaville (QMJHL) | RW | 6'5 | 186 | | | |
| 92 | Adam Gaudette | Cedar Rapids (USHL) | C | 6'1 | 170 | | | |
| 93 | Mathieu Joseph | Saint John (QMJHL) | LW | 6'1 | 166 | | | |
| 94 | Anthony Richard | Val-D'or (QMJHL) | C | 5'10 | 163 | | | |
| 95 | Alexander Dergachyov | St. Petersburg (MHL) | RW | 6'4 | 200 | | | |
| 96 | Adam Musil | Red Deer (WHL) | C/RW | 6'3 | 206 | | | |
| 97 | Samuel Dove-McFalls | Saint John (QMJHL) | C/LW | 6'2 | 207 | | | |
| 98 | Alexandre Carrier | Gatineau (QMJHL) | D | 5'11 | 174 | | | |
| 99 | Yegor Rykov | St. Petersburg (MHL) | D | 6'1 | 216 | | | |
| 100 | Nikita Korostelev | Sarnia (OHL) | RW | 6'1 | 195 | | | |