DeRozan scores 25 as Raptors cruise to win over Hawks
The Toronto Raptors were happy to be back home Friday, beating the Atlanta Hawks 111-98 for their 11th consecutive win at the Air Canada Centre. DeMar DeRozan had 25 points for the Raptors (24-10), whose 13-1 home record is the best in the NBA.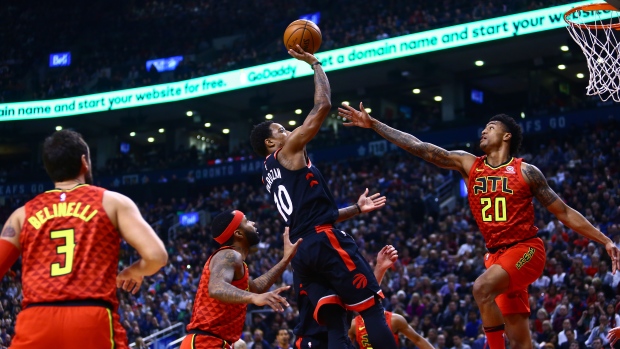 TORONTO — The Toronto Raptors have turned the Air Canada Centre into one of the most inhospitable arenas in the NBA this season.
They were thrilled to be back home Friday night.
DeMar DeRozan had 25 points as the Raptors rebounded from two road losses to win their 11th consecutive home game, beating the last-place Atlanta Hawks 111-98.
"It just means everything to be able to continue what we're doing at home," DeRozan said. "We've got to use that as our backbone, to come home, take care of home. It's big for us. We play, what, 41 games at home? Why not try to win 40 if we can and have that type of momentum?"
The Raptors' 13-1 home record tops the NBA, and they're one win shy of tying their franchise record of consecutive wins at the ACC set in 2016.
Jonas Valanciunas had 13 points and 11 rebounds for Toronto (24-10), while Delon Wright finished with 13 points, and Kyle Lowry had 12. Serge Ibaka sat out with a one-game suspension after an altercation with a Raptors staff member.
Taurean Prince had 30 points to top the Hawks (9-26).
One of the night's highlights came at the final buzzer when OG Anunoby stole the ball off the Hawks for an easy dunk. An outraged Atlanta coach Mike Budenholzer hollered at Anunoby, which in turn had Raptors coach Dwane Casey yelling in his rookie's defence.
"I love coaches but one thing I don't want you to do is say something to my players," Casey said. "I understand the situation, we weren't trying to run the score up. They were trying to score and we were trying to play defence . . . there was no intent.
"Bud's a good man, good coach but I'm going to stick up for my players every time."
The Raptors had been the hottest team in the East before a pair of ugly road losses earlier this week at Dallas and Oklahoma City. They were sluggish out of the gate Friday, and trailed for a good chunk of the first quarter, but had built an 18-point lead by late in the second.
"That's what good teams do," Lowry said on bouncing back. "You don't let a couple losses set you back from your long-term goal. It's an NBA season, you're going to have some ups and downs, but as long as you keep your downs short and get back to the ups quickly, things will be fine."
By the time C.J. Miles drilled a three-pointer less than two minutes into the third quarter — he was one of nine Raptors with three-pointers on the night — Toronto was up by 20 and comfortably in control. Toronto took an 86-69 lead into the fourth in front of a sellout crowd of 19,800.
"It's great, especially when that amount of people are at the game," Prince said on the crowd. "Everybody loves playing against great teams, and in some of the greatest environments. That was the situation tonight and we couldn't pull through with the win."
The Hawks had some fight in the fourth quarter, and a basket from Prince cut the Raptors' lead to nine points with less than two minutes to play. But DeRozan responded with a long jumper with 1:04 left, sealing the victory.
The Raptors, who beat the Hawks 112-78 on Nov. 25, were slow to get going and trailed by five points late in the first quarter. But they closed the frame with a 16-3 run to take a 30-22 lead into the second.
A Miles three-pointer a minute before halftime had Toronto up by 18 points, and they went into the halftime break with a 62-47 advantage.
The Raptors host the Milwaukee Bucks on New Years Day, then depart for a three-game road trip with stops in Chicago, Milwaukee and Brooklyn.