Don't expect Domi to start filling the net
It has seemed clear for a couple of years now that the Montreal Canadiens and Alex Galchenyuk were headed for a divorce. The prevailing theory was that Galchenyuk would be flipped for a centre, a goal scorer, or a combination of the two.
That is what makes Montreal's acquisition of winger Max Domi from Arizona on Friday so interesting. Domi is a winger – a skilled one to be sure, but not one who has established himself as any sort of goal scorer in this league. At 5-on-5 over his career, he's averaged 0.46 goals per-60 minutes. In all situations, that number moves to 0.58 goals per-60 minutes. (League average is about 40 per cent higher.)
At that rate, the guys who have measured up as true goal-scoring comparables are tabled below. It's mostly checking-line types – guys who tend to end up getting pushed into different roles, ones with a bit more penalty kill time or ones more reliant on 'playmaking' than individual shot and goal generation. But there are a couple of talented top-six guys, too: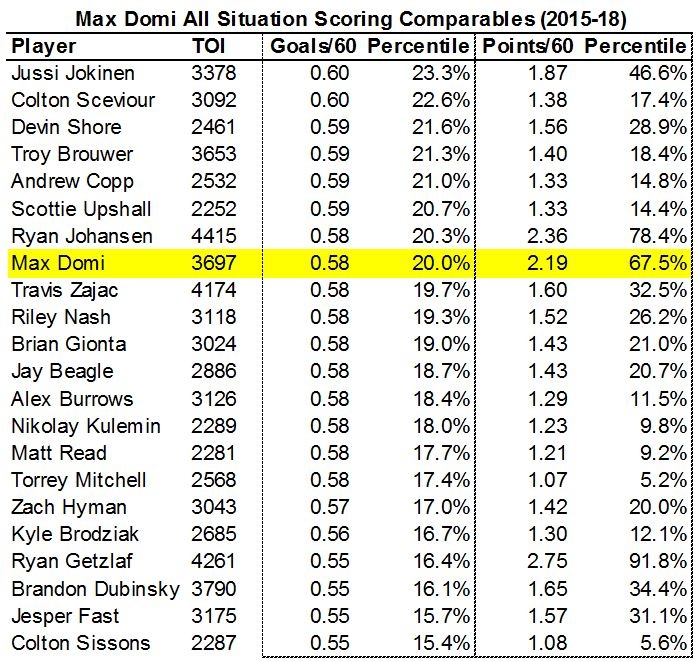 I think it's fair to say that Domi has struggled to score goals at the NHL level. Four of every five regular NHL forwards are more productive on that front, and that's now true over a couple of hundred games. In contrast, Galchenyuk has been about 1.1 goals per-60 minutes, good for the 83rd percentile. There's little doubt who is better at finding the back of the net between the two.
The interesting thing about Domi is that the lack of individual goal scoring doesn't really bar him from being productive, per se. His assist rates are impressive. In the past three seasons, he's posted 34, 29, and 36 assists respectively. Those assist numbers push his points per-60 minutes into a much more respectable percentile. There, he's better than two of every three regular forwards around the league.
As you can see in the table above, not being a great goal scorer doesn't mean you aren't threatening – players like Ryan Johansen and Ryan Getzlaf haven't been dangerous goal scorers, but because they are so good at finding their teammates, their teams regularly score. That's in large part due to their creativity and passing ability in the offensive zone.
There should be little doubt that Montreal is betting heavily on Domi's playmaking capabilities transitioning to Montreal. His ability to turn his linemates into more productive goal scorers is valuable; perhaps doubly so for a Canadiens team starved for goals.
But one quote on Domi did interest me. After the trade, general manager Marc Bergevin mentioned that he felt Domi's potential was still untapped. Bergevin may or may not be right about that, but it did make me to wonder about Domi's struggles as a shooter. The question I became curious about: How many guys enter the league, struggle as goal scorers, but develop as shooters further down the road?
To measure this, I looked at every NHL forward who met the following criteria: (1) Played at least three seasons; and (2) Played those three seasons before the age of 25. From there, we can analyze their shooting percentage and if it substantially deviated in future seasons.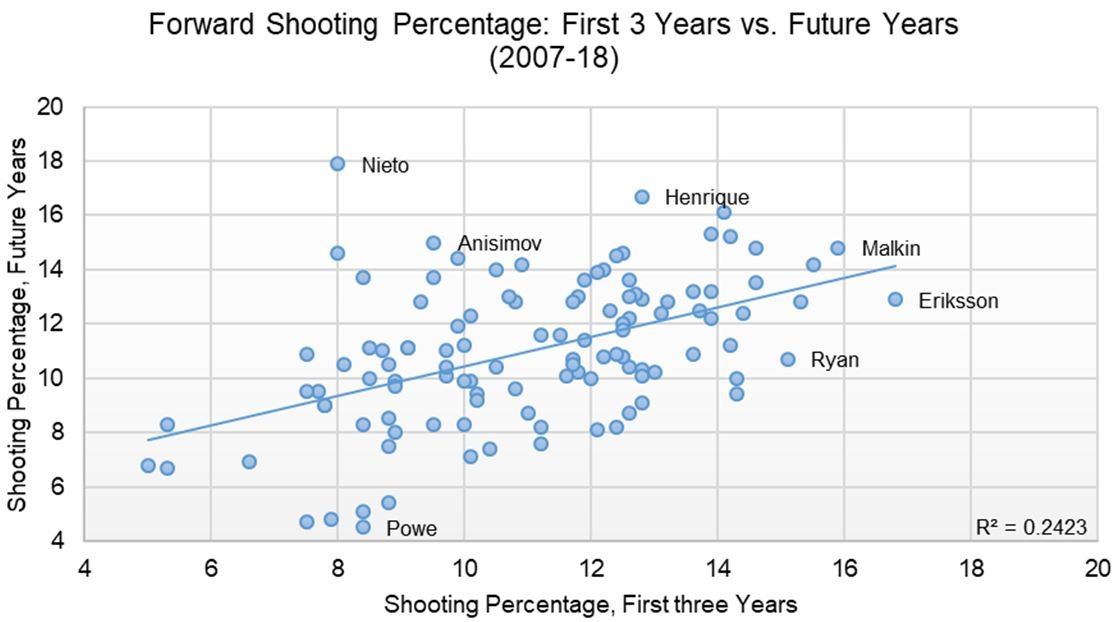 Shooting is a talent, and it's not surprising to see that such a talent manifests itself early in a player's career. If you were a weak shooter in the first few years of your career, you generally were a weaker shooter in the second phase of your career – and vice versa.
But that's an important note for a player like Domi. Remember, Domi is a career 8.7 per cent shooter over 222 games and 414 shots. If you regress his results about 75 per cent of the way towards league average, based on the relationship indicated above, our best guess at Domi's future shooting percentage is about 9.7 per cent. That's marginally more respectable, but still well below league average.
All this to say: Domi is a skilled playmaker and an established NHL forward at the age of 23. And Montreal, surely, will be able to squeeze some value out of him over the next couple of years. But at this point, it's also reasonable to conclude that he's probably not going to evolve into a major goal scorer at this point in his career – something that the Canadiens desperately need in their organization. There isn't a lot of evidence of guys who struggle to score goals in the early seasons of their career evolving into great shooters.
Domi doesn't need to be that player to succeed. But Montreal is desperate for more scoring. My bet is that we have only seen the beginning of Bergevin's summer.