Duchene: 'Not time yet' to make decision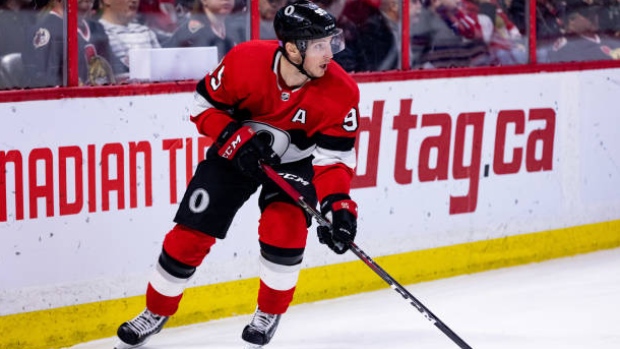 Matt Duchene is letting things play out in his final season under contract with the Ottawa Senators.
According to TSN Hockey Insider Darren Dreger, Senators general manager Pierre Dorion and Matt Duchene's agent, Pat Brisson, are expected to meet in Los Angeles Wednesday.
Duchene spoke about his future after Wednesday's skate and said "real talks" with the Senators on a extension have only just begun.
"Honestly I'm just letting it play out. I don't know what's going to happen, I have no clue. This is still very early in the process, I think today is one of the first kind of real talks so I'm not sure. Honestly, my concern right now is just getting back in the lineup and playing well for the team here and that stuff will follow where it does," he said.
Despite the uncertainty, Duchene insists it's easy to block out.
"I've got a lot distractions right now, a lot of really good ones. I haven't let that get to me all year, I even really haven't thought about it much so it's just been fun coming here every day. All I have said from day one is it would be great if it works out but again it's a business and you never know what can happen so I'm waiting to see. Waiting to make a decision when it's time and it's not time yet," he said.
Duchene is in the final year of a five-year, $30 million deal he signed with the Colorado Avalanche.
The team acquired the 28-year-old centre from the Avalanche in a three-team blockbuster that also involved the Nashville Predators early last season. He has 18 goals and 24 assists in 37 games for the Senators this season.
Meanwhile, TSN Hockey Insider Pierre LeBrun repors Dorion also met with Newport Sports, pending UFA Mark Stone's agency, a few days ago. LeBrun adds, though, that negotiations with Stone, who became eligible to re-sign on Jan. 1 because he's on a one-year deal, remain preliminary.
Stone, 26, is on pace for a career-best season with 20 goals and 48 points in 46 games. He avoided arbitration with the Senators last summer, signing a one-year, $7.35 million deal.
The Senators will host the Colorado Avalanche Wednesday night at Canadian Tire Centre.