Oilers, Nurse agree to eight-year contract extension
The Edmonton Oilers locked up a key piece of their core on Friday. The team signed defenceman Darnell Nurse to an eight-year extension worth $9.25 million per season.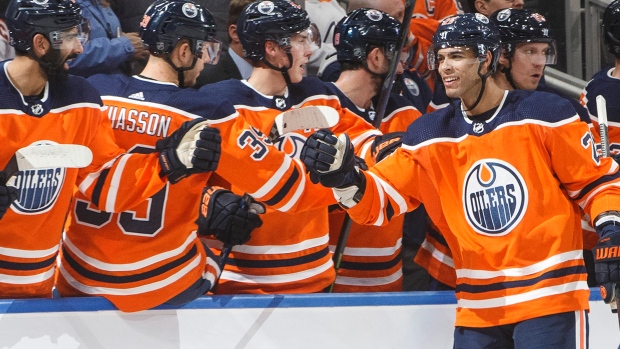 EDMONTON — Darnell Nurse wasn't expecting to sign an eight-year, US$74 million contract extension with the Edmonton Oilers this summer.
The defenceman thought the NHL's current economics, including a pandemic-induced flat salary cap, would see him ink a shorter deal, something along the lines of four years.
He was pleasantly surprised, though, when several of his fellow blue liners were awarded big-money, big-term contracts when the free-agency market opened late last month.
On Friday, it was Nurse's turn to put pen to paper.
The 26-year-old from Hamilton signed a max-term extension with an average annual value of US$9.25 million. It will take affect at the start of the 2022-23 season.
"I think any time that you have a team and a management group that believes in you like our team in Edmonton does, it always feels good," Nurse said on a video call Friday.
"I've always been confident in myself and my abilities to play and to have that reciprocated is a great feeling. I just want to get back to work and get the season going."
Originally selected seventh overall by the Oilers in the 2013 entry draft, Nurse has grown over the first seven seasons of his NHL career, appearing in 406 career games.
He had a massive campaign for the Oilers last year, putting up points 36 points (16 goals, 20 assists) in 56 games, and was second among NHL defenceman in goals.
The six-foot-four, 221-pound defenceman played a whopping 62:07 in Edmonton's final game of year, a 4-3 triple-overtime loss to the Winnipeg Jets that saw the Oilers swept from the first round of the playoffs.
It was a tough finish for the Oilers, who ended the regular season second in the all-Canadian North Division with a 35-19-2 record.
Edmonton's general manager Ken Holland has been at work tinkering with the team over the off-season, adding veteran d-man Duncan Keith in a trade with Chicago, bringing in free agents Zach Hyman, Cody Ceci and Derek Ryan, re-signing blue liner Tyson Barrie and dealing up-and-coming defenceman Ethan Bear to the Carolina Hurricanes for left-winger Warren Foegele.
Nurse is a big fan of the changes.
"As a player, it's very exciting. I think if you look at our team from when the season ended to now, I think we've made a lot of improvements," he said. "On the back end we've added some really steady pieces that have played a lot of games and you know each and every night are going to bring it."
Several Oilers have been working out together in Toronto during the off-season, he added, including Hyman and Foegele, who both just want to get "better and better."
"To have that type of attitude and mentality, I don't think you can have enough of it on your team," Nurse said. "And I think they'll bring that to our team and continue to push us to another level."
Off the ice, Nurse has taken on a whole new challenge this summer — parenthood.
His fiancé, Mikayla Marrelli, gave birth to their first child, a boy named Aiden, just hours after the Oilers were ousted from the playoffs on May 24.
Becoming a dad has been "an absolute blessing," Nurse said Friday.
"I've enjoyed each and every minute of it," he said. "From the crying every once in a while to the poopy diapers, I have zero complaints."
This report by The Canadian Press was first published Aug. 6, 2021.