Flames lacking offence at right wing
Calgary is a team on the rise, but a glaring lack of production at right wing could be a problem, Travis Yost writes.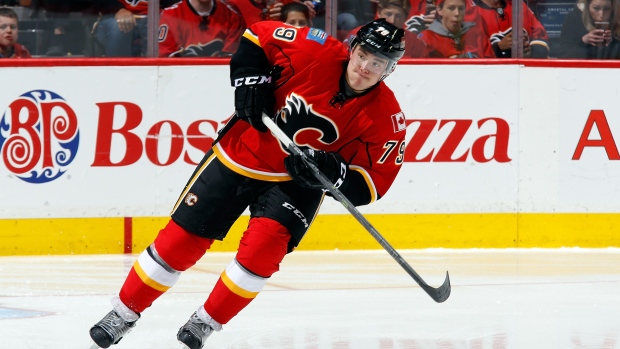 A number of Canadian NHL teams feel like they are on the upswing, and that list absolutely includes the Calgary Flames.
Calgary is looking to build on their 94-point season from a year ago. If you were an unassuming third party, last year's team was as fun to watch as any around the league. They had one of the best lines in hockey, gave great teams fits through a strong blueline and agile forward group, and occasionally couldn't stop a shot. At aggregate Calgary was a quality team, but on any given night you never knew what to expect.
The Flames looked to patch holes where they could during the offseason. The big summer add came on an already strong blueline in the form of Travis Hamonic. They also transitioned their entire goaltending unit – moving from the Brian Elliott-Chad Johnson combination to the duo of Mike Smith and Eddie Lack.
One interesting non-move was at right wing. The Flames have more or less brought back their same group from a year ago, a group that has been notably unproductive in the grand scheme of things. Local Flames writer Kent Wilson posited the following as expected initial line combinations for this season – make particular note of what's going on at right wing here.

The lack of firepower on the right side is immediately noticeable. Goal-scoring in today's NHL is critical – when you have such low-scoring games, guys who can find the back of the net with regularity are at a premium. Every marginal goal is worth a substantial amount towards win probability. The Flames don't have a ton of production in these four wingers, regardless of how you deploy them.
To illustrate this, I grabbed every above-referenced forward's three-year individual goal scoring rates. But instead of taking a pure three-year average, I weighted recent seasons more heavily. Why is this important? Well, if you are a Flames fan, you'd probably reasonably argue that 2017 Micheal Ferland is a lot better than 2014 rookie Micheal Ferland, because age and development matters. The reverse is true for 2017 Troy Brouwer. It's hard to believe he (at age 32) will out-produce his peak years. Thus, instead of throwing away meaningful data, we just place more importance on what's happened recently.
The weighting is a bit subjective – I used 10 per cent, 30 per cent, and 50 per cent respectively – but you can pretty much look at this any way and arrive at the same conclusion: Calgary doesn't have a lot of help on the right side.

Let's work line by line. (Note: for rookie Mark Jankowski on line four, I basically used a replacement player's expected scoring rates.)
On line one was Ferland – an interesting player, but clearly the third-biggest talent on his line. Ferland had a "career" year last season, scoring 15 goals in 76 games. In one swoop, Ferland went from checking-line option and career 4 per cent shooter to top-six option and 14 per cent shooter. At any rate, the point worth hammering here is that Ferland had a fantastic shooting year and still scored just 15 goals.
Based on that, our best guess for Ferland would be something around 12 goals this year – which would have been better than a little less than half of the forwards in the league last year. That's certainly good enough to be in the league, but it probably means he's best suited for third-line duty.
Frolik is on line two, and our best guess for him is around 15 goals. If Tkachuk develops the way he should in his sophomore season, it seems that Frolik – like Ferland – will also be the third-best player on his line. But the key here is that Frolik doesn't look particularly out of place. Scoring 15 goals isn't insignificant in today's NHL, and although it's not going to set the world on fire, it's still meaningful production.
Line three is where it sours, and quickly. This is a make-or-break year for Curtis Lazar. He now has 180 games under his belt and 13 goals to show for it. Lazar was touted as a two-way player coming into the league and it's one of the big reasons why he was taken in the first round, but at this point he's struggling to hold onto even a depth-forward role at the NHL level. Regardless of whether he's on line three or four, he's going to be the weakest offensive link.
We have Brouwer on the fourth line. Say what you will about Brouwer's game and contract, but he's at least provided scoring punch from time to time. One would argue that Brouwer – who at 16 goals this year would be considered second-line scoring calibre – is probably better suited for the slot Lazar's in. At the very least, Calgary would have three reasonably dangerous lines, though it'd leave the Flames in a precarious fourth-line position.
At aggregate, you can see why Calgary – true in a relative sense, but also true when compared to other right-wing situations around the league – is in a bit of a dangerous spot. This roster can absolutely compete this season and should be pushing deep into the postseason. However, one has to wonder if they can with such line imbalance.
If production on the wing goes as planned, expect the Flames to be in the market for a right winger at the trade deadline.