Former Dodger Guerrero suffers stroke
Former World Series MVP Pedro Guerrero was hospitalized in New York after suffering a stroke, his wife Roxanna Jimenez said.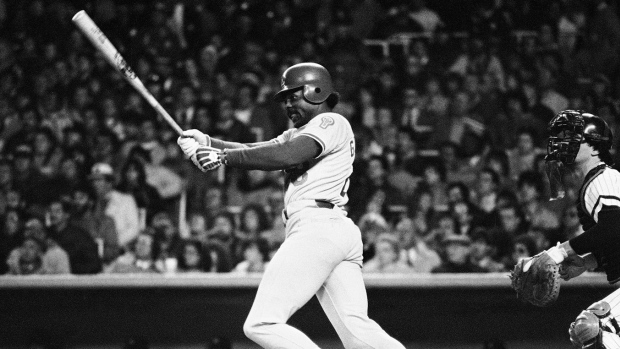 Former World Series MVP Pedro Guerrero had a stroke and is recovering in a hospital in New York, according to his wife.
Roxanna Jimenez said her 60-year-old husband was taken to a hospital Monday. She said doctors initially declared him brain dead but a second opinion confirmed he was comatose. He was transferred to Lenox Hill Hospital in Manhattan.
"It was his second massive stroke," Jimenez said Tuesday by phone from New York to the radio show "Grandes en los Deportes" in Santo Domingo, Dominican Republic. "He's recovering. The doctor said he can improve. He opened his eyes and is trying to communicate."
Some of Guerrero's former Dodgers teammates recalled he had overcome a previous stroke in recent years.
"He recovered from that, so God willing, he'll recover from this," said Steve Yeager, co-MVP of the 1981 World Series. "He's too young to have this happen to him."
Orel Hershiser was called up to the Dodgers in 1983 to begin his major league pitching career, and Guerrero played behind him. Hershiser saw Guerrero last year at an alumni game at Dodger Stadium.
"It seemed like he had softened a lot, he was a kinder, gentler spirit," Hershiser said Tuesday. "It's sad for me to hear about what's going on now because it seemed like he was really contributing to everyone around him and the lives of everyone around him, bringing them a lot of happiness."
Guerrero played 15 seasons in the major leagues with the Los Angeles Dodgers and St. Louis Cardinals. The slugger was the 1981 World Series co-MVP with the Dodgers and played in five All-Star Games.
Guerrero was a career .300 hitter, with 1,618 hits, 215 home runs and 898 RBIs, and starred for the Dodgers from 1978-88.
In 1981, the Dominican earned a spot in right field when Reggie Smith was out with an arm injury. Guerrero was hitting .325 and the Dodgers were leading their division when a players' strike stopped the season in June. Play resumed in August and Guerrero's averaged dipped to .269 in the second half while the team slumped.
But the Dodgers rallied to win playoff series against Houston and Montreal. They advanced to meet the New York Yankees in the World Series for the third time in five years.
Guerrero's five RBIs in Game 6 led to a 9-2 victory and the team's first championship in 16 years. He had a triple, home run and bases-loaded single, and shared MVP honours with teammates Ron Cey and Yeager.
"His career wasn't that long, but he certainly did damage in the time that he played," Cey said.
___
AP Sports Writer Beth Harris in Los Angeles contributed to this report.