Gillaspie's home run lifts White Sox over struggling Red Sox
Conor Gillaspie hit a tie-breaking, two-run homer in the sixth inning for his third hit of the game and the Chicago White Sox beat the struggling Boston Red Sox 8-3 on Tuesday night.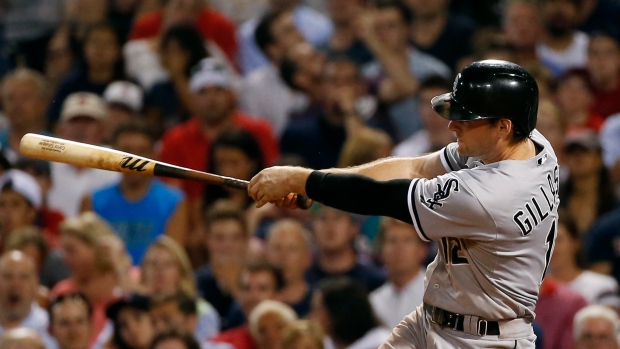 BOSTON - A day of treatment after getting hit by a pitch may have put Conor Gillaspie back on track.
He hit a tie-breaking, two-run homer for his third hit of the game and the Chicago White Sox beat the struggling Boston Red Sox 8-3 on Tuesday night.
"Sometimes you can benefit by getting hurt and getting a day off and recharging," Chicago manager Robin Ventura said. "He's swinging the bat fine. Running, I'm sure, he's still sore."
Gillaspie could just trot around the bases when his second homer of the season gave the White Sox a 5-3 lead in the sixth inning. Two days earlier, a pitch from Dominic Leone hit him in the right leg in the fifth inning of Chicago's 1-0 win over the Seattle Mariners.
Gillaspie bruised his right knee and left for a pinch runner, then missed Chicago's 4-0 win over Boston on Monday night.
"Obviously, it was a little bit sore," he said, "but I think getting treatment a whole entire day, 10 hours worth of treatment, I think it helped everything for me."
He went 3 for 4 after going 4 for 29 in his previous nine games.
"I was fortunate it missed my knee for the most part," Gillaspie said.
Boston snapped Chicago pitchers' streak of 22 scoreless innings but lost for the seventh time in eight games as the defending World Series champions remained in last place in the AL East.
"We're just not very consistent," Red Sox catcher David Ross said. "When we do score runs, we haven't pitched the way we wanted to, and when we pitched the way we need to we haven't scored runs."
The White Sox are 5-1 in their last six games, allowing three runs or less in all six with a scoring margin of 25-9.
John Danks (8-6) started with four shutout innings on Tuesday night after Hector Noesi beat Seattle on Sunday and Scott Carroll won on Monday night when Boston had just two hits.
The White Sox squandered a 3-0 lead when the Red Sox tied it with three runs in the fifth. But Chicago went ahead with two in the sixth and then added three in the ninth.
Jose Abreu started the sixth with a single against Brandon Workman (1-3). With two outs, Gillaspie hit a 3-and-2 pitch just inside the right-field pole. He had singled, doubled and scored a run earlier.
Abreu had two doubles and a single and has hit safely in 21 of his last 22 games.
Chicago added three run-scoring extra-base hits in the ninth — a triple by Alejandro De Aza and doubles by Gordon Beckham and Paul Konerko.
The White Sox took a 2-0 lead with unearned runs in the second. They loaded the bases on a walk to Adam Dunn and singles by Alexei Ramirez and Gillaspie. Dunn scored on an error by first baseman Mike Napoli and Ramirez came in when De Aza grounded into a double play.
Napoli appeared to be trying to transfer the ball from his glove to his right hand to throw home for a force play.
"Any time you give extra outs, you're asking for trouble," Red Sox manager John Farrell said. "Over the past five games we've given up a number of extra outs that have led to runs."
Chicago made it 3-0 in the fourth when Gillaspie doubled and scored on a single by De Aza.
The Red Sox, the lowest-scoring team in the American League, failed to score after loading the bases in the first and fourth. They finally got to Danks, 5-1 in his last seven starts, in the fifth.
Brock Holt tripled when centre fielder De Aza let the ball get behind him after he raced in and dived for it. Dustin Pedroia and Napoli followed with run-scoring doubles and Xander Bogaerts tied it with an RBI single.
But Danks ended the threat by striking out the next two batters.
"Sharp or not, I was able to make a pitch when I needed to," he said.
NOTES: Ross threw out two runners trying to steal second — De Aza in the fourth and Adam Eaton in the fifth. ... Chicago's streak of six games allowing three runs or less is its longest since seven straight from May 2-9, 2011. ... John Isner, the top-seeded player at the Hall of Fame Tennis Championships in Newport, Rhode Island, threw out a ceremonial first pitch. ... Chris Sale (8-1) pitches for Chicago on Wednesday night in the third game of the four-game series against Rubby De La Rosa (2-2). Farrell said he would be recalled from Triple-A Pawtucket.