Pinckney, Bae, Diaz share lead in Web.com Tour Finals event
Scott Pinckney shot an 8-under 63 on Saturday for a share of the lead in the Albertsons Boise Open, the third of four Web.com Tour Finals events.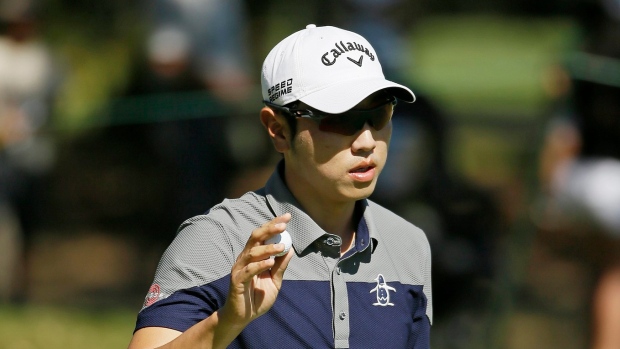 BOISE, Idaho — Scott Pinckney shot an 8-under 63 on Saturday for a share of the lead in the Albertsons Boise Open, the third of four Web.com Tour Finals events.
Pinckney matched two-time PGA Tour winner Sangmoon Bae and Roberto Diaz at 14-under 199 at Hillcrest Country Club. Bae shot 67, and Diaz had a 65 on a day when 11 players were tied for the lead.
Pinckney returned to play the Web.com Tour this season after missing the majority of the 2017 season because of a back problem.
"It was hard sleeping. I couldn't bend down," Pinckney said. "When I had to sneeze, I tried to find something to brace myself. It just was not fun. ... My confidence was hanging by a thread, but I knew I had the game to compete on the PGA Tour and out here, so I just kept grinding and kept working hard. I focused so much on my health and body that it's starting to pay off."
The 29-year-old former Arizona State player entered the week 101st in the race for 25 PGA Tour cards with $2,320. Last year, Seamus Power took the final card with $40,625.
Bae returned this season after two years of mandatory military service in South Korea. He's 12th on the Finals money list with $38,156, with the 11 players ahead of him already locked in to earn cards.
"It has been a while since leading, throughout my military service and this year," Bae said. "I am really happy to see my name on the leaderboard."
Pinckney birdied five of his last seven holes, making a 12-footer on No. 18.
"It was awesome," Pinckney said. "It was nice to get it up on that top shelf. It was a quick putt so I just wanted to get the right speed and it happened to go in for a nice finish."
Diaz, 34th with $15,826, birdied Nos. 15-17 and saved par on 18 with a 25-footer.
"The last putt was very important," Diaz said. "Obviously, every shot counts out here and more toward the 25 at the end, but I think that last putt made me more calm looking toward tomorrow."
Max Homa was a stroke back after a 66. He's 10th in the card chase with $44,700 — more than enough to lock up a card for next season.
Kyle Jones had a 64 to get to 12 under. He already earned a card as a top-25 finisher on the Web.com Tour regular-season money list.
Roger Sloan of Merritt, B.C., and David Hearn of Brantford, Ont., are the top Canadians in a tie for 11th at 10 under. Adam Svensson of Surrey, B.C., is at 8 under in a tie for 32nd, Corey Conners of Listowel, Ont., is at 7 under in a tie for 40th and Ryan Yip of Calgary is at even-par in 75th.
The series features the top 75 players from the Web.com regular-season money list, and Nos. 126-200 in the PGA Tour's FedEx Cup standings. Jones and the other top-25 finishers on the Web.com money list are competing against each other for tour priority, with regular-season earnings counting in their totals. The other players are fighting for 25 cards based on series earnings. The Web.com Tour Championship is next week at Atlantic Beach Country Club in Florida.