Harvard-bound Rathbone's high hockey IQ on display at Canucks camp
Canucks blueline prospect Jack Rathbone is excited about the opportunity to mix his passion for hockey with the chance to learn at one of the world's best post-secondary institutions, TSN Vancouver Canucks Reporter Jeff Paterson writes.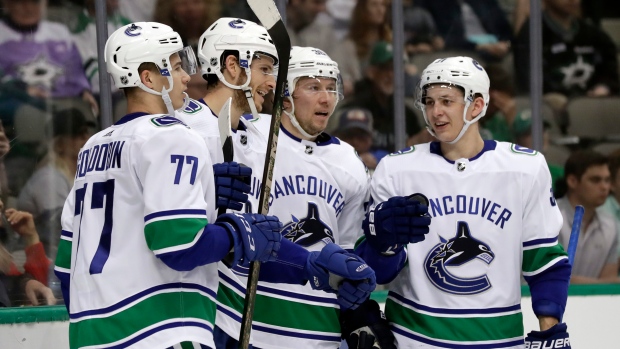 VANCOUVER – Summer has barely started and Jack Rathbone can barely wait for it to end. That's because he's headed to Harvard University in the fall and the 19-year-old Vancouver Canucks prospect is excited about the opportunity to mix his passion for hockey with the chance to learn at one of the world's greatest post-secondary institutions.
The West Roxbury, Mass., native will patrol the blueline as a freshman at Harvard next season while pursuing a degree in business. If all goes well on the ice and in the classroom, at some point Rathbone's interests will intersect and he'll have a decision to make about leaving school early to sign a professional contract.
He's not worried about making that choice anytime soon, but recognizes that he may be forced to make the call between the Ivy League and the National Hockey League.
"It's huge," Rathbone explained of the opportunity to attend Harvard. "My dad has preached to me since I was a little kid that although you want it to, hockey, it doesn't last forever. Being able to fall back on a degree from a place like Harvard, it's something I'm really looking forward to and hopefully it's something I can do a lot with and set myself up for in the years after hockey. If I feel I'm comfortable enough and my game's in a place where it can transition to pro early, I will (leave school early). But that's a ways ahead and we'll see when I get there. But for right now, I'm focused on [my] freshman year and going in there and making an impact."
This week Rathbone is putting academics aside as he grinds through Canucks summer development camp for the second straight year after being a fourth-round pick in the 2017 NHL Draft. Last year was an eye-opener; but this time around the 5-foot-10 177 pound left-shot defenceman is here to show Canucks brass how much he developed last season when he split his playing time between midget hockey and high school hockey.
The captain of his team at Dexter Academy in suburban Boston, Rathbone feels he has taken significant strides in his game over the past 12 months and likes the way his style of play matches the direction the professional game is headed.
"I love it," he says of hockey's shift toward speed and skill. "My game is all transition. You definitely still need those guys to pair up with me whether it's a pretty big guy who can handle his own. But the way the game is transitioning is all about D jumping in and being the fourth forward, I think that really suits my game and I'm really happy with the way the game is trending."
At Harvard, Rathbone will play for head coach Ted Donato who has been a family friend for years. In fact, Rathbone grew up playing with Donato's sons Ryan, Jack and Nolan. Rathbone watched with interest as Ryan Donato left Harvard last spring to sign with the Boston Bruins and got into a dozen games down the stretch and three more in the Stanley Cup playoffs.
Watching someone take the same path to the NHL that he hopes to one day has provided motivation and inspiration for Rathbone. But he's not getting ahead of himself – before he's played a minute of NCAA hockey.
"Obviously, everyone's dream is to play in the NHL, but I think I'm going to take it one step at a time," he says. "I'm really excited to go in there and play for Ted. He's a guy you want to go to war for. So I'm really happy about that. I'm pretty confident in my game and my abilities, so I'm really focused on just showing up at Harvard and making an impact as a freshman."
There is a Canuck connection to the Rathbone story. He has crossed paths with blueliner Alex Biega who also wore the Harvard jersey. In fact, the two trained and skated together in the Boston area last summer. Biega is great example of a player who's been able to use his hockey smarts to his advantage to carve out an NHL career. Undersized, he leans on his skating and his body-positioning to allow him to compete with bigger players something Rathbone knows he has to learn as his game evolves at the next level.
"My offensive ability has taken me to where I am right now, but for me to play in the league and make an impact at Harvard, it's my 200-foot game and being able to round that out," he explains. "I have to be heavier on pucks and being between my man and the net. It's the details in the defensive zone that I've worked on the most."
Rathbone roomed with prize prospect Quinn Hughes for a night in Whistler before Hughes came down with an illness and was moved into isolation. But the two shared the ice on Tuesday at Rogers Arena and perhaps one day in the future will get the opportunity to do so again in the NHL. Although a mid-round pick and not a top prospect, Rathbone is very much on the Canucks' radar as he heads for Harvard.
"I'm extremely excited about Jack," says Canucks senior director of player development Ryan Johnson. "Watching him play last year in the Midget Nationals, you know he was ready to be at the college level last year. It was hard year in the sense he was trying to hold himself to a standard every night and your habits slip. He's got a great skill set. He sees the ice very well. He skates extremely well and he's a competitor. He doesn't take anything – I can tell you that. The things we're talking about with him are the habits and the little details he's been able to get away with at the midget level and the prep school level that will be an eye-opener when he gets to the college level."
Rathbone is going into this next chapter of his life with his eyes wide open, excited to experience all that Harvard offers. He's looking forward to everything about life on campus for the next few years and hopes ultimately he makes the grade in the NHL one day.
DAY 2 CAMP NOTES
- After missing Monday's first on-ice sessions with the flu, Quinn Hughes took part in drills at Rogers Arena Tuesday. He is expected to continue with another practice session Wednesday.
- The prospects will compete in the Summer Showdown game on Thursday night and will conclude camp with a hike up the famed Grouse Grind – a tradition for the final day of Canucks camp.