Hurricanes' Peters, Dundon in standoff over contract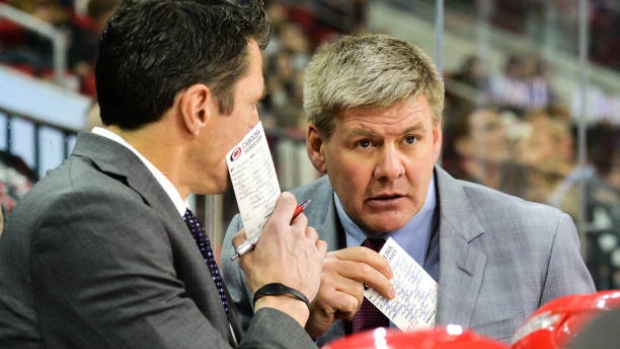 Carolina Hurricanes head coach Bill Peters has until Friday to opt out of his contract with the team, while TSN Hockey Insider Bob McKenzie reports the situation has become sort of a standoff with new Hurricanes owner Tom Dundon.
McKenzie reported the sense is Peters' strong preference is not to return and pursue opportunities elsewhere. He is a candidate for the openings with the Calgary Flames and Dallas Stars, per McKenzie, and the belief is Peters, an Alberta native, would like to go home.
McKenzie added Dundon's preference is for Peters to not return as well, but may be hoping Peters exercises his option to leave so that Dundon is not on the hook for his contract.
Should Peters leave, Dundon would be free to name a new head coach, with Rod Brind'Amour brought up as a potential candidate, per McKenzie.
Adding another layer to the situation, McKenzie reported Peters' preference may be to be fired so that he doesn't leave money on the table, but Dundon's preference would be to reassign the coach rather than let him walk.
Peters will make $1.6 million next season, on the final year of his deal with the team, according to a report from the News and Observer.
The Hurricanes have missed the playoffs four seasons in a row, coming off a 36-35-11 finish in 2017-18. During his time in Carolina, Peters had a combined record of 137-138-53.
Peters will serve as Team Canada's head coach for the IIHF World Championship next month in Denmark with Mike Yeo of the St. Louis Blues as associate coach and Bob Boughner of the Florida Panthers taking the reigns as an assistant.
Dundon became majority owner of the Hurricanes franchise in January. The Texas businessman has since taken a hands-on approach to the franchise, which began with moving Ron Francis out of the general manager role and into his new role of president of hockey operations.
Earlier Thursday, the team announced they hired Paul Krepelka as vice-president of hockey operations.