Ice Chips: Rielly questionable vs. Sens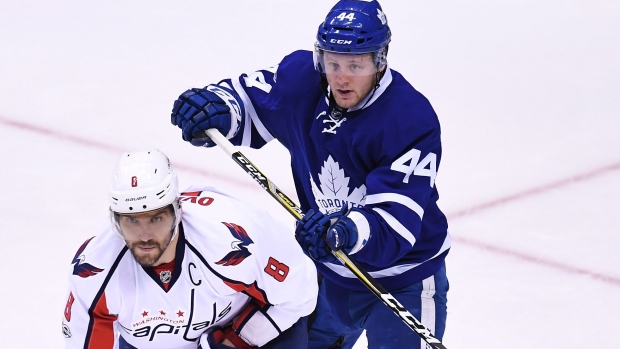 Keep updated on all the injury news and roster moves from around the NHL with daily Ice Chips.
---
Toronto Maple Leafs
The Leafs' top defenceman, Morgan Rielly, missed Friday's practice after getting injured late in the second period of Thursday's game against the Philadelphia Flyers. He returned for the third, but in a limited capacity. Head coach Mike Babcock says he's uncertain if Rielly will be able to play Saturday against the Ottawa Senators with an upper-body injury.
---
Vancouver Canucks
Forward Bo Horvat is expected to be on the ice Friday after the Canucks announced that he has been medically cleared to practice and travel with the team.
Horvat fractured his ankle on Dec. 5 in their 3-0 win over the Carolina Hurricanes.
In 28 games this season, he has 10 goals and 10 assists.
---
Montreal Canadiens
According to The Athletic's Arpon Basu, goaltender Antti Niemi is being worked out by goaltending coach Stephane Waite at Canadiens' morning skate at appears to be the starting goaltender tonight against the Washington Capitals.
---
Winnipeg Jets
The Jets announced that goalie Steve Mason is out with a concussion with no timetable for a return. In other injury news, forward Shawn Matthias is day-to-day while forward Adam Lowry will not play this weekend (Saturday vs. Calgary and Sunday vs. Vancouver).
They recalled goaltender Michael Hutchinson and forward Jack Roslovic from the AHL's Manitoba Moose. Hutchinson has a .942 save percentage so far this season for the Manitoba Moose, sitting third in the AHL with 14 wins. Roslovic does not have a point in four NHL games this year.
Practice Lines - Brian Munz, TSN
Forwards
Connor-Wheeler-Laine
Perreault-Little-Ehlers
Tanev-Copp-Armia
Dano-Hendricks-Roslovic
Lowry in non contact. No Matthias
Defencemen
Morrissey-Trouba
Kulikov-Myers
Enstrom-Byfuglien
Chiarot extra defenceman
Goaltenders
Hellebuyck
Hutchinson
---
Ottawa Senators
Forwards Nate Thompson and Jean-Gabriel Pageau will miss Saturday's game against the Toronto Maple Leafs. Defenceman Erik Karlsson is sick, but expects to play.
---
Calgary Flames
Flames recall forwards Marek Hrivik and Andrew Mangiapane from the American Hockey League.
---
New Jersey Devils
According to Devils beat reporter Amanda Stein, starting goaltender Corey Schneider is out sick and forward Taylor Hall is taking a maintenance day.
Stein adds that Schneider will travel with the team to Philadelphia but backup Kirk Kinkaid will get the start.
---
Florida Panthers
Goaltender James Reimer will start Friday night against the Vegas Golden Knights head coach Bob Boughner said Thursday.
In 28 starts so far this season, Reimer has a save percentage of .910 and a GAA of 3.05.
That means rookie Harri Sateri may get the start the following day against the Nashville Predators.
---
New York Islanders
Though he was able to skate with the team on Thursday, the club has placed forward Casey Cizikas (UBI) on injured reserve retroactive to January 13 and recalled Ross Johnston from the Bridgeport Sound Tigers of the AHL in a corresponding move.
Cizikas, 26, incurred the injury during the team's 7-2 win over the New York Rangers last Saturday. In 40 games this season, Cizikas has five goals and six assists.
Johnston has appeared in 37 contests for the Sound Tigers this season, scoring three times and adding eight assists.
---
Game Notes
Golden Knights (63 points) at Panthers (42 points) - 7:30PM
VGS 1-0-0 vs FLA in 17-18, winning at home
FLA (18-19-6):
1-3-1 last 5GP, 19GA, PK 8/12
Huberdeau (7G, 5A) last 9GP
VGS (30-11-3):
3-1-1 last 5GP, 10GA, PK 11/12
Marchessault (1G, 4A) last 5GP
Canadiens (42 points) at Capitals (60 points) - 7:30PM on TSN2 (regional)
WSH 1-0-0 vs MTL in 17-18, winning at home. WSH 3 straight wins vs MTL
WSH (28-14-4):
10-1-0 last 11GP at home, 24GA, PK 23/26 (lost last)
Ovechkin (6G, 11A) last 11GP at home
MTL (18-21-6):
2-6-2 last 10GP, outscored 31-18, PP 6/27
Galchenyuk (2G, 3A) last 5GP
Kings (53 points) at Ducks (51 points) - 10PM
LAK 2-1-0 vs ANA in 17-18, both wins past regulation. 1-0-0 in ANA (OTW)
ANA (21-16-9):
2-2-1 last 5GP, 13GF, PP 2/11
Getzlaf (1G, 2A) last 5GP
LAK (24-16-5):
3-4-1 last 8GP on road, 22GF, PP 5/21
Kopitar (1G, 5A) last 6GP