Kane signs 7-year, $49M deal with Sharks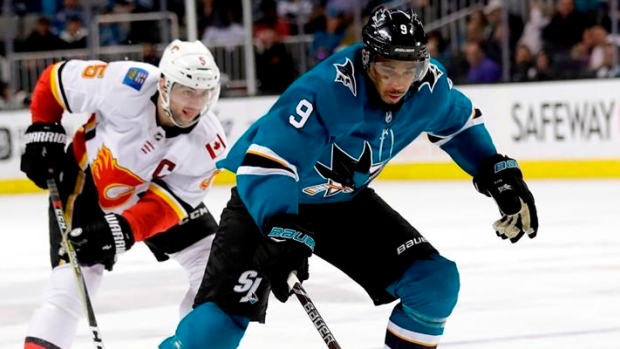 Evander Kane is sticking around in San Jose.
The team confirmed Thursday the left winger has signed a seven-year contract, which TSN Hockey Insider Darren Dreger reports is worth a total of $49 million.
TSN Hockey Insider Pierre LeBrun adds the deal also includes a modified no-trade clause, in which Kane can pick three teams he's willing to be traded to.
Kane was acquired by the Sharks from the Buffalo Sabres on trade deadline day in exchange for forward Daniel O'Regan and two conditional picks. One of the picks becomes a first-rounder for Buffalo in 2019 (lottery protected) since Kane re-upped in San Jose.
"At only 26 years old, Evander has established himself as one of hockey's true power forwards and an impact player," Sharks general manager Doug Wilson said Thursday. "We think his abilities mesh perfectly with our group of skilled, young players and veteran leaders. It's extremely heartening to have Evander join a trend of elite players who have chosen to remain in San Jose. It speaks volumes as to how players view this organization and further illustrates the continued commitment to our fans by our owner Hasso Plattner."
In 17 regular season games upon joining the Sharks, Kane had nine goals and five assists and was plus-five. In the playoffs, Kane scored four goals and added one assist in nine games before the Sharks fell to the Vegas Golden Knights.
Kane's highest-scoring season came with the Winnipeg Jets in 2011-12 when he tallied 30 goals. For his career, Kane has 186 goals and 168 assists in 574 regular season games.
He was selected in the first round (No. 4 overall) in the 2009 NHL Entry Draft.